Qualcomm Braces for Another Big Hit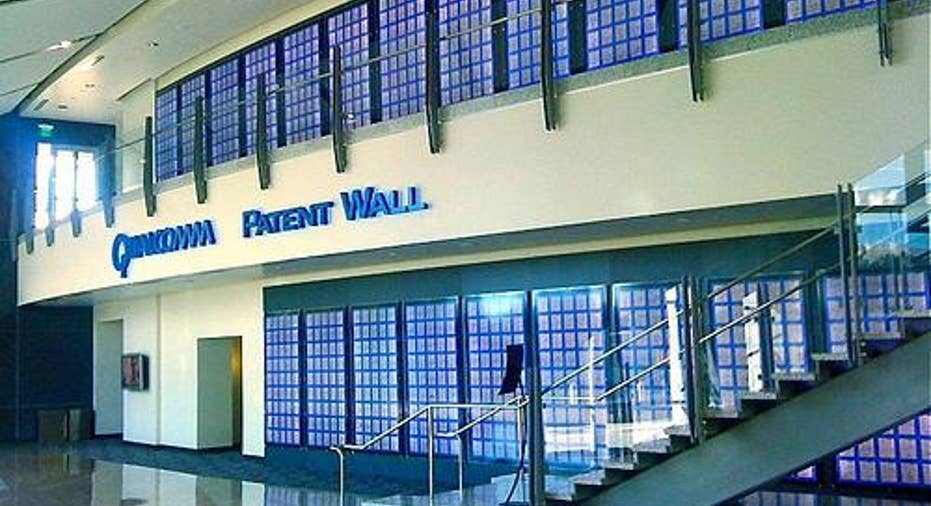 It wasn't that long ago that Qualcomm seemed to have it made, having largely beaten rival Intel to the punch in capitalizing on the huge growth opportunity that mobile technology gave it. Yet more recently, those roles have reversed themselves, and it's Intel that has found ways to bounce back even as Qualcomm struggles. As investors prepare for Qualcomm's fiscal second-quarter financial report on Wednesday, they anticipate another round of massive declines on the top and bottom lines, and it's critical for the company to find a long-term strategy that will help it get out of its downturn. Let's take an early look at what people are expecting from Qualcomm this quarter and what could lie ahead for the company going forward.
Image source: Qualcomm.
What will Qualcomm say?Investors are downbeat about Qualcomm's fiscal second-quarter prospects. They're predicting a 23% drop in revenue to $5.34 billion, and the consensus forecast calls for earnings of $0.96 per share, down almost a third from what it earned in the same quarter last year. The company has done a good job in past quarters of outpacing the expectations that investors have set for it, producing earnings beats of between $0.04 and $0.07 per share in each of the past four quarters. Yet even if Qualcomm can post better-than-expected earnings, it is still likely to be a big drop compared to last year.
Moreover, Qualcomm investors have become more pessimistic in just the past few months. Recently, they've cut their forecast for fiscal second-quarter earnings projections by $0.06 per share, and they've reduced their full-year earnings calls for this year and next by 2% to 3%. Still, the stock has bounced back somewhat, climbing 11% since mid-January.
Qualcomm's fiscal first-quarter results in late January showed the continuing downward trajectory that the company's business has seen. Revenue was down 19%, accelerating from the previous quarter's decline, and net income fell by 24%. Weakness in both the semiconductor and licensing business was unusual for Qualcomm, but company executives noted that as poor as the chipmaker's performance was, it was better than most had expected. CEO Steve Mollenkopf said that he expected Qualcomm's results to improve in the second half of the fiscal year.
What's ahead for Qualcomm?One reason why things are looking for Qualcomm is that the chipmaker has won some big victories in getting its chips into important devices. The chipmaker's Snapdragon 820 processor successfully made it into the new Samsung Galaxy S7, reversing the defeat that Samsung dealt Qualcomm last year in denying a spot for the then-cutting edge Snapdragon 810 processor for the Galaxy S6. Moreover, other mobile device makers will use the new Snapdragon 820 as well, and that should help to get Qualcomm back into its leadership role versus Intel and other players in the space.
In addition, Qualcomm has made some progress in helping to support its licensing business as well. New agreements with major mobile device producers in China, including Lenovo and Xiaomi, point to a potential solution in Qualcomm's long-running problem of defending its intellectual property in a legal system that doesn't give as much protection as tech giants are used to getting elsewhere across the globe.
Qualcomm does need to keep an eye on Intel, although the two companies appear to be following different strategies. Intel recently hired a former Qualcomm executive who had played a major role in Qualcomm's mobile success, but critics argue that the Intel culture will make it difficult for someone from outside the fold to have a marked impact. More importantly, Intel needs to figure out whether it wants to try to challenge Qualcomm on the high-end performance side of the market. The low-end discounting strategy Intel has followed hasn't been a big threat to Qualcomm as of yet.
In the Qualcomm earnings report, watch to see how the company sees itself pulling out of its downturn. Soon, year-over-year comparisons should look a lot better for the company, and that could be all that investors need in order to feel better about Qualcomm's prospects in the future.
The article Qualcomm Braces for Another Big Hit originally appeared on Fool.com.
Dan Caplinger has no position in any stocks mentioned. The Motley Fool owns shares of and recommends Qualcomm. The Motley Fool recommends Intel. Try any of our Foolish newsletter services free for 30 days. We Fools may not all hold the same opinions, but we all believe that considering a diverse range of insights makes us better investors. The Motley Fool has a disclosure policy.
Copyright 1995 - 2016 The Motley Fool, LLC. All rights reserved. The Motley Fool has a disclosure policy.