QLogic Soars, Cavium Tumbles on Acquisition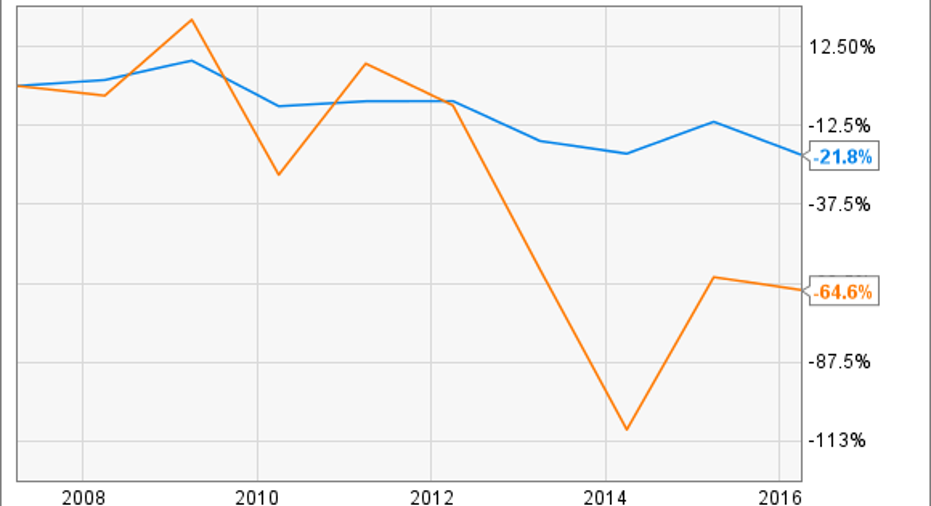 Image source: Cavium Networks.
What: Shares of Cavium Networks and QLogic Corp. sharply diverged on Thursday following news that the former is acquiring the latter. Cavium stock was down about 16.5% at 11 a.m. EDT, while QLogic's had jumped 10% higher.
So what: Cavium, which sells a wide range of processors used in networking, storage, and security products, agreed to pay $15.50 per share for QLogic, a network equipment vendor. Upon completion of the deal, QLogic shareholders will receive for each share $11 in cash and 0.098 shares of Cavium common stock. The transaction values QLogic at roughly $1.36 billion.
The combination will allow Cavium to offer complete end-to-end solutions to enterprise customers. The company estimates that the QLogic deal increases its total market opportunity by more than $2 billion. About $45 million of annual cost synergies are expected to be realized by the end of 2017, and the deal will add between $0.60 and $0.70 to Cavium's 2017 non-GAAP earnings per share, according to the company.
Cavium CEO Syed Ali pointed to the benefits of the deal:
Now what: Cavium is paying a high price for QLogic, and investors don't seem to be thrilled with the acquisition. QLogic's revenue has gone nowhere over the past decade, and its profitability has tumbled. Share buybacks have helped buoy the company's EPS, but most of the numbers are moving in the wrong direction.
QLGC Revenue (Annual) data by YCharts.
QLogic does have $355 million of cash and no debt, so Cavium is paying about $1 billion for the business itself. That's a bit more than twice sales and roughly 22 times fiscal 2016 earnings. That's not an outrageous price, especially if the combination allows QLogic to boost margins and return to growth. But Cavium investors don't seem confident in that outcome, punishing the stock on Thursday.
The article QLogic Soars, Cavium Tumbles on Acquisition originally appeared on Fool.com.
Timothy Green has no position in any stocks mentioned. The Motley Fool has no position in any of the stocks mentioned. Try any of our Foolish newsletter services free for 30 days. We Fools may not all hold the same opinions, but we all believe that considering a diverse range of insights makes us better investors. The Motley Fool has a disclosure policy.
Copyright 1995 - 2016 The Motley Fool, LLC. All rights reserved. The Motley Fool has a disclosure policy.