Qiagen NV Looks for a Strong Second Half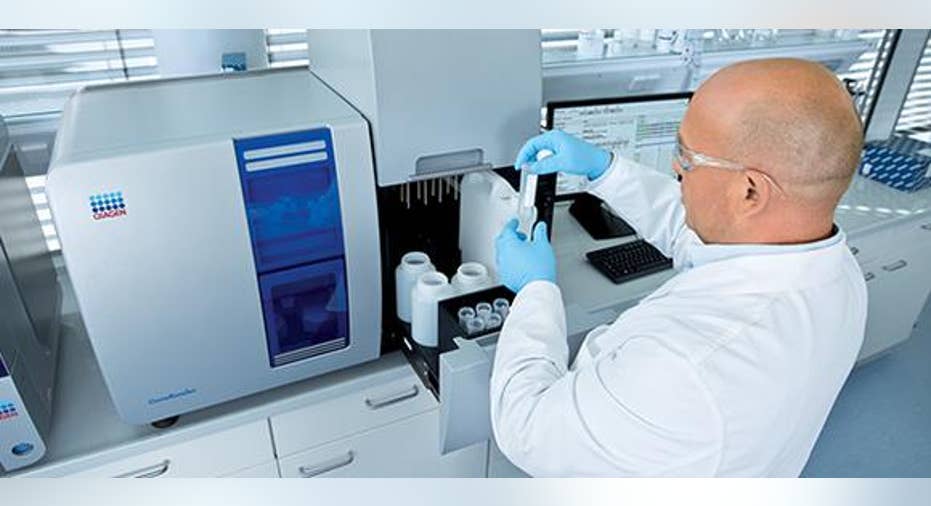 Qiagen released first-quarter earnings on Thursday, with stagnant growth and investments cutting into the bottom line. The second half of the year looks to be more impressive, but let's take a look at the current quarter for now.
Qiagen results: The raw numbers
| Metric | Q1 2016 Actuals | Q1 2015 Actuals | Growth (YOY) |
| --- | --- | --- | --- |
| Adjusted net sales | $298.4 million | $298.7 million | 0% |
| Adjusted earnings from operations | $53.4 million | $67.4 million | (21%) |
| Adjusted earnings per share | $0.19 | $0.22 | (14%) |
What happened with Qiagen this quarter?
Like many international companies, Qiagen's revenue were hurt by the stronger dollar. At constant currencies, revenue would have been up 2%.
Declining sales of HPV tests continue to hurt sales, but only by 2 percentage points -- less than previous quarters as the HPV test becomes a small portion of overall sales. For the year, management predicts the impact will only be 1 to 2 percentage points.
Sales in Qiagen's applied testing segment dropped 5% at constant currencies because of declining sales of instruments, but the segment makes up only about 8% of sales, so the decline didn't affect overall revenue much.
Earnings fell year over year because Qiagen stepped up investments in sales and marketing, and research and development expenses were slightly higher as a percentage of sales. But the increased spending didn't come as a big surprise -- adjusted earnings per share fell within management's guidance.
Qiagen's board authorized a $100 million share-repurchase plan.
What management had to sayQiagen is pushing into next-generation sequencing with its GeneReader. Unlike Illumina , which has a range of sequencers to meet the needs of different types of users, Qiagen is targeting a specific market for now, as CEO Peer Schatz commented, "We are targeting to gain a double-digit share of the benchtop sequencing market for targeted panels, primarily in cancer clinical research."
GeneReader. IMAGE SOURCE: QIAGEN.
Investments in the first quarter, which will probably continue into the current quarter, will taper off in the second half, resulting in improved margins. As Qiagen's CFO Roland Sackers explained: "You see about roughly half of these investments as being one-time costs. So we expect the growth in operating expenditures to be significantly slower in the second half of the year and to be lower than the sales growth rate."
Looking forwardFor the second quarter, management is looking for a 2% growth in adjusted net sales, including a 2-percentage-point currency headwind. Adjusted earnings are expected to come in at $0.21 per share, which would be slightly below the $0.22 per share it registered in the second quarter of 2015.
For the year, management is sticking with its previous guidance announced in January of adjusted net sales to rise about 4%, including a 2-percentage-point currency headwind. Adjusted earnings are expected to be in the range of $1.08 to $1.09 per share, including a $0.02 hit because of changes in currencies.
At $1.08, adjusted earnings would be up about 3% year over year, but keep in mind the first quarter -- and second-quarter guidance -- trails the corresponding year-ago periods. So if Qiagen can reach its goal, it'll do it by accelerating earnings in the second half, which would be a good sign for the years ahead.
The article Qiagen NV Looks for a Strong Second Half originally appeared on Fool.com.
Brian Orelli has no position in any stocks mentioned. The Motley Fool owns shares of and recommends Illumina. The Motley Fool recommends Qiagen. Try any of our Foolish newsletter services free for 30 days. We Fools may not all hold the same opinions, but we all believe that considering a diverse range of insights makes us better investors. The Motley Fool has a disclosure policy.
Copyright 1995 - 2016 The Motley Fool, LLC. All rights reserved. The Motley Fool has a disclosure policy.