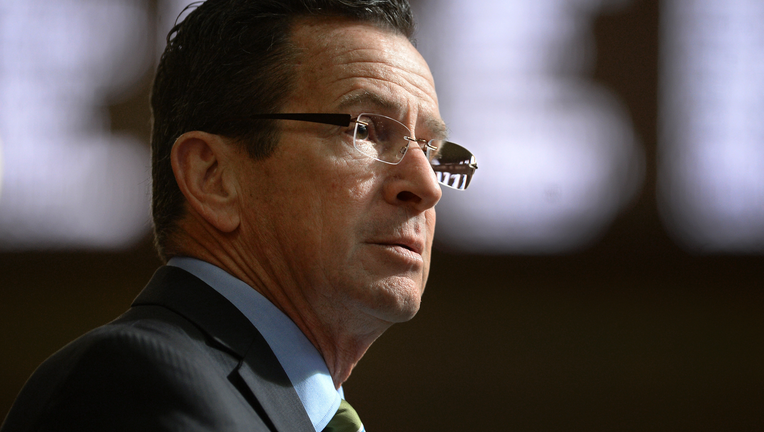 Gov. Dannel P. Malloy made a last-ditch attempt Wednesday to persuade leaders of the state House of Representatives to pass the three-month mini budget he crafted and avoid what will be deep cuts to everything from youth summer jobs and rental assistance programs.
In a letter to Democratic House Speaker Joe Aresimowicz and House Republican Leader Themis Klarides, the Democratic governor stressed how it's not in the best interest of their constituents or the state's economy to operate government without even a short-term approved budget.
The fiscal year ends on Friday, and everyone agrees there's no chance to pass a full two-year budget in time. If lawmakers don't return in a special legislative session to approve the mini budget, Malloy will have to run state government starting Saturday using his limited executive authority. While Democratic Senate President Martin Looney supports voting on the mini budget, Aresimowicz said Tuesday that his members do not want to return to Hartford to vote for just a temporary fix.
After Malloy's letter was released, Aresimowicz issued a statement Wednesday, saying he's "ready to stay here all night" to work toward passing a bipartisan mini budget, so long as it leads to a full two-year budget.
Malloy wrote that he "would hope that we could all agree that any action is better than no action at all."
Here's a look at how Connecticut got here and what happens next:
___
HOW DID WE GET TO THIS POINT?
Malloy unveiled his first two-year, $40.6 billion budget proposal in February. When state revenue estimates worsened, he released a revised $39.2 billion plan in May. But Democratic and Republican lawmakers had problems with his proposal for covering what has grown into a projected $5 billion deficit over the next two years.
With the closest partisan makeup of the General Assembly in recent memory, legislators failed to reach an agreement on a budget proposal that could pass the legislature before the June 7 regular session adjournment and ultimately get signed into law by Malloy.
Lawmakers then hoped to reach a budget deal before the state's fiscal year ends Friday. However, it became clear Tuesday that an agreement was out of reach for a vote on Thursday. That prompted Malloy to suggest lawmakers instead pass his 90-day mini budget, which would protect funding for certain programs and give legislators more time to try to reach a full budget agreement.
On Wednesday, Malloy suggested that Aresimowicz and Klarides commit to bringing a proportionate number of their members to pass the mini budget on Thursday, saying it would "also give us positive, bipartisan momentum toward an eventual biennial budget vote."
___
WHAT'S AT STAKE?
While a mini budget is not the same thing as a full two-year budget, Malloy contends his temporary plan will allow the state to avoid some of the worst budget cuts.
For example, Malloy said, cuts in aid to cities and towns, specifically funding for public education, would be less severe under his mini budget. If Malloy were to run the state without a budget, using only his limited executive authority, Education Cost Sharing grants would be cut by hundreds of millions of dollars and certain grants to municipalities would be zeroed out.
If there's no budget or mini budget in place, Malloy has predicted, certain state payments to hospitals would cease, funding for summer youth jobs programs would be eliminated, statewide funding for honor guards at military funerals would be eliminated, funding for state rental assistance would be reduced and some clients of the Departments of Developmental Services, Mental Health and Addiction Services and Housing would no longer receive services.
Malloy says he would also be unable to make revenue changes, forcing him to balance the projected $2.1 billion shortfall in the first year of the two-year budget solely with spending cuts. Also Malloy would be unable to stop previously approved pay raises for judges without the General Assembly authorizing a delay.
Klarides said Malloy's mini budget, which includes some revenue and fee increases, comes with "significant strings attached." She noted that the governor has said he won't accept any changes to his plan, given the looming fiscal year deadline.