Putin says Russian gas shipments via Ukraine may continue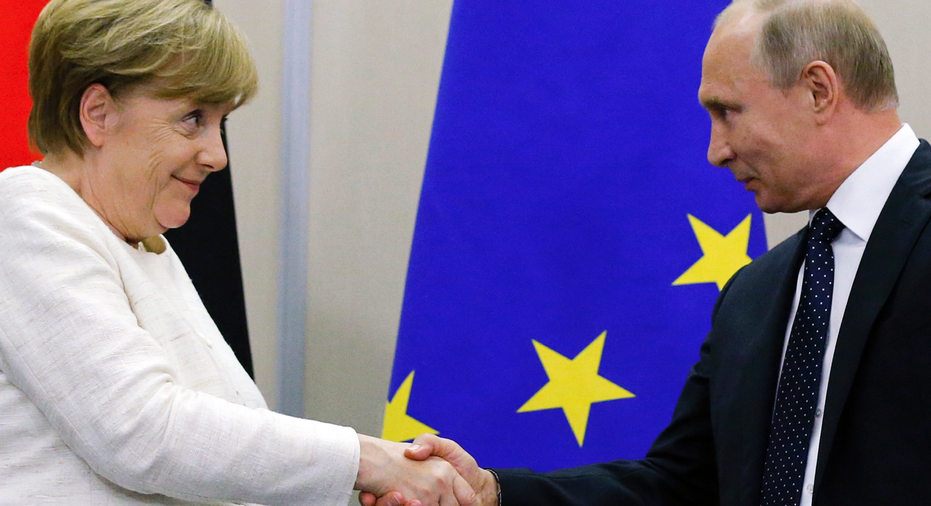 Russia's President Vladimir Putin said Friday that gas supplies to Europe via Ukraine may continue even after the launch of a new prospective Germany-bound pipeline under the Baltic Sea.
The question of whether Ukraine would be frozen out of future Russian gas deliveries is seen as one of the main stumbling blocks for the Nord Stream 2 pipeline project spearheaded by Russia's state-controlled Gazprom. Several European countries object to the plan, including Ukraine, and the United States has warned that it could endanger Europe's energy security.
Speaking after talks with German Chancellor Angela Merkel in the Russian city of Sochi, Putin said Russia has no intention of halting supplies of gas to the EU nations across Ukraine's territory after the launch of the Nord Stream 2 pipeline , scheduled for late 2019. Supplies via Ukraine, which relies heavily on transit fees for gas, would continue if they are economically expedient, he said.
"We are ready to preserve such transit if it makes sense economically," he said. "It can be achieved in talks with the Ukrainian side, and we are ready for such talks."
Putin suggested that the U.S. opposition to the Nord Stream 2 stems from President Donald Trump's desire to encourage exports of the U.S. liquefied natural gas, which is supplied by ship and is considerably more expensive than Russian supplies.
Merkel, too, emphasized the need to provide Ukraine with guarantees that supplies via its territory will continue.
Germany wants Russia's gas and has calculated that the new pipeline will provide better value for money compared with other options.
The meeting in the Black Sea resort of Sochi was Merkel's first visit to Russia in a year. It came amid tense relations between Berlin and Moscow.
Germany has condemned Russia's annexation of Ukraine's Crimea peninsula and its military support for the government of Syrian President Bashar Assad. But as she starts her fourth term, Merkel is reaching out to Putin in an effort to make some progress on these long-running crises.
The two leaders spoke to reporters before a joint meal at which the question of moving forward the stalled peace process in Ukraine was discussed further, though no conclusion was reached.
Germany insists that a U.N. peacekeeping force should help facilitate next year's elections in Ukraine. Moscow, which backs the separatist rebellion in eastern Ukraine, has indicated it could agree to their presence but balked at Ukraine's demand to allow their deployment alongside the Russia-Ukraine border.
On Syria, Putin said that European humanitarian assistance to Syria and help in rebuilding the country after the devastating civil war is crucial in creating conditions for the refugees' return from Europe.
He said that providing aid for Syria must be "depoliticized" — a reference to Western reluctance to provide assistance to Syrian President Bashar Assad's government.
"If Europe wants people to return to their homes, it needs to help Syria rebuild its economy and provide Syria with humanitarian assistance," Putin said.
Merkel urged Putin to use his clout with Assad to make him reverse a law that could strip Syrians of their assets if they fail to claim them right away.
"This is very bad news for all of those who want to return to Syria one day," she said.
Germany has taken in over 700,000 refugees from Syria, by far the highest number in Europe, causing considerable strain on its budget and fanning anti-migrant sentiment.
Putin encouraged Assad, who visited Sochi Thursday, to move toward political settlement and the Syrian leader pledged to back efforts to draft a new constitution. At the same time, Russia has dismissed Western accusations of the Syrian government's responsibility for chemical attacks, casting them as provocations by the rebels.
Berlin and Moscow currently find themselves on the same page when it comes to the nuclear deal with Iran: unlike the United States, which has pulled out of the deal, both countries want to keep the deal alive, arguing that it has helped keep any Iranian nuclear program in check.
"We Europeans are in contact with Iran to talk about the (fact that) Iran should stay in the agreement because this agreement provides security, monitoring and transparency," Merkel said.
She added that the international nuclear watchdog, the International Atomic Energy Agency, believes that Tehran has adhered to the deal.
"The IAEA has made clear that it firmly believes that Iran is currently abiding by its commitments," she said. "That's why we believe that this transparency is of great value."
___
Vladimir Isachenkov in Moscow contributed to this report.