PTC Therapeutics, Inc. in 3 Charts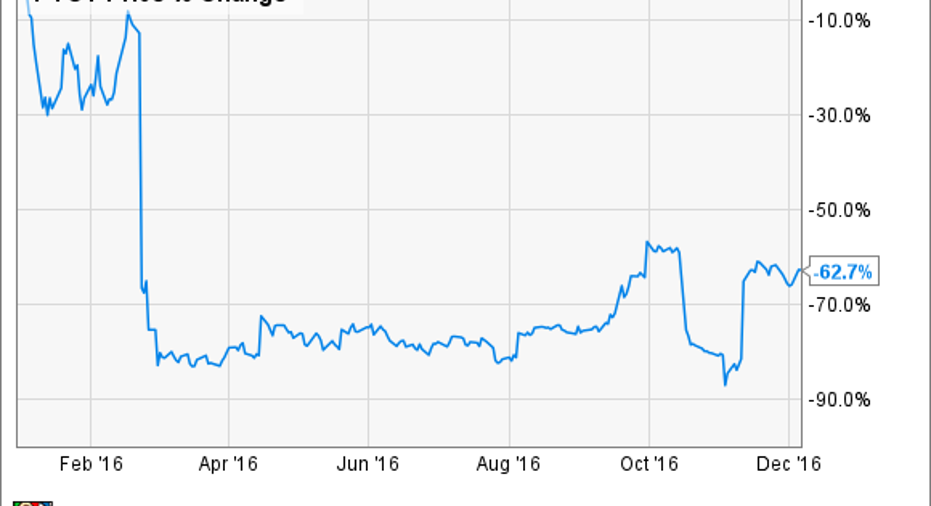 While Sarepta Therapeutics (NASDAQ: SRPT) gained a lot of attention this year with its U.S. approval of Duchenne muscular dystrophy (DMD) drug Exondys 51, another biotech holds the honor of having the first DMD drug on the market elsewhere in the world.PTC Therapeutics (NASDAQ: PTCT) secured conditional European approval in 2014 forTranslarna. What's going on now with PTC Therapeutics? These three charts tell the story.
Image source: Getty Images.
Not for the faint-hearted
Owning PTC Therapeutics' stock might not be a good thing for those faint of heart. The stock tanked earlier this year and still hasn't fully recovered.
That nosedive in February stemmed from the U.S. Food and Drug Administration (FDA) refusing to review the regulatory filing for Translarna in treatingnonsense mutation Duchenne muscular dystrophy (nmDMD). The FDA stated that PTC's study results "were negative and do not provide substantial evidence of effectiveness" and that the company's application didn't "contain adequate information regarding the abuse potential of Translarna."
More bad news followed in October. The FDA denied PTC Therapeutics' appeal of the refuse to file letter for Translarna. PTC continues to fight the FDA decision, arguing that the agency should give a full review just as it has for other DMD treatments, a not-so-veiled reference to Sarepta's controversial approval.
There has been some positive news, though. In November, the EuropeanCommittee for Medicinal Products for Human Use (CHMP) recommendedthe renewal of the conditional marketing authorization of Translarna in treating nmDMD.
A pipeline built on nonsense
Translarna forms the backbone of PTC Therapeutics' pipeline. The drug targets genetic diseases that are caused by nonsense mutations. These nonsense mutations prevent the production of fully functional proteins bycreating a premature stop signal in the translation of the genetic code contained in mRNA.
Image source: PTC Therapeutics.
Aside from DMD, PTC Therapeutics is furthest along in studying Translarna as a potential treatment for cystic fibrosis. The company expects to announce results from a late-stage study of the drug in treating cystic fibrosis in early 2017.
PTC's clinical program doesn't only focus on nonsense mutations, though. The biotech partnered with Rocheon the development of experimental drugRG7800 in treating spinal muscular atrophy (SMA) using a technique that modifies thesplicing of the SMN2 gene. PTC Therapeutics' pipeline also includes an early-stage experimental cancer treatment, PTC596.
Cash position
Although PTC Therapeutics does have revenue coming in from European sales of Translarna, the company isn't anywhere close to profitability yet. This means PTC's cash position remains critical for investors.
PTCT Cash and Short Term Investments (Quarterly) data by YCharts.
PTC Therapeutics should be able to fund operations with its current cash stockpile (including cash, cash equivalents, and marketable securities) well into 2018. Investors probably don't have to worry about dilution from a stock offering anytime soon, although there's no guarantee the company won't seek to generate cash sooner than expected.
Looking ahead
The most important hurdle for PTC Therapeutics relates to its appeal of the FDA refusal to consider Translarna. With one failed appeal already, it would appear that the company's odds for success on this front are low.
On the other hand, changes could be on the way with the FDA. President-elect Donald Trump has promised reforms to "speed the approval of life-saving medications" by the agency. It's possible that changes could be enacted that improve Translarna's prospects for U.S. approval, especially considering that the drug is approved in Europe already, and very limited clinical data were used to support approval of Sarepta's DMD drug.
Another big catalyst for PTC Therapeutics is the announcement of results from the late-stage study of Translarna in treating cystic fibrosis. Good news from that study would likely provide a nice boost to PTC's stock.
10 stocks we like better than PTC Therapeutics When investing geniuses David and Tom Gardner have a stock tip, it can pay to listen. After all, the newsletter they have run for over a decade, Motley Fool Stock Advisor, has tripled the market.*
David and Tom just revealed what they believe are the 10 best stocks for investors to buy right now...and PTC Therapeutics wasn't one of them! That's right -- they think these 10 stocks are even better buys.
Click here to learn about these picks!
*Stock Advisor returns as of Nov. 7, 2016.
Keith Speights has no position in any stocks mentioned. The Motley Fool has no position in any of the stocks mentioned. Try any of our Foolish newsletter services free for 30 days. We Fools may not all hold the same opinions, but we all believe that considering a diverse range of insights makes us better investors. The Motley Fool has a disclosure policy.