Proto Labs Manufactures Solid 3D Printing Growth Amid Challenging Macroeconomic Environment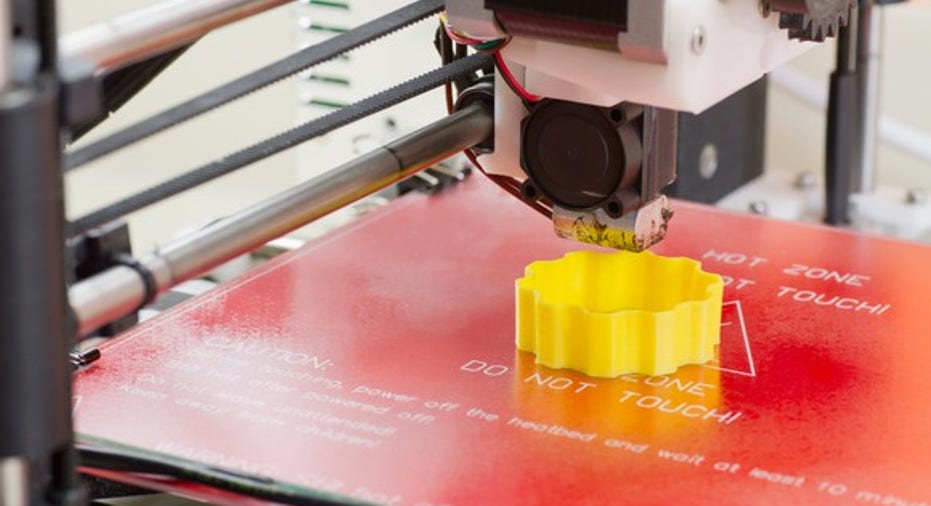 Proto Labs (NYSE: PRLB)released its fourth-quarter and full-year 2016 earnings before the market opened on Thursday. Year-over-year revenue for the quarter inched down 1.9%, while adjusted earnings per share declined 18%.
The quick-turn manufacturing service provider's performance was better than the numbers reflect, given that theslowdown in the manufacturing environment in which it operates has negatively impacted research and developmentspending in certain industries. Quarterly revenue came in at the midpoint of the company's guidance range, and adjusted EPS came in at the mid-to-high point of the range.
The market was enthused by the results, with shares closing up 12.4% on Thursday.
Proto Labs' Q4 key numbers
| Metric | Q4 2016 | Q4 2015 | Year-Over-Year Change |
| --- | --- | --- | --- |
| Revenue | $72.4 million | $73.8 million | (1.9%) |
| GAAP operating income | $14.8 million | $16.6 million | (10.8%) |
| GAAP net income | $9.4 million | $12.0 million | (21.7%) |
| Adjusted net income | $10.8 million | $13.4 million | (19.4%) |
| GAAP earnings per share (EPS) | $0.35 | $0.45 | (22.2%) |
| Adjusted EPS | $0.41 | $0.50 | (18%) |
Data source: Proto Labs. GAAP = generally accepted accounting principles.
Adjusted net income and EPS exclude the after-tax expense of stock compensation, amortization of intangibles, and charges related to the exit of facilities and unrealized foreign currency gains.
For the full-year 2016,revenue increased 12.9% to $298.1 million, net income declined 8.2% to $42.7 million, and GAAP EPS decreased 9% to $1.61. On an adjusted basis, net income declined 8.3% to $47.6 million and EPS fell 9.1% to $1.79.
Analysts expected Proto Labs to deliver adjusted EPS of $0.39 on revenue of $72.41 million in the reported quarter, so the company hit the revenue consensus on the bull's-eye and exceeded earnings expectations by $0.02. While long-term investors shouldn't pay too much attention to Wall Street's near-term estimates, they can be helpful to know since they often help explain market reactions.
Revenue results by service provided
| Manufacturing Service | Revenue | Year-Over-Year Change |
| --- | --- | --- |
| Injection molding (Protomold) | $41.6 million | (5.2%) |
| CNC machining (Firstcut) | $20.9 million | 6.7% |
| 3D printing | $9.8 million | 7.6% |
Data source: Proto Labs.
The relatively nascent 3D printing business continues to be the best performer in terms of revenue growth. Its results are better than the 7.6% year-over-year growth figure reflects. The 2015 fourth-quarter results included revenue from unprofitable 3D printing contracts at Alphaform (the German service bureau acquired in early October 2015) that Proto Labs terminated. Excluding these contracts, revenue from 3D printing jumped 16.6%.
Given the robust projected growth dynamics for the 3D printing industry, Proto Labs' 3D printing business has the potential to be a particularly powerful growth engine. The challenge this presents to earnings growth is that this business, at least currently, has a lower gross margin than the other services provided, as management has previously said.
3D printer. Image source: Getty Images.
What happened with Proto Labs in the quarter?
The number of unique product developers and engineers served increased 13.1% year over year to 14,046.
Gross margin was 55.7%, a slight decline from 56% in the fourth quarter of 2015, as well as a decline from 57.2% in the previous (third) quarter of 2016.
GAAP operating margin was 20.5% compared to 22.4% in the year-ago period. Adjusted operating margin was 23.1%.
What management had to say
CEO Vicki Holt addressed the macroeconomic environment in the press release: "Our fourth quarter financial results continued to reflect the challenges that we faced throughout 2016 with general economic conditions affecting the R&D spending in certain industries, a trend that was felt with greater impact as we closed out the year."
She also outlined steps that Proto Labs took in 2016 that havestrengthened its competitive position and enhanced its ability to generate better results:
Looking ahead
CFO John Way outlined the first-quarter 2017 guidance on the conference call as follows:
| Metric | Q1 2017 Guidance | Q1 2016 Result | Expected Year-Over-Year Change |
| --- | --- | --- | --- |
| Revenue | $73 million-$78 million | $72.6 million | flat to 7.4% |
| Adjusted EPS | $0.42 to $0.48 | $0.44 | (4.5%)-9.1% |
Data source: Proto Labs.
Adjusted for an expected $1.2 million negative impact from foreign currency translation and the year-ago period's approximately $1 million of revenue related to resin resale and terminated unprofitable contracts, revenue growth is expected to be in the range of 3.5% to 10%.
Holt said in the press release that Proto Labs will be focused on three priorities in 2017:
"[Improving] sales and marketing productivity to bring in new product developers and generate increased revenue."
Continued expansion of service offerings "to capture more of our customers' needs."
Improving gross margin to 58% to 60% of revenue.
Holt said on the earnings call that plans to improve the gross margin will be focused on the European 3D printing business, which has a lower gross margin than the 3D printing business in the U.S.
10 stocks we like better than Proto LabsWhen investing geniuses David and Tom Gardner have a stock tip, it can pay to listen. After all, the newsletter they have run for over a decade, Motley Fool Stock Advisor, has tripled the market.*
David and Tom just revealed what they believe are the 10 best stocks for investors to buy right now... and Proto Labs wasn't one of them! That's right -- they think these 10 stocks are even better buys.
Click here to learn about these picks!
*Stock Advisor returns as of February 6, 2017
Beth McKenna has no position in any stocks mentioned. The Motley Fool owns shares of and recommends Proto Labs. The Motley Fool has a disclosure policy.