Profit-Taking Clobbers Advaxis, Inc. in April Despite Positive PR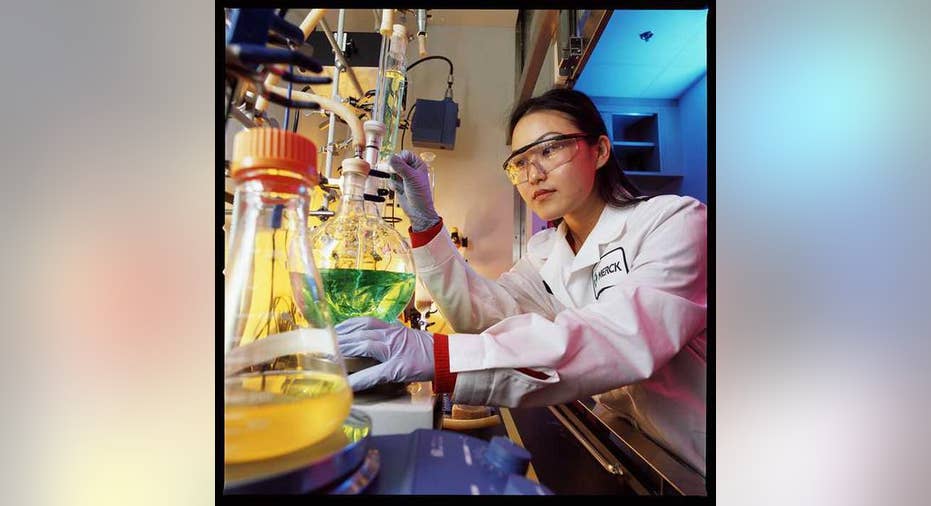 Image source: Centers for Disease Control and Prevention.
What: Shares of Advaxis , a clinical-stage biotechnology company focused on the development of cancer immunotherapies, dropped 14% in April, according to data from S&P Global Market Intelligence.
So what: The likely culprit behind Advaxis' tumble in April is a combination of profit-taking -- Advaxis' stock had risen by 70% from the beginning of March through the first week of April -- and high levels of short interest. Short-sellers are traders who are betting on a stock to move lower, making money when stock prices fall and losing money when they rise. Advaxis, as of mid-April, had 8.4 million shares held by short-sellers, which works out to about a third of its 25 million share float. It could be difficult for Advaxis to gain much traction with this many short-seller attempting to hold it at bay.
Image source: Merck.
Conversely, Advaxis also reported a number of positive press releases that would otherwise make you scratch your head as to why its share price retreated in April. Most notably, on April 28, Advaxis announced that the Food and Drug Administration had granted the fast track designation for ADXS-HER2 in patients with newly diagnosed, non-metastatic, surgically resectable osteosarcoma. The fast track designation means more one-on-one conversations with the FDA to speed up the clinical process, and it could mean an expedited review as well. The fast track designation don't guarantee approval, but they're typically only handed out by the FDA to experimental therapies that have an opportunity to make a major impact on an unmet indication, or provide perceived superiority over a current standard-of-care drug.
Earlier in the month, Advaxis also announced that it and Merck had completed their first two dose-escalation trials in the KEYNOTE-046 study involving the combination of ADXS-PSA and Merck's FDA-approved cancer immunotherapy, Keytruda, for the treatment of advanced prostate cancer. Both parties have launched a third dose-escalating cohort and plan to evaluate ADXS-PSA as a monotherapy, and the combination of ADXS-PSA plus Merck's Keytruda, in 51 advanced prostate cancer patients by about mid-year.
Now what: If there's any way to aptly describe Advaxis' April performance, it would be that the company took baby steps forward with its pipeline, but it got blindsided by emotional and short-term minded traders. Unfortunately, this is something Advaxis' shareholders, and most clinical-stage biotech investors, come to live with. It's incredibly difficult to value a company's pipeline when there are no guarantees its experimental products will work in clinical trials, that it'll sell once it reaches pharmacy shelves, or that another drug developer won't create a superior product. Of course, when investors are right, they tend to see incredible gains that would likely make your jaw drop.
Advaxis' technology is certainly intriguing -- using Listeria monocytogenes to effect a response from the patient's immune system. Cancer immunotherapies are arguably the hottest thing in cancer drug development. Advaxis has also developed partnership with heavy hitters in oncology, Merck and MedImmune. However, it's yet to move anything past phase 2 trials. Until we have some concrete efficacy data on a large scale, it could be difficult for Advaxis' stock to gain sustainable traction.
For now I consider Advaxis an intriguing watchlist stock, but would suggest observing it safely from the sidelines.
The article Profit-Taking Clobbers Advaxis, Inc. in April Despite Positive PR originally appeared on Fool.com.
Sean Williamshas no material interest in any companies mentioned in this article. You can follow him on CAPS under the screen nameTMFUltraLong, track every pick he makes under the screen name TrackUltraLong, and check him out on Twitter, where he goes by the handle@TMFUltraLong.The Motley Fool has no position in any of the stocks mentioned. Try any of our Foolish newsletter servicesfree for 30 days. We Fools may not all hold the same opinions, but we all believe thatconsidering a diverse range of insightsmakes us better investors. The Motley Fool has adisclosure policy.
Copyright 1995 - 2016 The Motley Fool, LLC. All rights reserved. The Motley Fool has a disclosure policy.