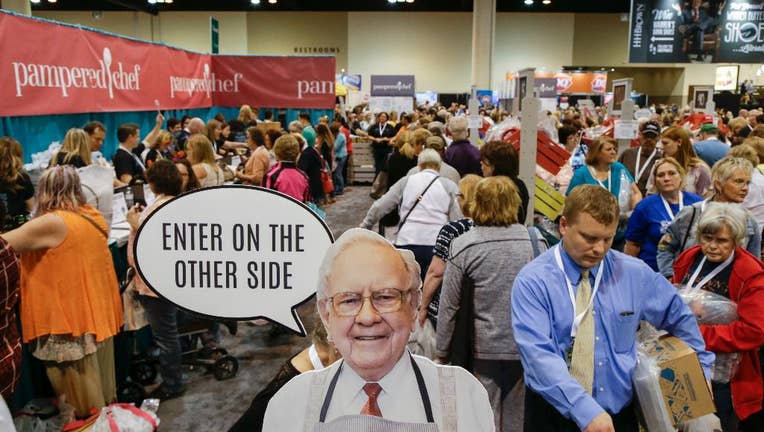 Warren Buffett's company reported a 27 percent drop in its first-quarter profit largely because of a big gain it booked last year in connection with two acquisitions.
Berkshire Hathaway said Friday it earned $4.06 billion, or $1.65 per Class B share. That's down from $5.59 billion, or $2.27 per B share, a year ago when it completed its acquisitions of Duracell and Precision Castparts.
Following those deals last year Berkshire recorded a $1.85 billion gain on its investments and derivatives. This year its gain on investments and derivatives was $504 million.
Berkshire's operating earnings excluding those investment gains were $3.56 billion, or $1.44 per Class B share. That's down from $3.74 billion, or $1.52 per A share. Analysts surveyed by FactSet expected $1.78 in the latest quarter.
Buffett has said operating earnings offer a better view of quarterly performance because they exclude investments and derivatives, which can vary widely.
Berkshire said its revenue jumped to $65.2 billion from last year's $52.2 billion.
Berkshire Hathaway executives do not routinely discuss quarterly earnings results, but Buffett will likely talk about the company's performance during Saturday's annual meeting in Omaha, Nebraska. Buffett will spend several hours answering shareholder questions at the meeting
Berkshire's insurance operations, which include Geico and General Reinsurance, recorded a $267 million underwriting loss as it adjusted its estimated losses for several large policies upward somewhat.
BNSF railroad contributed $838 million to the quarter's profit as it hauled 6 percent more freight, up from $784 million a year ago.
Berkshire's utilities generated $501 million net income during the quarter, up from $441 million.
Berkshire owns more than 90 subsidiaries, including clothing, furniture and jewelry firms. It also has major investments in such companies as Coca-Cola Co. and Wells Fargo & Co.
___
Follow Josh Funk online at www.twitter.com/funkwrite
___
Online:
Berkshire Hathaway Inc.: www.berkshirehathaway.com