Procter & Gamble Co. Earnings Drop on Industry Slowdown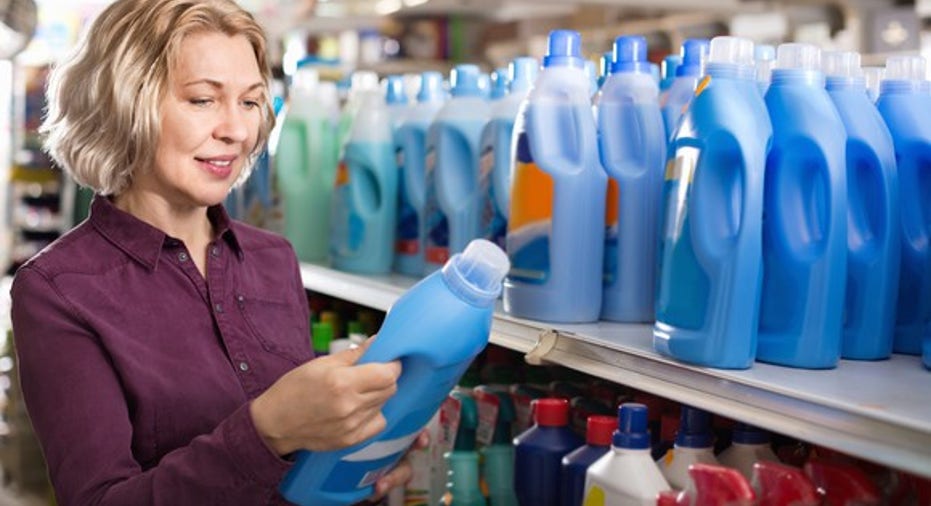 Given the recent slump in the branded consumer products industry, Procter & Gamble (NYSE: PG) investors had modest expectations heading into this week's quarterly report. But while the headline numbers weren't exciting, the owner of the Tide, Pampers, and Bounty franchises managed modest sales and profit growth. P&G also affirmed its full-year outlook on both the top and bottom lines.
More on that forecast in a moment, but first here's how the big-picture results stacked up against the prior-year period:
| Metric | Q1 2017 Actuals | Q1 2016 Actuals | Change (YOY) |
| --- | --- | --- | --- |
| Revenue | $15.61 billion | $15.76 billion | (1%) |
| Net income | $2.56 billion | $2.78 billion | (9%) |
| EPS | $0.96 | $1.00 | (4%) |
Data source: P&G financial filings.
Sales and profits
Revenue growth slowed for the second straight quarter, with organic sales gains weighing in at 1% thanks to a slight volume increase as prices held steady. That broader result put the company ahead of rival Kimberly-Clark (NYSE: KMB), which earlier in the week announced a 1% drop in organic sales. P&G also beat its key diaper rival by managing a healthier mix of volume and pricing.
In a worrying sign for the Gillette brand, though, organic sales dove 6% in the grooming category. P&G has seen its global dominance slip in the razors-and-blades industry, and this week's results suggest continued struggles against major competitors like Unilever (NYSE: UL) and its online-based Dollar Shave Club. Unilever is trouncing peers overall right now, boosting sales by nearly 3% this past quarter.
P&G's profits showed modest improvements. Core gross profit margin dipped by 20 basis pointsas significant efficiency gains were overwhelmed by rising commodity costs and increased spending on brand support. Expense discipline helped protect bottom-line profitability, though. Despite a boost in marketing and research and development spending, core operating profit ticked up slightly to keep the company near the top of the industry on this key metric.
Management and outlook
CEO David Taylor focused on the operating and financial wins that P&G managed despite a tough overall market. "The third quarter macro environment was characterized by a slowdown in market growth, continued geopolitical disruptions, and foreign exchange challenges," he said in a press release. Still, "against this backdrop we delivered modest organic sales growth and double-digit core EPS growth," Taylor added.
Image source: Getty Images.
Executives also highlighted P&G's recent announcement of a 3% boost to the dividend payout that marked a solid acceleration over last year's 1% uptick. The consumer goods giant has now raised its dividend for 61 consecutive years.
P&G affirmed its full-year outlook, which projects organic sales gains speeding up to a 2.5% pace from 1% last year. That would put the company ahead of Kimberly-Clark and the roughly 1.5% growth it is targeting. P&G is still on track to trail Unilever, though, which is projecting 4% gains at the midpoint of guidance.
Investors can't be excited that the results imply further market share losses and suggest continued declines in the Gillette shaving franchise. On the other hand, P&G's operations are becoming more profitable and the company is making progress toward returning to market-beating sales gains.
The company also expects to turn 95% of its net earnings into free cash flow this year -- up from the prior forecast of 90%. That financial strength will produce plenty of flexibility for P&G to navigate a rough selling environment while continuing to invest in its brands and sending big piles of cash to shareholders through dividends and stock repurchases.
10 stocks we like better than Procter & GambleWhen investing geniuses David and Tom Gardner have a stock tip, it can pay to listen. After all, the newsletter they have run for over a decade, Motley Fool Stock Advisor, has tripled the market.*
David and Tom just revealed what they believe are the 10 best stocks for investors to buy right now... and Procter & Gamble wasn't one of them! That's right -- they think these 10 stocks are even better buys.
Click here to learn about these picks!
*Stock Advisor returns as of April 3, 2017
Demitrios Kalogeropoulos has no position in any stocks mentioned. The Motley Fool recommends Kimberly-Clark and Unilever. The Motley Fool has a disclosure policy.