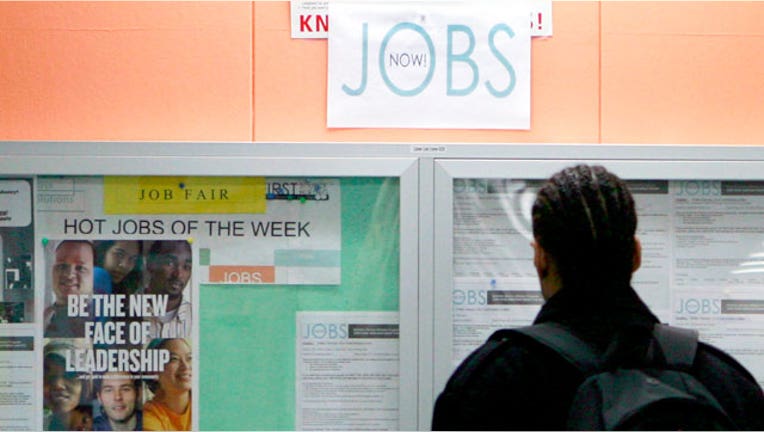 U.S. private-sector employers added more jobs than expected in September, but another report on Wednesday showed a jump in planned layoffs in the month.
Private payrolls rose by 91,000 according to payrolls processor ADP, above expectations for a gain of 75,000 in a Reuters poll.
August private payrolls were revised down to an increase of 89,000 from the previously reported 91,000.
But the number of planned layoffs at U.S. firms in September jumped to its highest in more than two years due to heavy cutbacks by the U.S. military and Bank of America, another report on Wednesday showed.
Employers announced 115,730 planned job cuts last month, more than double August's total of 51,114, according to the report from consultants Challenger, Gray & Christmas, Inc.
The figure was the highest since April 2009 when 132,590 layoffs were announced.
September's job cuts were also much higher than the same time a year ago, tripling from the 37,151 job cuts announced in September 2010. For 2011 so far, employers have announced 479,064 cuts, up 16.5 percent from the first nine months of 2010.
The data comes ahead of Friday's monthly report on total U.S. nonfarm payrolls from the U.S. Labor Department which is expected to see a gain of 60,000 payrolls last month, according to a Reuters survey, after being unchanged in August.
"It looks like we're still seeing the private sector create jobs, which is consistent with a slow-growing economy," said Gary Thayer, chief macroeconomic strategist, at Wells Fargo Advisors, in St. Louis, Missouri.
"The problem is the government sector is cutting jobs. So it looks like we'll get a weak, but slightly positive, jobs number on Friday."
PLANNED LAYOFFS FROM TWO EMPLOYERS
The rise in the number of planned layoffs in September was largely from two employers."It is important to keep in mind that 80,000 cuts, or nearly 70 percent of last month's total, came from just two organizations: Bank of America and the United States Army," John A. Challenger, chief executive officer of Challenger, Gray & Christmas, said in a statement.
"Neither of these cuts is directly related to recent softness in the economy."
Bank of America's 30,000 planned cuts stemmed from continued fallout from the U.S. housing market collapse and restructuring efforts to remake the bank into a smaller, more efficient company, Challenger said.
The 50,000 military cuts were the result of drawing down forces in two wars and cost-cutting efforts in all areas of the federal government. September's cuts followed an announced 17,500 reduction in August, he added.
On the hiring front, employers announced plans to add 76,551 workers in September, down from 123,076 a year ago, the report by Challenger, Gray & Christmas, Inc. said.
It predicted seasonal hiring would be about the same as 2010 when retailers hired more than 600,000 holiday workers in the last three months of the year.
RETURN OF VERIZON WORKERS
The increase in total nonfarm payrolls expected in September in Friday's Labor Department data is seen being boosted by the return to work of 45,000 striking Verizon Communications workers, but the underlying labor market trend likely remained weak, with no improvement in the unemployment rate and hours worked.
Private employment is expected to have increased 100,000 in the Labor Department data, an acceleration from August's paltry 17,000 count.
But an 11th straight month of declines in government payrolls is expected.
The unemployment rate is expected to have remained at 9.1 percent and the average work week steady at 34.2 hours.
The economy needs to grow by at least an annual rate of 2.5 percent and payrolls expand 150,000 a month on a sustained basis to keep the jobless rate from rising.