Prescription Growth Powers CVS Health Corp.'s Strong Q1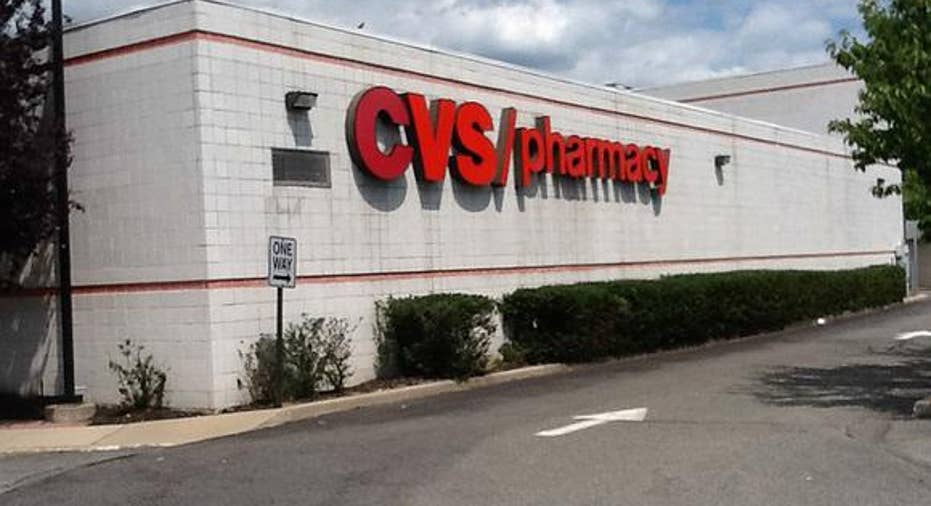 CVS Health Corp. ended its fiscal 2015 on a good note, delivering solid revenue and earnings growth in the fourth quarter. Investors were hoping for more good news when the large pharmacy services company announced its 2016 first-quarter results before the market opened on Tuesday. How did the company perform? Here are the highlights.
CVS Health results: The raw numbers
| Metric | Q1 2016 Actuals | Q1 2015 Actuals | Growth (YOY) |
| --- | --- | --- | --- |
| Sales | $43.2 billion | $36.3 billion | 19% |
| Net Income From Continuing Operations | $1.1 billion | $1.2 billion | (6.1%) |
| Earnings per diluted share | $1.04 | $1.07 | (2.8%) |
YOY: year over year. Data source: Yahoo! Finance.
What happened with CVS Health this quarter?While the official earnings numbers reflected a decrease from the prior-year period, the news really wasn't that bad. The negative comparisons stemmed from costs related to the 2015 acquisitions of Omnicare and Target'sin-store pharmacies and clinics. On a non-GAAP basis, CVS Health reported earnings per share in the first quarter of $1.18, a 3.5% year-over-year increase.
Highlights of the company's first quarter included:
Pharmacy services segment revenue jumped 20.5% to $28.8 billion, driven primarily by higher pharmacy prescription volume and specialty pharmacy growth.
Net new business was the main catalyst behind the increased prescription volume, with the number of pharmacy network claims processed in the first quarter climbing 22.6% year over year.
Retail/long-term care (LTC) revenue rose 18.6% to $20.1 billion, thanks in large part to the Omnicare acquisition last year and the purchase of Target's pharmacies and clinics in December.
Pharmacy same-store sales growth also helped improve the retail/LTC revenue total. Same-store sales grew 4.2% year over year.
The generic dispensing rate for CVS Health's pharmacy services segment increased approximately 170 basis points to 85.2%, while the generic dispensing rate for the company's retail/LTC operations increased approximately 125 basis points to 85.7%.
What management had to sayPresident and CEO Larry Merlo was understandably upbeat. He said:
Looking forwardCVS Health still expects to achieve adjusted earnings per share in 2016 of$5.73 to $5.88. However, the company lowered its GAAP earnings guidance to$5.24 to $5.39 per diluted share from$5.28 to $5.43 per diluted share. Two factors were behind the decrease: the impact of acquisition-related costs anda charge related to a disputed 1999 legal settlement. For the second quarter, the company projects adjusted earnings share between $1.28 and $1.31, with GAAP earnings per diluted share between $1.17 and $1.20.
To make these numbers, CVS Health must accomplish a couple of things. First, the company needs to keep momentum rolling with its pharmacy benefits management business. Merlo hinted at good news on that front, stating that the 2017 selling season is "off to a solid start with some early wins."
The other important goal for CVS Health will be to fully integrate its acquisitions to achieve the predicted synergies. CVS Health bought the Target pharmacies not only to increase sales volume, but with an eye toward gaining leverage to lower its drug acquisition costs. The addition of the Target clinics fits nicely into CVS Health's plans to become more of an integrated healthcare company.
The article Prescription Growth Powers CVS Health Corp.'s Strong Q1 originally appeared on Fool.com.
Keith Speights has no position in any stocks mentioned. The Motley Fool recommends CVS Health. Try any of our Foolish newsletter services free for 30 days. We Fools may not all hold the same opinions, but we all believe that considering a diverse range of insights makes us better investors. The Motley Fool has a disclosure policy.
Copyright 1995 - 2016 The Motley Fool, LLC. All rights reserved. The Motley Fool has a disclosure policy.