Predators Beat Pens 5-1 in Game 3 of Stanley Cup Finals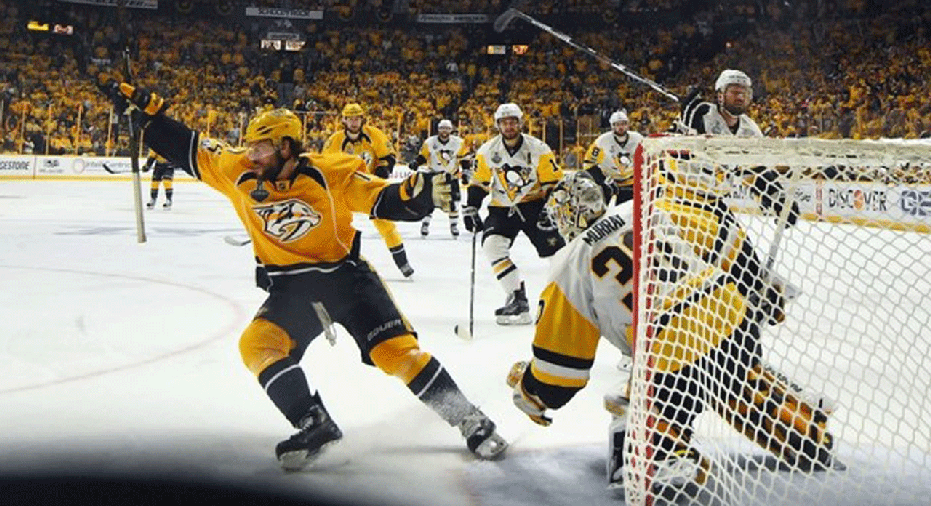 It may be the most overused cliche in sports, but for Nashville coach Peter Laviolette it definitely rings true in the Stanley Cup Final series against the high-scoring Pittsburgh Penguins: 'Offense sells tickets, but defense wins championships'.
While the Predators, who lost the opening two games of the series in Pittsburgh, had an offensive breakout to win Game Three 5-1 on home ice, Laviolette predicted there would be no Cup celebrations in Nashville without a tighter defense.
"As much as we sit here and talk about attack all the time ... If we don't play good defense, we won't be successful," he told reporters on Sunday.
Nashville conceded nine goals in the opening two games of the series, losing 5-3 in the opener and 4-1 in Game Two, but Laviolette was reluctant to criticize his defensemen.
And while he said he wanted his team to tighten up their play at the back, he seemed content with letting his defensemen join the attack -- or even lead it.
"As you can see by the way we play, our defensemen have the green light to add to the rush or lead the rush, take charge offensively in the offensive zone," Laviolette said.
"That kind of takes the restriction off of just playing on the blueline in the offensive zone.
"Now you're talking about goal line to goal line. Maybe a lot of times it does refer to a forward, not necessarily for a guy like him or a guy like Mattias Ekholm who really likes to take the puck and can go 200 feet with it."
Nashville's improved defensive play in Game Three saw Pittsburgh's Sidney Crosby and Evgeni Malkin held without a shot on goal between them. It was only the third time since Crosby and Malkin became Pittsburgh team mates more than a decade ago that neither took a shot in a game.
Penguins coach Mike Sullivan said on Sunday: "We thought there were opportunities in the game for both of those guys to put pucks on the net.
"They chose not to because that's what their instincts were telling them.
"I just think moving forward, if they can have a little bit more heightened awareness of trying to put pucks on the net, these guys are going to produce for us."
Game Four is on Monday in Nashville.
(Reporting by Gene Cherry in Raleigh, North Carolina; Editing by Peter Rutherford)