Precious-Metal Miners Soar Once More Following Brexit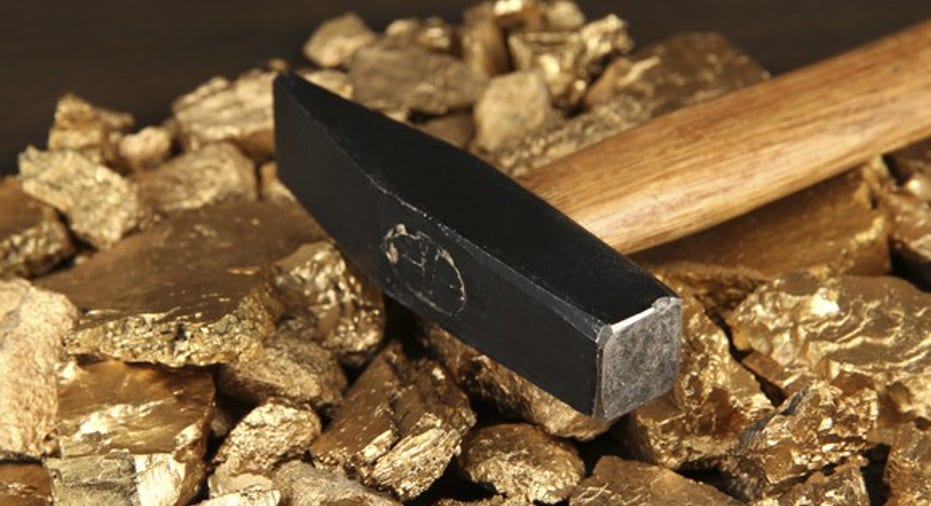 Image source: Getty Images.
What: Shares of precious-metal miners Fortuna Silver Mines , Great Panther Silver , and Gold Fields have soared by as much as 13%, 10%, and 11%, respectively, after the underlying metals they produce headed higher. As of 3 p.m. ET, gold and silver were up about 1% and 3%, respectively, from their prior-day closing spot price in New York trading.
So what: The reason for the rapid ascent in metal prices can likely be traced to the Brexit vote last Thursday, which saw 51.9% of Britain's voters choose to leave the European Union. The economic instability and uncertainty created from such a move has sent shock waves throughout the financial markets, and it's propelled safe-haven investments such as gold and silver considerably higher.
Also helping gold and silver is that the Brexit could halt any chance interest rates had of heading higher. A disappointing May jobs report coupled with the Brexit should all but stop the U.S. Federal Reserve's monetary tightening in its tracks. Similarly, other developed countries could see their benchmark lending rates, and bonds, track lower. Lower yields tend to fuel precious-metal rallies because the opportunity cost of buying into non-yielding metals such as gold and silver tends to be quite low.
Now what: On top of improving underlying metal prices, we've also seen discernible improvements in the fundamentals of the miners producing these metals.
Image source: Gold Fields.
Case in point: Gold Fields could be a prime candidate to benefit from the Brexit, according to Moody's. The rally in gold prices is expected to boost Gold Fields' free cash flow by 37% to $185 million in the second-half of this year. Gold Fields is also benefiting from a weaker South African rand, which has been losing ground against the dollar. But, most importantly, Gold Fields has pushed its all-in sustaining costs (AISC) down to $961 an ounce as of the first quarter of 2016 from $1,143 in Q1 2015. These lower costs are the key to rapidly expanding Gold Fields' margins and profits.
Of course, the Brexit bump is being felt by smaller miners, too. Great Panther Silver has been the beneficiary of silver prices that have hit highs not seen in more than a year, and lower AISC. Although Great Panther Silver's metal production rose a tame 2% in Q1 2016 to a shade over 1 million silver equivalent ounces, it was the company's 36% decrease in AISC to $9.25 per payable silver ounce that really stood out to investors. Great Panther guided investors to expect AISC closer to $13-$15 per ounce during its Q1 press release, but it could have the potential to surprise investors in 2016 with considerably lower costs for the full year.
Image source; Great Panther Silver.
Lastly, we've seen a similar story at Fortuna Silver Mines, which primarily mines silver, but also produces gold, lead, and zinc. In its first quarter it delivered an AISCC (all-in sustaining cash cost, a measure of cash costs that takes into account the net by-product credits of the gold, lead, and zinc it mines) of $9.39 per silver ounce. Comparatively, its AISCC in Q1 2015 was $11.79 per silver ounce on a consolidated basis, so this was a nice improvement. With a new expansion in its key San Jose mine expected next month, production is expected to modestly improve, while costs are expected to dip even further.
There's a lot to like about precious-metal miners in this investing environment, and it could be worthwhile for you to give these, and other names, a look.
The article Precious-Metal Miners Soar Once More Following Brexit originally appeared on Fool.com.
Sean Williamshas no material interest in any companies mentioned in this article. You can follow him on CAPS under the screen nameTMFUltraLong, and check him out on Twitter, where he goes by the handle@TMFUltraLong.The Motley Fool recommends Moody's. Try any of our Foolish newsletter services free for 30 days. We Fools may not all hold the same opinions, but we all believe that considering a diverse range of insights makes us better investors. The Motley Fool has a disclosure policy.
Copyright 1995 - 2016 The Motley Fool, LLC. All rights reserved. The Motley Fool has a disclosure policy.