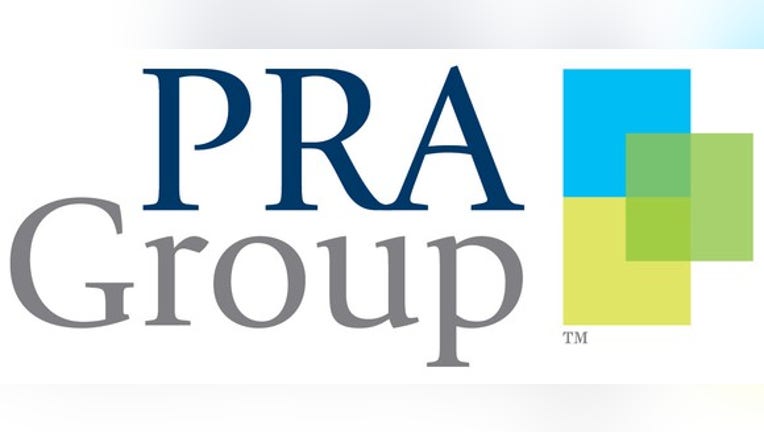 PRA Group (NASDAQ: PRAA) has made every effort to take advantage of the debt collection industry in which it operates, and the company has dealt well with somewhat adverse industry conditions that have weighed on its ability to do business in the manner it would prefer. Coming into Tuesday's fourth-quarter financial report, PRA Group investors expected a modest drop in revenue and were prepared to see net income fall by roughly a third. What they weren't prepared to see, though, was a huge plunge in sales that sent the company to a substantial loss. Yet a one-time charge was largely responsible for the drop, and PRA Group tried to remain upbeat about its longer-term prospects.
Let's look more closely at PRA Group to see how it did and what's ahead for the debt-collection company.
Image source: PRA Group.
How bad was the quarter for PRA Group?
PRA Group's fourth-quarter results were shockingly bad. Total revenue plunged by almost a third to $155.3 million, which compared abominably to the $226.5 million that most of those following the stock were expecting to see. The company lost $17.6 million during the quarter, and even after making some allowances for unusual legal costs and other one-time items, an adjusted loss of $0.33 per share threw cold water on the investors' expectations for a $0.68 per share profit.
Looking more closely at the report, the biggest problem PRA Group dealt with was a huge net allowance charge recorded against certain pools of finance receivables in the quarter. That charge amounted to $62.5 million, which was far worse than the $11.5 million PRA Group had to take in the fourth quarter of 2015. The company explained that it made a change to its accounting estimates that generated the large charge, insinuating that the actual fundamental hit to the business wasn't nearly as big as the numbers would suggest.
However, PRA Group's cash collection activity didn't really show any signs of picking up steam. Core collections in the key Americas segment fell between 1% and 2% from year-ago levels, and the insolvency segment in the Americas suffered a decline of more than a quarter. In Europe, core collections eased higher by a fraction of a percent, and insolvency-related collections nearly doubled. Yet those markets are smaller enough compared to the Americas that total cash collections were down nearly 6%, with adverse currency movements accounting for only about a third of the declines.
Moreover, the remaining collection volume of $5.05 billion was down by $200 million over the past three months, suggesting that opportunities could slow down in the future. Return on average equity plunged to negative 7.9%, due largely to the charge that created the net loss.
Still, PRA Group did its best to pick up lucrative new investment opportunities. The company spent nearly $200 million on new investments, with only slightly more money going toward the Americas than to Europe. Still, purchase volume was down about a ninth from year-ago levels.
CEO Steve Fredrickson tried to reassure investors: "While our fourth-quarter GAAP earnings reflect a non-cash allowance charge, our economic performance remained solid," Fredrickson said, "and we made substantial progress resolving operational and regulatory challenges." The CEO is optimistic that the company's efforts over the past year could pay off in better conditions ahead.
What will 2017 look like for PRA Group?
In particular, PRA Group believes that several opportunities could spur future growth. Fredrickson listed several, including
Moreover, PRA Group's balance sheet remains healthy. Borrowings grew by only $60 million to $1.78 billion over the past year, and equity rose by about 8%. That should give the company the flexibility to make further investments as the occasion warrants.
PRA Group investors didn't panic, and the stock actually rose by less than 1% in after-hours trading following the announcement. Investors won't want to see repeated one-time charges like this, preferring instead to watch for signs of even better industry conditions going forward.
10 stocks we like better than PRA GroupWhen investing geniuses David and Tom Gardner have a stock tip, it can pay to listen. After all, the newsletter they have run for over a decade, Motley Fool Stock Advisor, has tripled the market.*
David and Tom just revealed what they believe are the 10 best stocks for investors to buy right now...and PRA Group wasn't one of them! That's right -- they think these 10 stocks are even better buys.
Click here to learn about these picks!
*Stock Advisor returns as of February 6, 2017.
The son of PRA Group's CEO is currently employed by The Motley Fool. Dan Caplinger has no position in any stocks mentioned. The Motley Fool owns shares of and recommends PRA Group. The Motley Fool has a disclosure policy.