Pound Tumbles, But U.K. ETFs Rise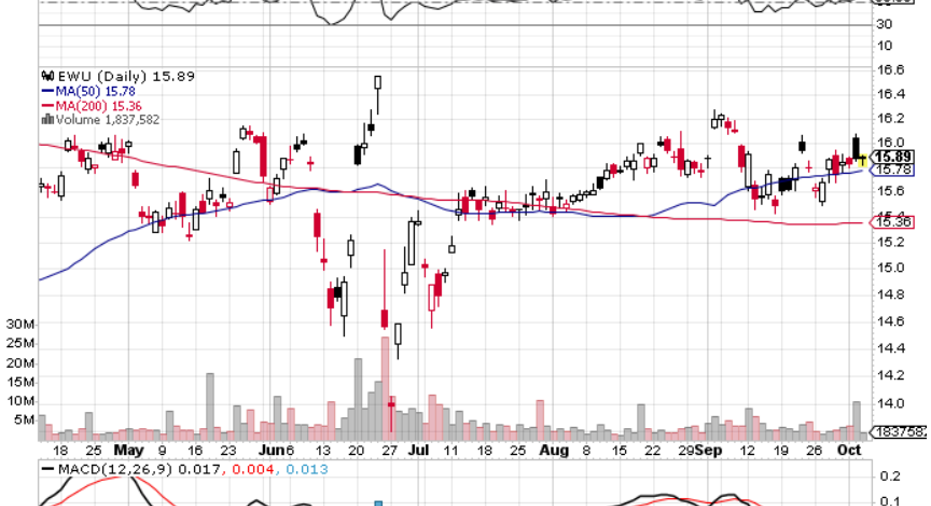 The CurrencyShares British Pound Sterling Trust (NYSEArca: FXB), which tracks the British pound's movement against the U.S. dollar, is easily one of this year's worst-performing currency exchange traded funds and that situation is getting worse, not better, as sterling labors near its lowest levels in more than three decades.
However, the situation is not so bad for U.K. stocks and ETFs such as the iShares MSCI United Kingdom ETF (NYSEArca: EWU), the largest US-listed U.K. ETF. In fact, the U.K.'s benchmark FTSE 100 recently hit an all-time high and EWU is higher by nearly 7% over the past 90 days.
SEE MORE: Currency-Hedged U.K. ETFs for Improving Earnings, Depreciating Pound
Last month, the Bank of England pared its benchmark rates to a record low 0.25% from 0.5% and anticipates it will further bring it down toward zero ahead, the Wall Street Journal reports. The BOE also revived its government bond-buying program, which has been on pause since 2012, along with purchasing corporate bonds as well.
Given the weaker sterling but resilient global growth outlook, Citi agrues that U.K. earnings per share growth estimates will be positive by 2017, the first time it has moved into the black in five years.
Since mid-2012, U.K. earnings on a trailing basis have declined about 50% but trailing dividends per share have increased 20%, causing the payout ratio to rise to 90%, the highest in 50 years.
"British stocks, specifically, experienced an immediate about-face and began to shoot higher. As we mentioned in an August post, 7 weeks after the Brexit vote, U.K.'s FTSE-100 stock index had actually climbed 20%. It wasn't just a flash-in-the-pan move either. After pausing at some technical resistance outlined in that August post, the index has once again continued to press higher, now some 23% above the Brexit lows," according to See It Market.
Related: Don't Fight the Charts on the British Pound ETF
There are options for investors looking to play U.K. stocks benefiting from the weaker pound, including the Deutsche X-Trackers MSCI United Kingdom Hedged Equity ETF (NYSEArca: DBUK), iShares Currency Hedged MSCI United Kingdom ETF (NYSEArca: HEWU) and the iShares Currency Hedged MSCI United Kingdom ETF (NYSEArca: HEWU).
"The FTSE also managed another technical accomplishment. It reclaimed the top side of the key post-2011 Up trendline that it had broken in August 2015. Considering all the major lows between 2011-2015 that precisely held the trendline, as well as the fact that the FTSE continues to "respect" it, we are hesitant to dismiss the potential usefulness of the old trendline," adds See It Market.
iShares MSCI United Kingdom ETF
The opinions and forecasts expressed herein are solely those of Tom Lydon, and may not actually come to pass. Mr. Lydon serves as an independent trustee of certain mutual funds and ETFs that are managed by Guggenheim Investments; however, any opinions or forecasts expressed herein are solely those of Mr. Lydon and not those of Guggenheim Funds, Guggenheim Investments, Guggenheim Specialized Products, LLC or any of their affiliates. Information on this site should not be used or construed as an offer to sell, a solicitation of an offer to buy, or a recommendation for any product.
This article was provided by our partners at ETFTrends.