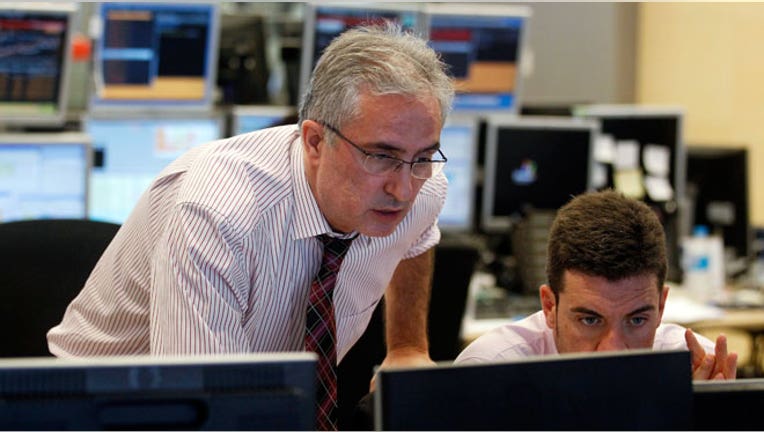 The British pound jumped against the dollar and shares in London fell on Wednesday as unexpected dissent from a Bank of England policymaker and robust jobs data cast doubt on the central bank's pledge to keep interest rates low.
Strong growth in the largest euro zone economies, France and Germany, helped pull the 17-nation bloc out of its 18-month old recession, helping support European shares near a 10-week peak as some investors booked profits after recent sharp gains.
The news left the euro zone's blue chip Euro STOXX 50 index up 0.1 percent and near its best levels of the year, set in May. Britain's FTSE 100 index slipped 0.2 percent, although it stayed within its recent trading range.
Sterling hit a high of $1.5507 after data showed a sharp drop in jobless benefit claims in July and minutes of the central bank's last meeting revealed one policymaker had voted against a historic move to tie interest rates to unemployment.
New Governor Mark Carney outlined the BoE's flagship policy - which will see rates kept low until joblessness falls to 7 percent, subject to certain safeguards including inflation staying in check - on August 7 after its nine policymakers met.
The minutes and data pointing to a stronger labour market prompted money market traders to price in a greater chance of a hike in the bank's base rate in two years - a year earlier than the BoE has signalled.
"Before the ink is hardly dry on the forward guidance document there is someone saying they don't like the idea," said Brian Hilliard, UK economist at Societe Generale.
"If the numbers improve the market will question the limits of the time horizon of forward guidance out to 2016."
GROWTH FINALLY
The euro gained in early trading as stronger than expected German and French GDP data reinforced expectations the bloc's economy had grown after six quarters of contraction.
The European Union's statistics office later confirmed a 0.3 percent expansion in the three months to June, after which the euro drifted back to be 0.1 percent lower at $1.3250.
Bailed-out Portugal posted the best growth in the region with a 1.1 percent expansion in the second quarter, but it was Germany's 0.7 percent quarterly growth rate, its largest in over a year, which powered the recovery.
"The euro zone has been hauled out of recession and Germany has done the lion's share of that," said Andreas Scheuerle, economist at Dekabank.
Prices for 10-year German government debt were mostly steady after the data, though as traders adjusted positions after a slump in demand at a subsequent bond auction, yields were slightly lower at 1.8 percent.
The dollar was broadly firmer after forecast-beating data on Tuesday increased the prospects of the Federal Reserve scaling back its stimulus as early as next month.
Against a basket of currencies, the dollar stood near one-week highs touched on Tuesday, while against Japan's currency it was little changed at 98.13 yen.
FED FEARS
Yields on benchmark U.S. 10-year Treasuries edged away from Tuesday's 2.72 percent peak, the highest rate in nearly two years, as investors prepared for the Fed to start tapering its $85 billion a month of bond purchases.
Talk about the Fed's next step had escalated when Atlanta Fed President Dennis Lockhart said it was too early to detail plans to taper, while not ruling out the possibility of it starting next month.
His suggestion any move would neither be sudden or drastic boosted sentiment in U.S. stock markets that carried into Asian trade, though U.S. stock index futures point to modest retracement of the gains when trading resumes later..
Asia's MSCI's broadest index of Asia-Pacific shares outside Japan was little changed though Japan's benchmark Nikkei stock average finished at a one-week high. Hong Kong markets were closed due to a typhoon.
The evidence of improving global growth from the latest European and U.S. data helped copper gain 0.5 percent to $7,317 a tonne but worries about the Fed curbing its commodity-friendly stimulus saw gold slip to $1,324 per ounce. Brent crude edged down towards $109 a barrel.