Pound ETF Retreats as Sterling Slips Toward 31-Year Low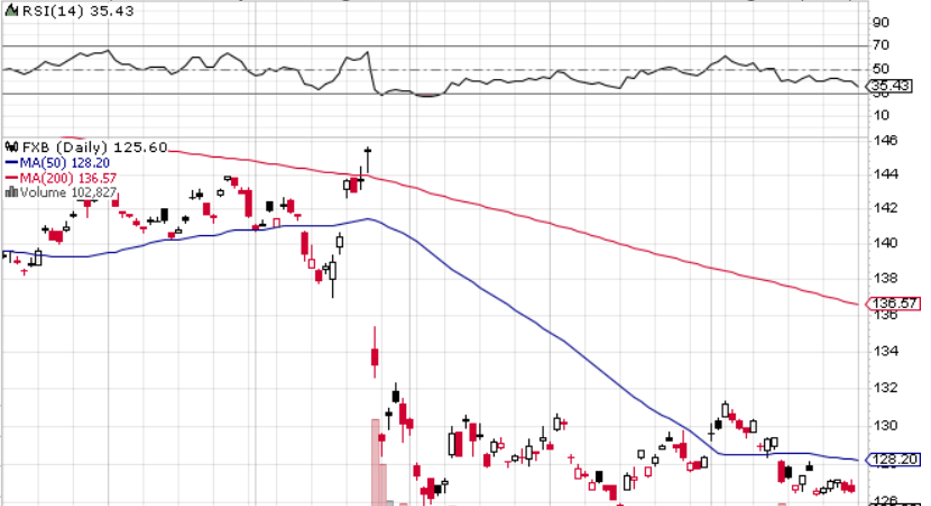 The British pound sterling exchange traded fund retreated to a new low, with the currency declining to its lowest against the U.S. dollar in 31 years, after U.K. Prime Minister Theresa May sets Brexit start date.
The CurrencyShares British Pound Sterling Trust (NYSEArca: FXB) fell 0.8% as the pound depreciated 0.9% against the U.S. dollar to $1.2861. The GBP dropped as low as $1.2815 earlier, nearing the $1.2796 low set in 1985.
The pound weakened in after the U.K. Prime Minister told the Conservative party conference that Britain would trigger Article 50 – the official legal notification that would begin the exit negotiations with the European Union – "no later than the end of March," the Financial Times reports. The U.K. would then be expected to leave the E.U. by 2019.
SEE MORE: U.K. Currency-Hedged ETFs Pop on BOE Aggressive Stimulus Package
"The decline in sterling is another reminder that the market doesn't like the uncertainty that Brexit is bringing, that the negotiations will be hard and that the probability of a hard Brexit has increased," Charles St Arnaud, Nomura FX strategist, told the Financial Times.
The GBP also remain depressed after U.K. Chancellor Philip Hammond told the conference to expect Brexit-induced volatility in the U.K. economy.
Consequently, currency trades were worried that sentiment out of London were pointing to a so-called Hard Brexit where the U.K's access to the European market would be limited under the terms of the country's exit from the union.
SEE MORE: Brexit Continues to Drag on Pound ETF, Sends GBP to Three-Decade Low
"It seems as if we are heading for a hard Brexit, as Theresa May revealed that control of immigration is the most important issue," Mikael Olai Milhøj, senior analyst at Danske Bank, told the Financial Times.
Observers argued that the U.K. may be leaving the European market after E.U. leaders said access to the market means the U.K. would have to accept free movement of labor. Consequently, U.K. institutions, notably the banking industry, would lose their passport access to the European market for financial services.
For more information on the pound sterling, visit our British pound category.
CurrencyShares British Pound Sterling Trust
This article was provided by our partners at ETFTrends.