Potash Stock and Mosaic Stock Downgraded: 3 Things You Need to Know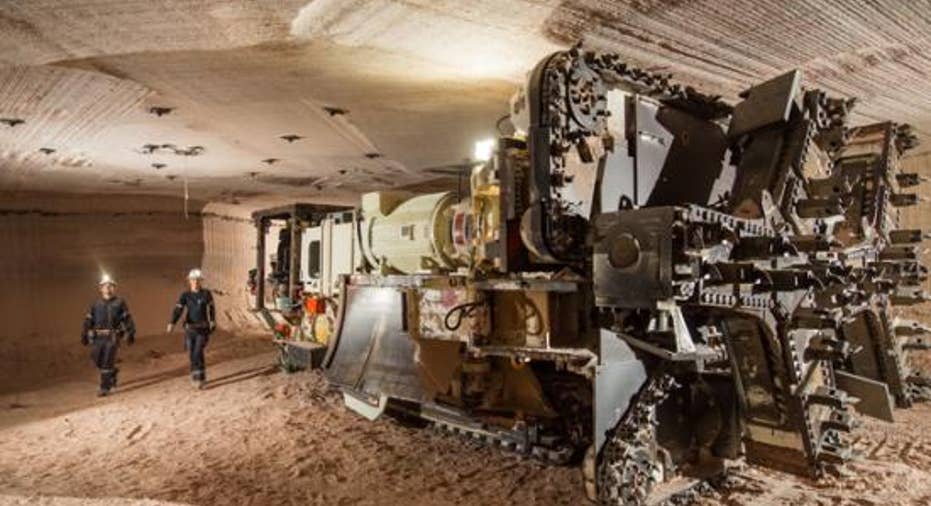 It's a green day on Wall Street, with market averages up nearly 1% in early Monday trading. But for two stocks in particular, the day is looking red.
The news Early Monday morning, analysts at HSBC took a hatchet to their ratings on Potash Corporation of Saskatchewan , and its archrival Mosaic Corp , as well. In each case, the investment banker warned of "pressure" on fertilizer prices (which Potash and Mosaic produce). In each case, the banker cut its rating on the stock to hold, and slashed its price target, too.
Previously pricing Potash at $21, HSBC now thinks the stock is worth only $16.75 per share. And Mosaic, for which the analyst was targeting a $35 price, is now thought to be worth just $26.50.
Want to know why? Here are three things you need to know.
To help grow crops on the earth, Potash mines nutrients from deep underneath the earth. Image source: PotashCorp.
Thing No. 1: This is not really news Today's news of the downgrades of Potash stock and Mosaic stock comes to us by way of TheFly.com, which confirms both downgrades and relates HSBC's warning that "low costs and aggressive marketing present downside risk to estimates."
That such warnings could spook an analyst out of recommending stocks that cost barely 10 times earnings (Potash) and less than 9 times earnings (Mosaic) is surprising. But to get to the heart of this story, you need to read past the analyst's ratings, and understand the news that provoked them.
Specifically, you need to know what British publicationFinancial Times was reporting about the state of the agricultural market last week. More specifically, you need to know how bad it is.
Namely, very bad. According to FT, the market prices of phosphate, potash, and nitrogen fertilizers have plunged by "more than a fifth" over the past year. Today, fertilizer costs per acre of farm production are now cheaper than the costs of seeding those fields -- the first time this has happened in the 14 years that Purdue University of Indiana has collected such data.
Thing No. 2: And yet, this is going to be news for quite some timeThe Financial Times says "high levels of global supply" (verging on "overcapacity"), lower energy prices" (which make it cheap for fertilizer producers to produce nitrogen, flooding the market) and "currency volatility" (which make North American-produced fertilizers price-uncompetitive with foreign products) all contribute to Potash and Mosaic's problems.
Potash in particular -- a key product of both Potash and Mosaic -- saw its market price drop 29% year over year in March. Nitrogen (produced by Potash) and phosphate (Potash and Mosaic) prices are also "substantially lower," down 19% and 17%, respectively. The devalued currencies of Russia and China are helping those companies to flood the export market, notes FT.
Thing No. 3: This is terrible news for Potash stock and Mosaic stock -- bothJust how bad could things get for Potash and Mosaic? On S&P Global Market Intelligence, analysts are predicting that Potash's profit per share will plunge 37% to just $0.96 this year, down from $1.52 in 2015 -- and down an astounding 73% from the $3.51 Potash earned just five years ago, in 2011. Mosaic's heading for a 33% drop in earnings, at just $1.85 per share this year, according to these same analysts.
One final thingAnd yet, the steep dive in fertilizer prices -- and fertilizer stock prices -- reflected in the above estimate is a dark cloud which perhaps includes a silver lining. Cyclical stocks like fertilizer are forever plumbing deep lows and soaring to rarefied highs. The same analysts voicing doom and gloom over Potash's prospects today, for example, see profits per share nearly doubling to $1.90 by 2020.
And at Mosaic, analysts see earnings returning to fiscal 2015 levels as early as 2020, a year in which Mosaic is expected to earn $2.79 per share.
Indeed, this turnaround might well come even sooner than we think. According to FT, U.S. farmers are taking advantage of the low cost of fertilizer to plant a simply a-maize-ing amount of corn this year -- perhaps has much as 94 million acres, which would be 15% more than recently forecast, and the biggest corn crop seen since 2013. And given that cornfields use roughly three timesas much fertilizer as competing soybean crops require to grow, this promises a bumper crop of fertilizer demand in the year ahead.
Translation: HSBC's downgrades notwithstanding, the seeds of a turnaround for Potash stock and Mosaic stock could be sprouting even as we speak.
The article Potash Stock and Mosaic Stock Downgraded: 3 Things You Need to Know originally appeared on Fool.com.
Fool contributorRich Smithdoes not own shares of, nor is he short, any company named above. You can find him onMotley Fool CAPS, publicly pontificating under the handleTMFDitty, where he's currently ranked No. 283 out of more than 75,000 rated members.The Motley Fool has no position in any of the stocks mentioned. Try any of our Foolish newsletter services free for 30 days. We Fools may not all hold the same opinions, but we all believe that considering a diverse range of insights makes us better investors. The Motley Fool has a disclosure policy.
Copyright 1995 - 2016 The Motley Fool, LLC. All rights reserved. The Motley Fool has a disclosure policy.