Positive Clinical Data Sends Isis Pharmaceuticals, Inc. Soaring in November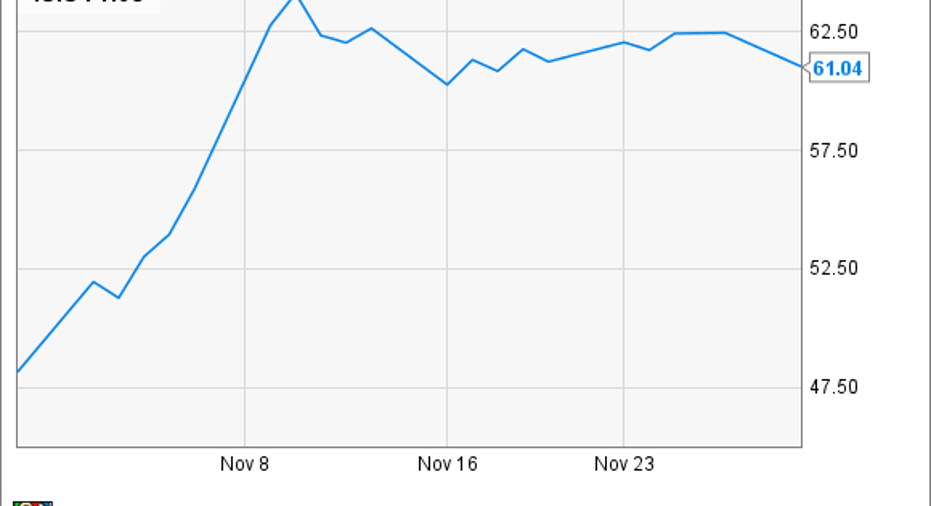 Shares of Isis Pharmaceuticals , a predominantly clinical-stage antisense drug developer, soared 27% in November, based on data from S&P Capital IQ, after reporting an abundance of positive trial outcomes.
The biggest boost for Isis Pharmaceuticals came from its data release at the American Heart Association's Scientific Sessions at the University of California, San Diego, my alma mater. There, Isis announced that its phase 2 study involving ISIS-APO(a)Rx for patients with high lipoprotein(a) led to 71% mean reduction in Lp(a), with up to a 94% reduction observed. Lp(a) is a common risk factor of cardiovascular disease, so it's believed that lower Lp(a) levels should decrease a patient's chances of developing cardiovascular-based problems.
A second study, this time a phase 1/2 of a separate compound, ISIS-APO(a)-LRx, demonstrated an Lp(a) reduction of up to 97% for those receiving a single 80 mg dose, with a mean reduction of 79% at the 30-day mark. This single dose also resulted in Lp(a) reductions of nearly 50% after a 90-day period. Dose-dependent reductions of up to 99% were also observed in patients receiving multiple doses, with the multiple-dose mean reduction equaling a whopping 92%.
Also working in the company's favor was the $2.8 million milestone payment it earned from Biogen for the advancement of ISIS-DMPK-2.5Rx into phase 1/2a studies. This experimental drug will be assessed in patients with myotonic dystrophy type 1. According to the company's press release, Isis has generated almost $27 million in milestone payments from Biogen for the development of ISIS-DMPK-2.5Rx.
This isn't Isis' only hoorah with Biogen, either. The two are currently partnered on the development of ISIS-SMNrx, an experimental drug designed to treat spinal muscular atrophy in infants and children.
Image source: Isis Pharmaceuticals.
Now that you have a better idea of why Isis Pharmaceuticals performed so well in November, you're probably wondering whether the good times can continue. My suggestion is that they can, but I would consider tempering your intermediate growth expectations.
Working in Isis' favor is the fact that it has 30 drugs currently in clinical development. This gives the company multiple opportunities to swing for the fences in an effort to hit a home run. It would only take a few successes for Isis to demonstrate the value of its drug development platform to Wall Street and investors.
The company's roughly one dozen high-profile partnerships also give the company a quick way to raise capital and signify that its research holds value. These partnerships are critical to ensuring Isis Pharmaceuticals has enough cash to keep its lights on and its research ongoing.
The one concern investors will want to monitor is that it could be years before Isis Pharmaceuticals is generating recurring revenue from approved drugs. This could put pressure on Isis' already pumped up valuation and may make it difficult for current shareholders to see much upside over the coming quarters.
The article Positive Clinical Data Sends Isis Pharmaceuticals, Inc. Soaring in November originally appeared on Fool.com.
Sean Williamshas no material interest in any companies mentioned in this article. You can follow him on CAPS under the screen nameTMFUltraLong, track every pick he makes under the screen nameTrackUltraLong, and check him out on Twitter, where he goes by the handle@TMFUltraLong.The Motley Fool recommends Biogen and Isis Pharmaceuticals. Try any of our Foolish newsletter services free for 30 days. We Fools may not all hold the same opinions, but we all believe that considering a diverse range of insights makes us better investors. The Motley Fool has a disclosure policy.
Copyright 1995 - 2015 The Motley Fool, LLC. All rights reserved. The Motley Fool has a disclosure policy.