Pope mania sweeps Asia's bastion of Catholic faith ahead of Pope Francis' visit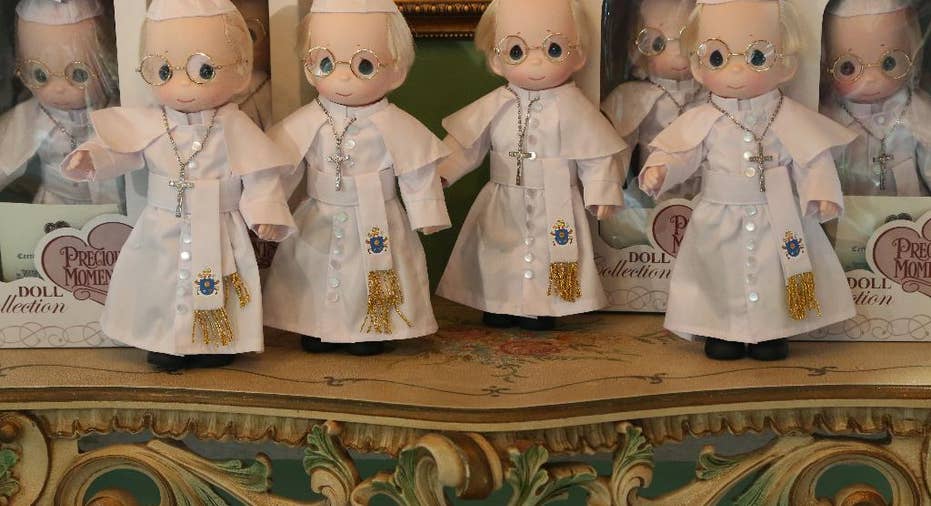 Well before Pope Francis' plane touches down in this Asian bastion of the Roman Catholic faith, Filipinos have been snapping their selfies beside his life-sized cutout image in churches and malls. His face beams from welcome posters, shirts, cookies, coins, stamps, coffee mugs and all imaginable mementoes.
There's even "Pope Francis, the Musical," in which the pontiff is portrayed singing a little One Direction.
Filipinos have welcomed popes with rock-star intensity since 1970; the late John Paul II visited twice. Pope Francis' Jan. 15-19 trip, following his ongoing Sri Lanka visit, promises to be as big or bigger, in part because the country has many painful reasons to look for hope.
The leader of the 1.2 billion-strong Catholic world will visit eastern Leyte province, where Typhoon Haiyan killed thousands and leveled entire villages in November 2013. In addition, the pontiff's focus on poverty, inequality and such social ills has resonated in this poor country of 100 million, where a tenth of the population work abroad to support their families back home.
"Filipinos are excited about the visit because people have a lot of problems and have been through a lot of calamities," retired government employee Josephine Graza told The Associated Press after Mass at a Catholic church in Manila. "They want to see the pope so their heavy hearts can be relieved, so their problems can be bearable."
"You always feel that he cares," said retired doctor Marina Bringas.
Pope mania has hit the road, cyberspace and the airwaves.
In Manila, a company sells 12-inch bespectacled Pope Francis dolls. T-shirts, button pins, posters, key chains and mugs with pictures of the pontiff smiling and waving are sold by Catholic charities, street vendors and online shopping sites. In northern Benguet province, an artist created pontiff bobblehead dolls, with one hand waving.
An official website runs a countdown to Francis' arrival and offers meticulous details of his visit and life, including the fact that he once worked as a nightclub bouncer.
Tarpaulins with Francis' smiling image line the spruced-up streets of Manila, where preparations for the visit have peaked. Three work days falling within his visit have been declared holidays. In churches, nine days of prayers for the pope's safety commenced Jan. 6.
In a country where singing is a passion, local artists have recorded at least two papal visit souvenir albums of mostly original songs. Manila Archbishop Cardinal Luis Antonio Tagle, known for his baritone, is one of the crooners.
With excitement building up, President Benigno Aquino III appealed on national television Monday for Filipinos to strictly follow security guidelines. He said while there are no direct threats to the pontiff, even an admirer trying to pass through barricades for a selfie, or to touch the pope's frock, could trigger a stampede.
On Saturday at Manila's prestigious Cultural Center of the Philippines, the Rev. Enrique Luzung will play a dream role: the young Francis.
The 39-year-old theologian stars in the musical about the Argentinian pope's life, portraying him back when he was known as Jorge Mario Bergoglio. The show revolves around Francis' life and a visit to a fictional Philippine parish. Another priest will play the older Francis.
Reading up on Pope Francis' life and playing him in the musical "has been life-changing for me," Luzung said, praising the pope's humility and compassion for the poor, the sinner and the lost. "Through him we see the presence of God."
"Pope Francis the Musical" has been playing to full-house audiences in Angeles city, north of Manila, since November. The mostly young crowd goes wild at the show when the elder Francis, wearing a headset, dances and sings briefly to One Direction's "What Makes You Beautiful," which director Andy Alviz said is among the pope's favorite English songs.
Around 150 Filipino and Asian bishops will be in the audience when the musical opens in the capital. The pope is not likely to attend — he is scheduled to spend most of Saturday in Leyte province — but when he returns that night, the cast plans to serenade him after walking from the theatre to the Vatican's diplomatic mission in Manila, where Francis is staying.
Donnavie Argoncillo and her husband made sure they'll have a lifetime remembrance of the pope's visit. They named their fourth child, a chubby 4.5-kilogram (9-pound, 15-ounce) baby boy, partly after the pope. She gave birth at a Manila maternity hospital early Thursday.
Argoncillo said she hoped the name, Francis John, would rub in to make her latest child "a good boy."
"All my three older children are boys and they are all naughty," Argoncillo said, grinning.