Polycom, Inc. Reveals Mixed Pre-Acquisition Results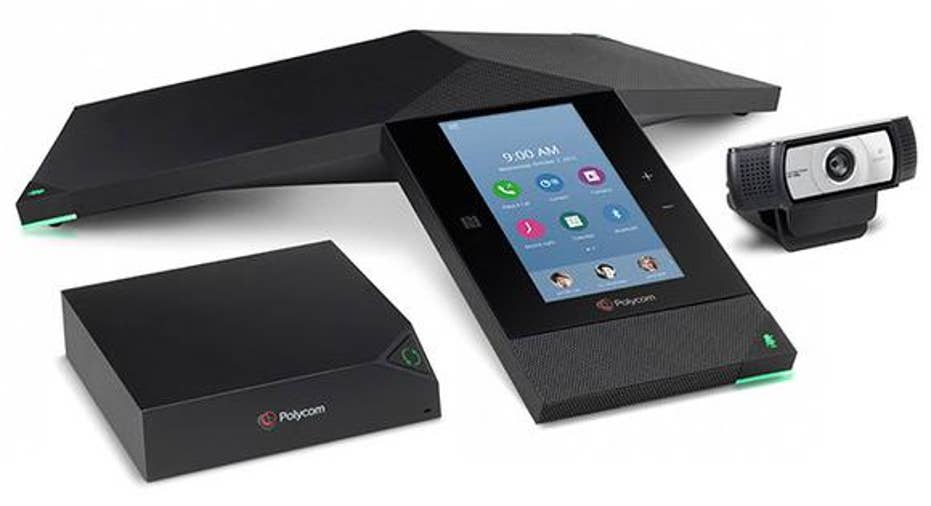 Polycom's RealPresence Trio remained a source of strength in the first quarter. Image source: Polycom.
Only a few days after agreeing to be acquired by Mitel Networks in a $1.96 billion deal,Polycomoffered mixed first-quarter 2016 results Wednesday after the market close.
Let's take a closer look at what the video-conferencing specialist achieved in its latest quarter:
Polycom results: The raw numbers
| | Q4 2015 Actuals | Q4 2014 Actuals | Growth (YOY) |
| --- | --- | --- | --- |
| Revenue | $290.1 million | $330.7 million | -12.3% |
| Net Income (GAAP) | $3.3 million | $21.2 million | -84.3% |
| Earnings Per Diluted Share (GAAP) | $0.02 | $0.15 | -86.7% |
Data source: Polycom Inc.
What happened with Polycom this quarter?
Polycom's guidance called for slightly higher revenue in the range of $295 million to $305 million, and GAAP earnings arrived at the low end of Polycom's per-share guidance of $0.02 to $0.04.
Similar to last quarter, however, Polycom's adjusted (non-GAAP) earnings of $0.19 per share were in line with guidance, which called for adjusted EPS of $0.18 to $0.20.
On a geographic basis:
Revenue in the Americas fell 1% year over year, to $155.5 million, representing 54% of Polycom's total sales.
Revenue from Europe, Middle East, and Africa (EMEA) fell 22% year over year, to $73.5 million, or 25% of total sales.
Asia Pacific revenue declined 23% year over year, to $77.7 million, or 21% of total sales.
On a product category basis:
UC Group Systems revenue declined 13% year over year, to $178.9 million, or 62% of sales.
UC Personal Devices climbed 1%, to $67.8 million, or 23% of sales.
UC Platform revenue fell 12%, to $43.4 million, or 15% of total revenue.
GAAP operating margin was 2.5%, above the high end of guidance for 1.5% to 2.4%.
Adjusted operating margin was 11.3%, at the high end of guidance for 10.6% to 11.3%.
Operating cash flow in Q1 2016 of $53 million.
Ended the quarter with cash and investments of $713 million, $267 million of which is located in the U.S.
Net of debt, cash and investments at quarter end were $480 million.
Agreed to be acquired by Mitel Networks in a cash and stock transaction valued at $1.96 billion (based on Mitel's close before the acquisition was announced):
Per the terms of the agreement, Polycom shareholders will receive $3.12 in cash and 1.31 shares of Mitel common stock for each Polycom share they own.
Assuming the transaction passes shareholder and regulatory approval, it should close in the third quarter of this year.
At that time, Polycom shareholders will own 60% of the combined company.
What management had to say"Polycom continued to deliver operating margins and earnings per share pursuant to our guidance," stated Polycom CEOPeter Leav. "We were pleased with the performance of our new solutions, particularly Polycom RealPresence TrioTM, which exceeded our expectations again this quarter."
Polycom CFO Laura Durr added, "Polycom continued to exhibit sound financial management. Our profitability enables us to continue to generate strong operating cash flow, including $53 million in the first quarter of 2016."
Looking forwardIn light of the proposed acquisition of Polycom by Mitel, Polycom optednotto hold its usual quarterly conference call today, nor did it offer its usual forward financial guidance. Neither fact is surprising, though, as the company awaits a combination through which Leav stated the companies "together ... expect to drive meaningful value for our shareholders, customers, partners and employees around the world."
In the meantime, considering Polycom stock is inevitably tied to the price of Mitel given the cash-and-stock nature of the deal, investors would be wise to keep an eye on Mitel's own quarterly conference call scheduled for the morning of May 5, 2016.
The article Polycom, Inc. Reveals Mixed Pre-Acquisition Results originally appeared on Fool.com.
Steve Symington has no position in any stocks mentioned. The Motley Fool recommends Polycom. Try any of our Foolish newsletter services free for 30 days. We Fools may not all hold the same opinions, but we all believe that considering a diverse range of insights makes us better investors. The Motley Fool has a disclosure policy.
Copyright 1995 - 2016 The Motley Fool, LLC. All rights reserved. The Motley Fool has a disclosure policy.