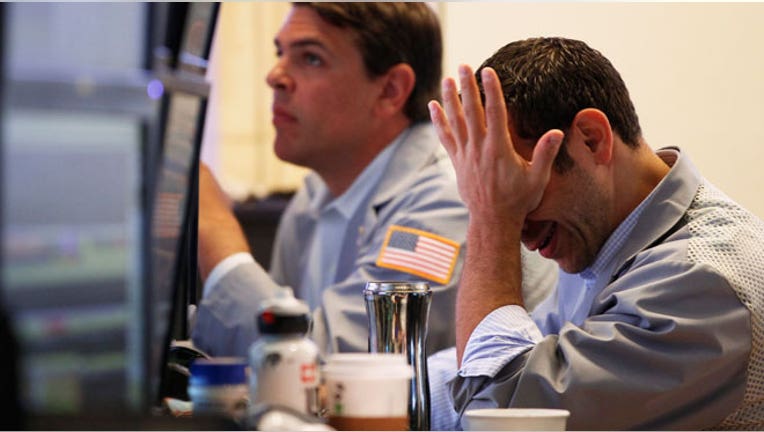 After weeks of a rising stock market and relative calm on the political front, gridlock jitters are re-emerging on Wall Street and in markets around the world.
On a number of fronts, investors are once again being lured away from traditional measures like surprisingly solid earnings and so-so economic figures to zero in on concerns triggered by political dysfunction.
The political picture worsened this week as Washington doesn't appear close to avoiding the latest manufactured crisis of sequestration, surprise elections results in Italy renewed fears about the eurozone and Egypt's main opposition announced a boycott of upcoming elections.
"All of the problems seem to be focused on governments. How do you model for governmental dysfunction? You really can't," said Sam Stovall, chief investment strategist at McGraw-Hill's (NYSE:MHP).
Political fears stormed back into focus on Monday as the Dow Industrials tumbled 216 points, their steepest selloff since November, after general election results in Italy left the world's third-largest debtor in political stalemate.
Italy Throws Markets Into Turmoil
Italian voters spooked investors by supporting political parties that pledged to ease or even undo crucial austerity measures.
The results "appear to leave the government in a three way struggle for both power and mandate," Peter Kenny, managing director at Knight Capital Group (NYSE:KCG), told clients in a note. "The political cliffhanger taking place in Italy is precisely the type of stimulus that drives fear into the markets and that is highly unpredictable."
The ugly performance on Wall Street was exasperated by preliminary results that indicated a far better outcome for the markets.
"Each new speculation and contention put the situation into darker and darker perspective. Soon all the bids had disappeared and sellers tumbled into a virtual vacuum," Art Cashin, director of floor operations at UBS (NYSE:UBS), wrote in a note. "If the bell had been delayed for 15 or 20 minutes, this could have turned ugly…..very ugly."
The surprise support for the center-right coalition of former premier Silvio Berlusconi and Pier Luigi Bersani stunned global investors on Tuesday, sending the Euro Stoxx 50 diving 3.07% and Italy's benchmark plummeting almost 5%. The yield on Italian 10-year bonds surged to 4.9% -- levels unseen since November.
Will Results Spark Another Crisis?
Until recently, Berlusconi, a billionaire media tycoon, appeared to have little chance of returning to power after an October 2012 conviction for tax evasion.
"He's like something from a Halloween movie. He just keeps coming back when you think he's dead," said Eric Wiegand, senior portfolio manager at U.S. Bank (NYSE:USB). "This just brings everything flooding back unfortunately."
The election results underscore fears that the eurozone could become unglued again, with bond yields spiking to sustainable levels due to jitters other countries will back away from their reforms.
Until this month, the continent appeared to be on much stronger footing thanks to bold promises of aid from the European Central Bank in exchange for hard-fought concessions from countries like Italy.
"The worry is…couldn't other countries do exactly the same thing?" said Stovall. "Maybe in the back of our minds we're thinking: how different are we here?"
Another Manufactured U.S. Crisis
In the U.S., political leaders appear to be barreling towards the March 1 sequestration deadline with little hope of a compromise.
Failure to reach a deal will trigger $85 billion in automatic spending cuts this year alone, reductions that the White House has warned could be disastrous, though the markets are hardly panicking.
"We shouldn't underestimate the ability of the sequester to slow the economy and weigh down GDP," Ed Yardeni, president of investment advisory Yardeni Research, told clients on Tuesday.
The inability of lawmakers to compromise on sequestration, which many in both parties see as a bad outcome, underscores the deeper political stalemate gripping Washington.
"From our vantage point, it doesn't seem like there is a lot of effort here in the states for people to reach across the aisle. It seems like both parties are still firmly entrenched with where they had been," said Wiegand.
That gridlock is especially concerning because Washington is facing huge upcoming hurdles: a March 27 deadline to avert a shutdown of the federal government, a May 18 deadline to avoid breaching the debt ceiling and over the longer term a need to resolve the country's unsustainable debt problem.
"It seems as if what they're most focused on is getting the other party unseated, not fixing the problems," said Stovall.
Middle East on Investors' Radar
There are also lingering concerns about the Middle East, especially after the main opposition party in Egypt announced plans on Tuesday to boycott highly-anticipated parliamentary elections.
That decision threatens to intensify the ongoing political crisis in Egypt, which plays a critical role in geopolitical affairs in the volatile region and operates the pivotal Suez Canal.
"The potential impact of a failed state in Egypt on global markets shouldn't be underestimated," Win Thin, global head of emerging market currency strategy at Brown Brothers Harriman, wrote in a recent note to clients.
Elsewhere in the volatile Middle East, the civil war in Syria that has killed an estimated 70,000 people is nearly two years old with no end in sight and long-standing tensions over Iran's nuclear ambitions persist.
Of course, besides the situation in Italy, the outlook for equity investors hasn't changed all that much from just a few weeks ago when the markets appeared poised to break through all-time highs. And Wall Street has already proved its resiliency, climbing walls of worry many times in the recent past.
New reports released this week point to further improvement in the U.S. economy: January new home sales surged at their fastest pace in nearly two decades, while consumer confidence jumped in February more than projected.
"We've taken a sigh of relief with the improvements on housing and labor but it's very appropriate for these other concerns to move to the forefront," said Wiegand. "They hadn't gone away. They had just been somewhat muted."