Polaris Industries Inc's Solid Earnings Performance Amid a Rocky Backdrop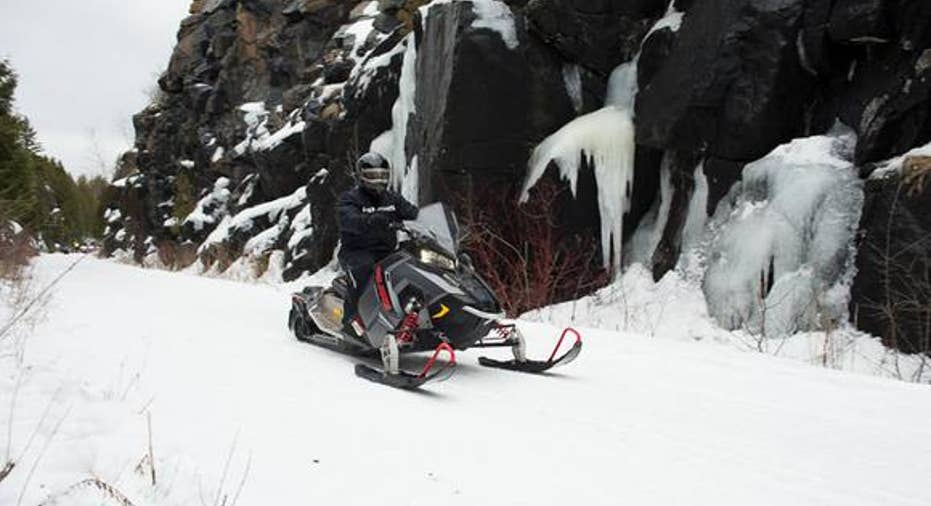 Polaris Industries saw sales outpace the market in many segments, like snowmobiles, which saw sales jump more than 30% in the quarter. Image source: Polaris Industries.
The relatively mild winter we just experienced seems to have helped Polaris Industries outperform expectations, even if ever so slightly, but the economic outlook remains so uncertain that the leading powersports vehicle maker has no intention of raising its outlook based on the first quarter'sbetter outcomes.
Polaris said although sales fell 5% and profits were nearly halved, results were still better than what it expected, and theyhandily beat Wall Street's forecasts, too. However, because the market for its main moneymaker, off-road vehicles, is still dicey, it's leaving in place the guidance it provided at the end of the fourth quarter, which called for earnings of$6.20 and $6.80 per share, and revenues either falling 2% or rising 3%, which would give it a broad target to hit of $4.6 billion to almost $4.9 billion.
Staying ahead of the marketThe better weather did seem to have an impact on sales, as its the declines were generally lower than the overall markets for its vehicles. For example, Polaris gained a bit of ATV share as it slightly outperformed the North American ATV industry; it did better in snowmobiles as the industry was up 30%, but its retail sales rose in the upper 30% range. And where the heavyweight motorcycle market was largely flat year over, its Indian brand saw retail sales surge 50%, marking the fifth straight quarter it has stolen market share from industry leader Harley-Davidson .
Part of the benefit Polaris gained in the motorcycle business is thanks to Harley doing the heavy lifting when it comes to promoting ridership. In its earnings conference call last week, Harley-Davidson noted that while it's obviously trying to attract riders to the Harley-Davidson brand, it is more broadly trying to increase the number of people riding motorcycles, too.
However, that effort is also leading customers to Polaris, which not only saw its Indian brand post phenomenal growth numbers, but its Victory brand is starting to see losses stabilize, too. Sales declines were in the low single digits, a marked improvement over prior periods, where sales fell by double-digit rates.
As Polaris chairman and CEO Scott Wine said, "Nice when someone else pays for your advertising."
While much attention is rightly paid to Polaris Industries Indian motorcycles, the new Victory Octane is an exciting new introduction aimed right at the heart of the competition. Image source: Polaris Industries.
High-octane growth comingAnd now Polaris just introduced the Victory Octane, the brand's first midsize performance cruiser that takes aim not just at bikes like Harley's Sportster Iron 883 or Street models, but also the likes of Honda'sCTX, Suzuki's Boulevard M50, and the Triumph America. It boasts almost double the horsepower of its direct competitor, but it's lighter and claims to have 6 degrees more of lean angle.
Polaris's innovative three-wheeled Slingshot did suffer a mid-teens decline at retail, but that's not necessarily surprising since it went up against a huge pre-deposit backlog last year. Perhaps equally important is that it's now shipping into foreign markets like Mexico and will be in Europe starting in the fourth quarter.
It's clear Polaris is firing on all cylinders now in motorcycles, particular with the Indian nameplate, but off-road vehicles are still the powersport vehicle maker's bread and butter, and it's going to be a bumpy ride for its leading RZR side-by-side.
A polarizing recallPolaris just initiated a recall of some 160,000 vehicles because of fire and other "thermal hazards." It's an inopportune time, because Arctic Cat's surprisingly popular Wildcat Trail side-by-side has been nibbling away at the RZR's dominant position.
There's so much uncertainty surrounding the impact of the recall, both on sales and at multiline dealerships (which may just stock more Arctic Cat vehicles than RZRs since they've been selling better), and all of it has led to Polaris slightly reducing production forecasts.
Moreover, the weakness in oil-dependent states due to low pricing is expected to continue throughout the year until the fourth quarter, when it finally laps the big drop the industry experienced.
Polaris Industries is seeing some strong gains elsewhere, such as in international markets. Its recent acquisition of utility vehicle maker Taylor Dunn gives it enhanced capabilities in that market -- which it expects to grow smartly, even if not at the torrid pace seen at Indian -- and its new Huntsville facility will start producing Ranger side-by-sides as well as Slingshots, allowing it to more efficiently meet demand.
Because ORVs and snowmobiles account for more than three quarters of Polaris's revenues, it will be important to watch how the recall plays out and whether its ORV rival, having now lapped a successful new product launch, can maintain its momentum. Motorcycles, while still a small but growing business, look like they'll allow Polaris to continue stealing share from Harley-Davidson.
The powersports vehicle manufacturer had an otherwise solid quarter in a volatile landscape, but with some wildcards in play, Polaris Industries stock may also encounter some rough road.
The article Polaris Industries Inc's Solid Earnings Performance Amid a Rocky Backdrop originally appeared on Fool.com.
Rich Duprey has no position in any stocks mentioned. The Motley Fool owns shares of and recommends Polaris Industries. Try any of our Foolish newsletter services free for 30 days. We Fools may not all hold the same opinions, but we all believe that considering a diverse range of insights makes us better investors. The Motley Fool has a disclosure policy.
Copyright 1995 - 2016 The Motley Fool, LLC. All rights reserved. The Motley Fool has a disclosure policy.