Polaris Industries, Inc. Looks to the Road Ahead As Markets Improve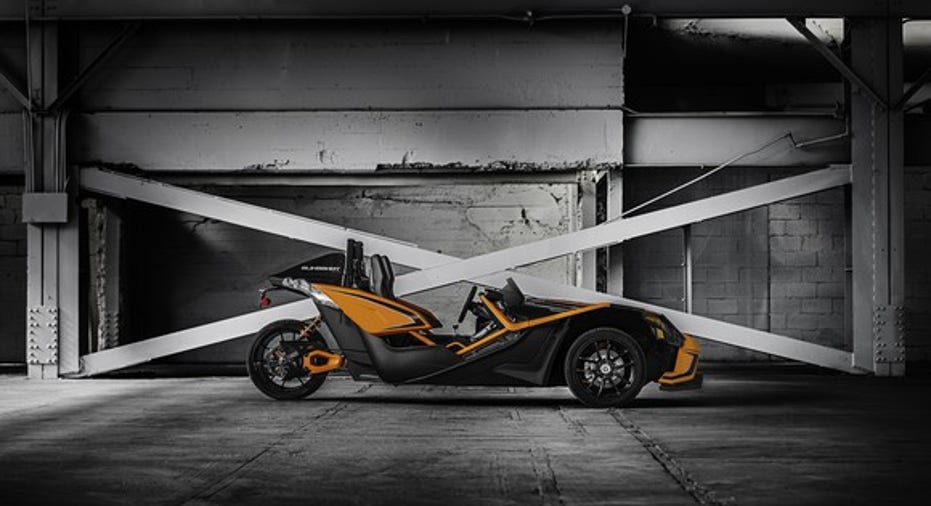 Polaris Industries Inc.(NYSE: PII)announced first-quarter 2017 results on Tuesday morning, punctuated by a narrower-than-expected net loss, improving retail sales in North America, and stabilizing off-road vehicle (ORV) market share.
Let's take a closer look, then, at the underlying drivers of Polaris' business as it kicked off the new year, as well as what investors can expect going forward.
Polaris' 2017 Slingshot SLR. Image source: Polaris Industries.http://mms.businesswire.com/media/20161209005532/en/559453/5/2017-slingshot-slr-orange-madness_SIX6169_05419.jpg?download=1
Polaris Industries results: The raw numbers
| Metric | Q1 2017 | Q1 2016 | Year-Over-Year Growth (YOY) |
| --- | --- | --- | --- |
| Sales | $1,153.8 million | $983.0 million | 17.4% |
| Net income (loss) | ($2.9 million) | $46.9 million | N/A |
| Earnings (loss) per diluted share | ($0.05) | $0.71 | N/A |
Data source: Polaris Industries.
What happened with Polaris this quarter?
On an adjusted basis, which excludes costs related to the wind-down of Victory Motorcycles, as well as certain Transamerican Auto Parts (TAP) integration and inventory step-up costs, Polaris' net income was $48.3 million, or $0.75 per share.
International revenue grew 2% year over year, to $166.2 million.
ORV and snowmobile segment revenue climbed 2%, to $724.1 million, including flat ORV whole-good sales as Polaris' ORV market share showed signs of stabilization and the company began shipping at more normalized rates. Snowmobile whole-good sales fell 3% because of shipment timing, and ORV and snowmobileparts, garments, and accessories sales climbed 13%.
Motorcycle segment revenue declined 35% year over year, to $185.3 million, including $46.3 million of Victory Motorcycles whole-good, accessory, and apparel sales. North American consumer retail demand for the combined Indian Motorcycle and Slingshot brands was down in the mid-single-digit percentage range, or roughly in line with the broader market.
Indian Motorcycle retail sales grew in the low-double-digit range and continued to gain market share during the quarter, while Slingshot sales were down because of low availability amid recent quality holds.
Revenue from global adjacent markets grew 24%, to $91.6 million, driven by a combination of 12% growth in work and transportation vehicles, and sales that more than doubled in the government and defense business.
After-market segment sales climbed to $217.8 million (up from $15.5 million this time last year), including $202 million in sales from the recently acquiredTAP chain.
Polaris repurchased 256,000 shares of common stock for $21.8 million during the quarter, leaving roughly 7.2 million shares remaining under its current buyback authorization.
What management had to say
Polaris CEO Scott Wine stated:
Speaking to his company's recent ORV recalls, including certain 2015 model year Ranger 900s and 2017 Sportsman ATVs, Wine elaborated:
Looking forward
Finally, Polaris reiterated its guidance for full-year 2017 revenue growth of 10% to 13%, and for 2017 adjusted net income of $4.25 to $4.50 per diluted share -- an unsurprising move, considering these results were only just better than Polaris had anticipated. So with Polaris shares up a modest 0.5% today -- but still down around 17% over the past year -- I think investors should be content knowing Polaris is putting its customers first, and that it continues to position itself to return to sustained, profitable growth going forward.
10 stocks we like better than Polaris IndustriesWhen investing geniuses David and Tom Gardner have a stock tip, it can pay to listen. After all, the newsletter they have run for over a decade, Motley Fool Stock Advisor, has tripled the market.*
David and Tom just revealed what they believe are the 10 best stocks for investors to buy right now... and Polaris Industries wasn't one of them! That's right -- they think these 10 stocks are even better buys.
Click here to learn about these picks!
*Stock Advisor returns as of April 3, 2017
Steve Symington has no position in any stocks mentioned. The Motley Fool owns shares of and recommends Polaris Industries. The Motley Fool has a disclosure policy.