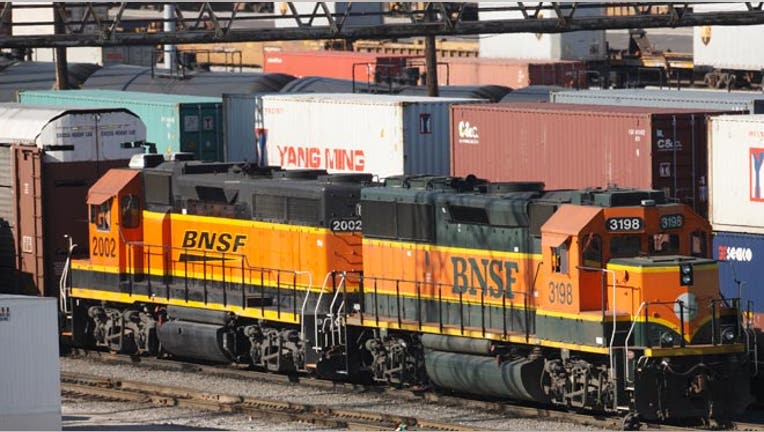 Stocks from financials to health care helped fuel the postelection rally. But investors also are putting their money on the shares of train, truck and shipping companies, betting on an acceleration in U.S. economic growth.
The Dow Jones Industrial Average's surge to 19000 has been accompanied by an even sharper rise in freight operators' shares. The Dow Jones Transportation Average, a 20-company index that includes shippers and air carriers, has climbed 7% since the election, ahead of the Dow industrials' 3.7% rise to fresh highs.
"The transportation average often is a leading indicator for the economy, " said Bruce Bittles, chief investment strategist at Robert W. Baird. "If we get everything in gear, it suggests everything is in harmony to the upside."
Many investors consider transportation stocks a proxy for the health of the U.S. economy because those companies carry the raw materials and goods that power manufacturing and construction. That has led some to say gains in transport stocks could signal new heights for major indexes still to come.
Bets that a Republican-controlled government would enact policies that could boost growth and inflation have lifted stocks in general and spurred selling in bonds. Hopes for an infrastructure build-out have also accelerated gains in transportation stocks, which rose ahead of the Dow industrials even before Election Day.
After a sluggish first half, the economy is showing signs of strength toward the end of the year. Existing home sales rose in October for the second consecutive month to the fastest pace since February 2007, the National Association of Realtors said Tuesday. Gross domestic product, the broadest measure of U.S. output, accelerated at its fastest pace in two years in the third quarter, the Commerce Department said last month.
The Dow transports signaled improvement back in September, when they broke higher than the Dow industrials.
Other factors have bolstered shares of shippers. A record autumn grain harvest and rising exports have boosted railroad operators, increasing shipments around 6.5% this year, according to the American Association of Railroads trade group. CSX Corp., the U.S.'s third-largest railroad operator, said grain shipments increased 27% in the third quarter compared with a year earlier. Its shares have gained 9.2% since the election.
Airlines have also been rising sharply since before the election, with the major carriers continuing to signal they will cut capacity to help lift ticket prices and revenue to counter rising fuel and labor costs. The postelection rally has helped accelerate gains, with United Continental Holdings Inc. up 17% and Delta Air Lines Inc. up 9.8%.
Some investors said the gains in could mark a new leg up for the U.S. stock market.
"Now you're sort of resetting the clock here because you've had such significant outperformance by the transports," said Doug Ramsey, chief investment officer at Leuthold Weeden Capital Management in Minneapolis, which has long owned airline stocks.
Peter Stournaras, portfolio manager of the BlackRock Large Cap Series Funds, said he is holding on to his transportation stocks. And parts of the transportation sector are concentrated in the U.S., leaving them poised to benefit if Donald Trump and Republicans cut taxes and regulation as proposed.
"These are very high-tax-rate companies, so any benefit there significantly increases the value of their future cash flows," he said.
Markets have responded to the Republican sweep of the U.S. government by pricing in almost all of their policies, as if all campaign promises are about to become policy, several analysts and investors said. Any distance between campaign-trail rhetoric and actual legislation could be setting stocks up for a fall.
"Given the fundamentals we're seeing in the market, the stocks are pricing in a high success rate for infrastructure not only passing, but happening right away," said Andrew Davis, an analyst at T. Rowe Price. "That should give you pause."
Investors also watch the transportation stocks because of a theory that suggests their movements predict the direction of the broader index. The Dow Theory holds that the transports should touch new highs each time the industrials hit a new high to confirm the market's upward trend. The Dow industrials closed at a record Monday.
The transportation index remains below records reached in late 2014, but valuations remain low relative to broader indexes, one sign they could be poised to continue their recent outperformance. The 12-month trailing price/earnings ratio of the transports, at 16.1 on Monday, remained below the 20.8 ratio of the Dow industrials, according to data from Birinyi Associates.
Market technicians say the transports have been performing well since mid-September, but their postelection surge has helped turn broader market sentiment.
"As long as they're participating, or in this case outperforming, that tends to enhance what's going on the broader market," said Katie Stockton, chief technical strategist at BTIG. "I think it's bullish. I think the momentum shift is real.
Write to Aaron Kuriloff at aaron.kuriloff@wsj.com and Ben Eisen at ben.eisen@wsj.com