Plane With Brazilian Soccer Team Crashes in Colombia, 76 Dead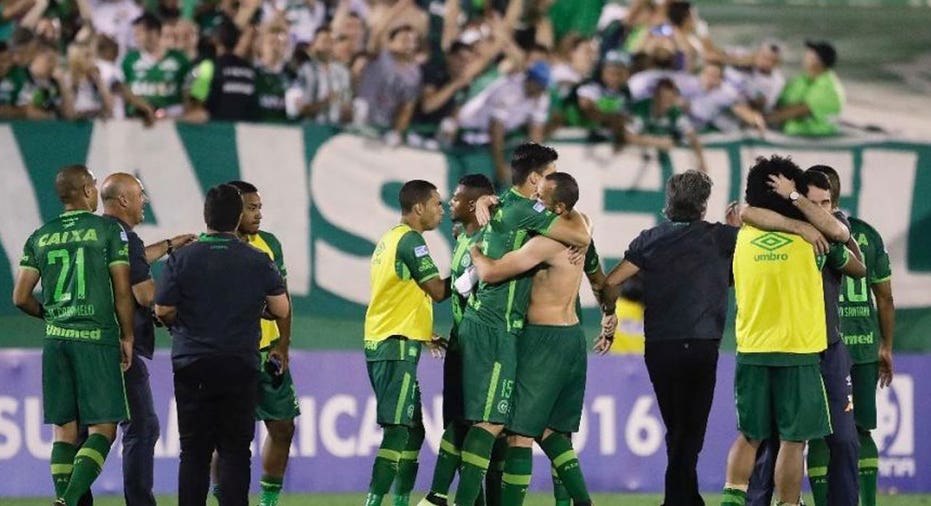 Brazilian soccer team Chapecoense were on board a plane carrying 81 people that crashed in Colombia killing 76 people, police said on Tuesday.
Chapecoense, from Brazil's top league, had been flying in to face Atletico Nacional of Medellin in the first leg of Wednesday's Sudamericana final, South America's equivalent of the Europa League.
"Six people were rescued alive, but unfortunately one died. The rest of the occupants unfortunately died. The tragic toll is 76 victims," Jose Gerardo Acevedo, regional police commander, told journalists.
The club said in a statement that it would not be making any official comments until it had more information from Colombian authorities about Monday night's crash. Brazilian media reported that three players were among the survivors.
Flight tracking service Flightradar24 said on Twitter the last tracking signal from flight 2933 had been received when it was at 15,500 feet, about 30 km from its destination, which sits at an altitude of 7,000 feet.
The Avro RJ85 was produced by a company that is now part of UK's BAE Systems
The charter flight was carrying 72 passengers and nine crew, when it crashed around 10:15 p.m. on Monday. Heavy rain first hampered and then halted rescue operations. Officials told local media that bodies would be removed once the sun rose.
Brazilian news organizations reported 21 journalists had been on board.
Brazilian TV channels Globonews and SporTV identified the surviving players as defender Alan Ruschel, goalkeeper Danilo and reserve goalkeeper Jakson Follmann. It was not immediately possible to confirm survivors' identities.
It was the first time the small club from Chapeco had reached the final of a major South American club competition but they were underdogs against a club going for a rare double after winning the Copa Libertadores in July.
Chapecoense were the 21st biggest club in Brazil in terms of revenue, bringing in 46 million reais ($13.5 million) in 2015, according to an annual rich list compiled by Brazilian bank Itau BBA.
The South American football federation suspended all games and other activities following the crash.
(Reporting by Julia Symmes Cobb; Additional reporting by Andrew Downie and Dan Flynn in Brazil and Tim Hepher in Geneva; Editing by Alison Williams)