Place your bets: Delaware takes sports wagers, others close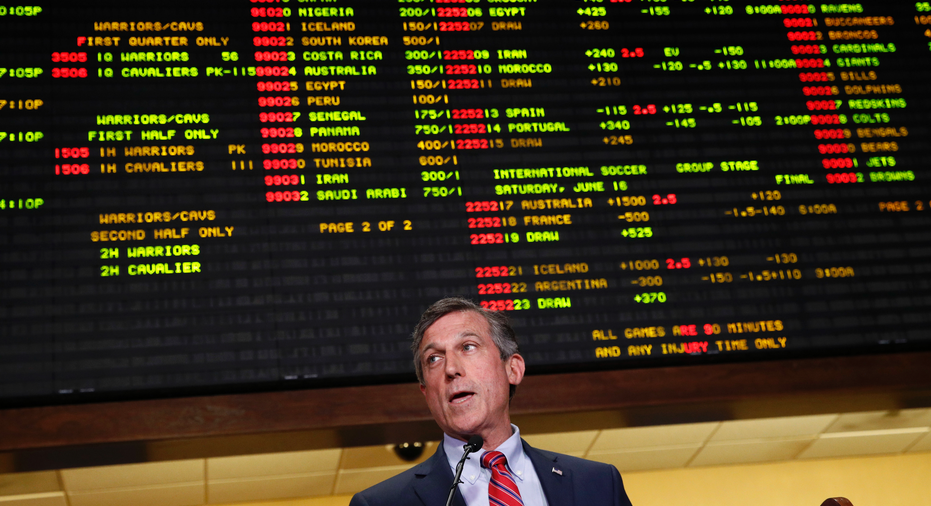 The market for legal sports gambling in the United States widened significantly on Tuesday with expanded betting in Delaware, putting legal wagering within driving distance of three major East Coast cities less than a month after the U.S. Supreme Court cleared the way for states to accept the bets.
Instead of flying to Las Vegas or betting illegally, fans in Philadelphia, Baltimore and Washington can make a short drive to legally bet in Delaware on the NBA Finals, the Stanley Cup Final or the World Cup. More states are likely to join the action by the time the NFL starts its season in the fall.
"Giants and Yankees, all day, every day," Manhattan native Karriem Keys said Tuesday after betting on the New York Giants to win the Super Bowl next year.
Keys, 53, who now lives in Dover, was one of a couple of dozen people laying down early wagers at Dover Downs as Delaware became the first state outside Nevada to offer legal gambling on individual sporting events.
"In New York, we would go right to the corner store, to the bodega, and bet," Keys said. "That's not legal, but, you know, everybody was doing it. But now it's legal so it's great."
Gov. John Carney had the honor of placing the first bet, wagering $10 on the Philadelphia Phillies to beat the Chicago Cubs on Tuesday night.
"I'm a big sports fan, a big Philadelphia sports fan," said Carney, who traveled to Minnesota in February to watch the Eagles win the Super Bowl.
Dover Downs casino workers took in 36 bets within the first 20 minutes of legal wagering. The offerings at Delaware's three casinos include bets on professional baseball, football, hockey, basketball, soccer, golf and auto racing.
Because of a failed sports lottery experiment in 1976, Delaware was partially exempted from the 1992 federal ban on sports gambling that was recently struck down by the Supreme Court.
That exemption led to broader sports betting legislation passed in 2009 and Delaware's NFL parlay wagering system, which gave the state a head start in offering more wagers.
"I just had to get in on the action, you know what I mean?" John Celatka of Dover said after betting on Tuesday night's Colorado Rockies game and Wednesday night's NBA Finals game.
Celatka said he's done pretty well with NFL parlay wagers and single-game wagers was a logical next step.
"I'm excited to get started with football season," he said. "I like my chances."
Fans in three other states could be placing bets by football season.
In New Jersey, which successfully challenged the federal ban, lawmakers hope to have a bill signed by the end of this week that resolves competing proposals to allow sports betting at casinos and horse racing tracks.
In Mississippi, where lawmakers proactively legalized sports gambling at the state's 28 licensed casinos in anticipation of a favorable Supreme Court decision, regulators have proposed rules that could be voted on as early as June 21. That means casinos could start taking bets in late July.
West Virginia also passed a sports betting law before the Supreme Court decision, and officials there hope to have sports betting when football season kicks off. The West Virginia Lottery Commission is working on draft rules and regulations but has given no timetable for when they might be ready.
"We're not going to start until we know we can do it 100 percent correctly," lottery director Alan Larrick has said.
Republican West Virginia Gov. Jim Justice has said he wants state officials, professional leagues and casinos to reach an agreement on what the leagues have called an "integrity fee" — money that the leagues would use to police betting patterns — but the subject was not addressed in a recent special legislative session.
Thus far, no state law has made it to the books with the integrity fee attached.
Pennsylvania also prospectively legalized sports betting last year, but it could be months before regulations are in place that would allow sports books to open. State officials have not produced an estimate of what sort of tax revenue the activity could mean for Pennsylvania, which already rakes in more in taxes on casino gambling than any other state. But some gambling industry officials are warning that Pennsylvania's 34 percent tax rate — plus another small cut for local governments that host casinos — and the $10 million licensing fee will make it unprofitable to run a legal sports betting business.
In the meantime, Pennsylvania gaming officials notified casinos last week they could begin applying for licenses. So far, none has submitted an application.
___
Nuckols reported from Washington. Associated Press writers Jeff Amy in Jackson, Mississippi, Marc Levy in Harrisburg, Pennsylvania, and John Raby in Charleston, West Virginia, contributed to this report.