Pioneer Natural Resources and Concho Resources' Huge Advantage Over Other Oil Producers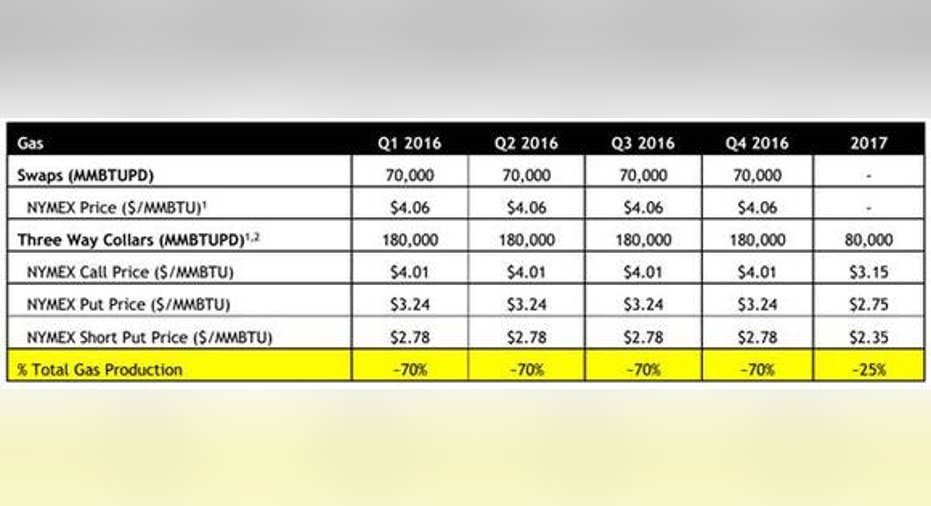 Source: Pioneer Resources.
It is amazing how obvious things can be when you look back at them with the benefit of hindsight. Yet in the heat of the moment, what is obvious now may not have apparent with any degree of clarity then.
WTI Crude Oil Spot Price data by YCharts
From 2012 through mid-2014, with oil prices bouncing in between $90 and $110 per barrel, oil producers could have been locking in hedges for many years of future production. Yet few companies did, even though now that was clearly what they should have been doing. I suppose many companies thought oil could go even higher.
Now many companies are facing today's oil prices with little or no hedging in place. That's why the hedges that Pioneer Resources and Concho Resources have in place look so good.
Pioneer Resources: 85% of 2016 oil production hedged
For independent producers, Pioneer Resources is the big dog in the Sprayberry/Wolfcamp formations in the Permian shale play. Pioneer has more acreageand more production than any other independent in the shale play that everyone now wants to be in. Chevron and Exxon each have more acreage, although maybe not more production than pioneer.
Source: Pioneer corporate presentation.
There was more than a little luck involved here. Pioneer built its 785,000-acre land position in the Permian's Sprayberry oil field over decades as it chased conventional vertical drilling opportunities.
It just so happened that all of this land would one day become even more valuable thanks to high oil prices and the industry's cracking the code on shale with horizontal drilling combined with fracking. In 2011 Pioneer adopted these new technologies in the Permian, and the rest is history.
What involved no luck and instead relied on the brains of Pioneer's management group was the decision to aggressively hedge production at higher prices. Pioneer went through 2015 less exposed to the oil collapse than almost any other producer. The company is also in enviable shape for 2016.
Source: Pioneer corporate presentation.
With much of the industry selling most of its production into sub-$40-per-barrel oil, Pioneer finds itself with 85% of its expected 2016 oil sales protected by way of swaps and three way collars. With natural gas prices struggling to hold $2 per mcf Pioneer's protection on 70% of its gas production looks pretty good too.
Source: Pioneer corporate presentation
Concho Resources: 80% of 2016 oil production hedged
Like Pioneer, Concho Resources is a big player in the Permian Basin. The company indicates that its acreage sits on over 5 billion barrels of oil and contains over 18,000 future drilling locations.
Concho is a pure play on the Permian, but unlike Pioneer, it doesn't have a long history in the play. Instead, Concho was formed as a private company in 2004 and came public in 2007. From 2008 through 2012, the company built up a major Permian land position by repeatedly making acquisitions.
The timing of these deals was prescient, as they came before the Permian boom really began rolling.
Source: Concho corporate presentation.
Concho is very well hedged on its oil production going into 2016. The average hedge price is $70.13, less a $1.46 basis differential. That equates to a hedged oil price of $68.67, which isn't far off being double the current price.
With 63,400 barrels of oil per day hedged, Concho has 80% of its expected 2016 oil production locked in. That's a very enviable position to be in. Concho is also aggressively hedged on the natural gas side with 70% of production locked in at $3.02 per mcf.
Source: Concho corporate presentation.
These hedges are going to mitigate much of the pain from oil prices that are lower than many of us thought possible in 2016. The added cash flow from these hedges will help Concho and Pioneer retain their balance-sheet strength while other companies deteriorate.
Implications for investors -- it depends on your view of where oil is headedIf you're looking to make a bundle from an oil stock when oil prices rebound, then Pioneer and Concho aren't for you. The stock prices of these companies have held up much better than most of their competitors specifically because of the strong hedge positions that they went into this collapse with.
But they both will still provide significant upside if oil rebounds, and you'll be able to sleep very well at night knowing that they have significant cash flow protection from these hedges. Why more companies didn't adopt a more aggressive hedging approach is hard to say. It will be interesting to see if they do should oil prices ever return to higher levels.
The article Pioneer Natural Resources and Concho Resources' Huge Advantage Over Other Oil Producers originally appeared on Fool.com.
TMFWolfpack has no position in any stocks mentioned. The Motley Fool has no position in any of the stocks mentioned. Try any of our Foolish newsletter services free for 30 days. We Fools may not all hold the same opinions, but we all believe that considering a diverse range of insights makes us better investors. The Motley Fool has a disclosure policy.
Copyright 1995 - 2016 The Motley Fool, LLC. All rights reserved. The Motley Fool has a disclosure policy.