Philip Morris vs. Altria: Which Dividend Is the Better Bet?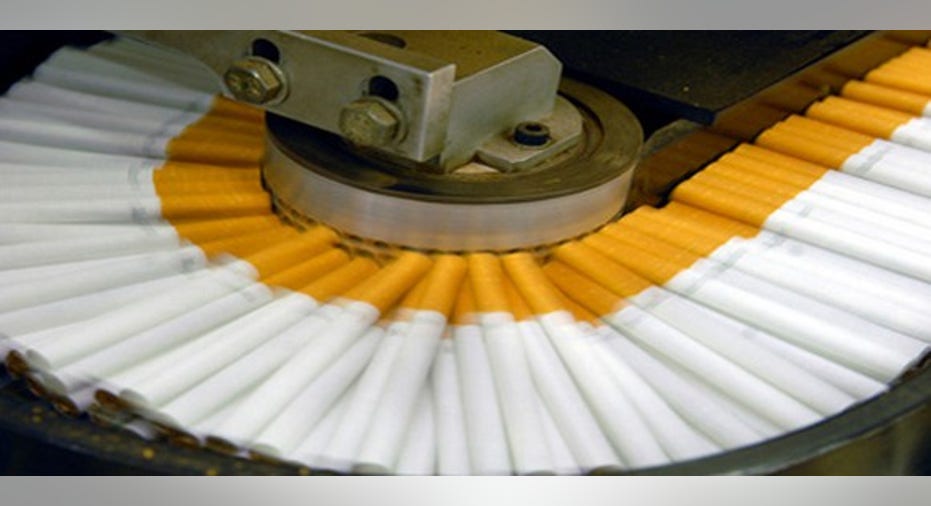 Image source: Philip Morris International.
With global markets reeling from the U.K.'s decision to leave the European Union, many investors are looking for stable dividend-paying companies to help weather the storm. If this is your predicament, your search may have led you to cigarette makers Philip Morris International and Altria Group , both of which are known for their generous dividends.
When sin stocks shine
Tobacco is big business, and Philip Morris and Altria are among its biggest names. Total sales in the last year were $73.9 billion for Philip Morrisand $25.4 billion for Altria.
The two companies were in fact combined under the Altria name until 2008. Altria, which handles U.S. sales of tobacco products, decided to spin off the larger international Philip Morris business to allow the latter to focuson marketing challenges overseas.
Philip Morris ships cigarette and other smokeable tobacco products to international markets, Marlboro being the best-selling brand. The company does the most business in Asia and Eastern Europe.
Altria sells within the United States but has a more diversified assortment of products. Marlboro and other cigarette and cigar brands make up the majority of sales, but the company also has a smokeless tobacco division that includes the Copenhagen and Skoal chewing tobacco brands, a wine division that includes the Chateau Ste. Michelle wine label, and a controlling interest in beer giant SABMiller.
The dividend story
Philip Morris pays $4.08 a year in dividends and yields 4.2%. Altria pays $2.26 a year and yields 3.4%.
Since the companies split from each other in 2008, both have not only paid dividends but also raised them. Post-breakup, Altria's quarterly payout was $0.29 per share and is now at $0.565. Philip Morris initiated its dividend at $0.46 each quarter and currently pays $1.02.
Philip Morris has thus more than doubled its payout over the last eight years. Altria's increases are nothing to scoff at, either, equating to 95% growth.
Perhaps a little concerning, though, is the fact that Philip Morris pays out over 90% of profits to shareholders. By comparison, Altria pays out 82%, which is in line with Altria's target of an 80% payout ratio.
Philip Morris has seen profits squeezed in the last year from a strong U.S. dollar. When Philip Morris posts sales overseas, it has to convert them to U.S. dollars. If the dollar goes up in value relative to the currency in which the sale was made, the company sees a drop in the value of its sale when it makes the currency conversion.
In its lastest quarter,Philip Morris posted a year-over-year decrease in profits of 15.5% as a result of currency headwinds. And things are only getting worse, as the U.K.'s vote to leave the European Union is weighing heavily on both the pound and the euro relative to the dollar.
By contrast, Altria's domestically oriented business hasn't had to deal with a strengthening dollar in the same way. Excluding one-time events, the company saw a year-over-year increase in profit of 14.3% in its most recent quarter. For the year, the company expects profits to increase 7% to 9% over 2015 results driven by cost-saving initiatives and growth in its smokable tobacco division.
And the winner is...
Altria, with its diversified U.S.-based business, represents a more stable dividend play with more dividend growth upside. This is due to the company's expected profit growth from cost-saving initiatives as well as growth in the U.S. market from new products. In addition to dividends with the possibility of increases to come, Altria's share price has been insulated from the market roller coaster so far.
While Philip Morris' dividend yield is higher, the company faces obstacles as it struggles with another difficult year in the international markets. After seeing profits drop last year, the company expects low single-digit growth at best this year. This could put a cap on dividend hikes, and the international nature of operations has caused some ups and downs in share prices, which has only intensified as the broader stock market sorts through the political situation in Europe.
The article Philip Morris vs. Altria: Which Dividend Is the Better Bet? originally appeared on Fool.com.
Nicholas Rossolillo has no position in any stocks mentioned. The Motley Fool has no position in any of the stocks mentioned. Try any of our Foolish newsletter services free for 30 days. We Fools may not all hold the same opinions, but we all believe that considering a diverse range of insights makes us better investors. The Motley Fool has a disclosure policy.
Copyright 1995 - 2016 The Motley Fool, LLC. All rights reserved. The Motley Fool has a disclosure policy.