Philadelphia officials working hard to get wary businesses excited by prospect of papal crowds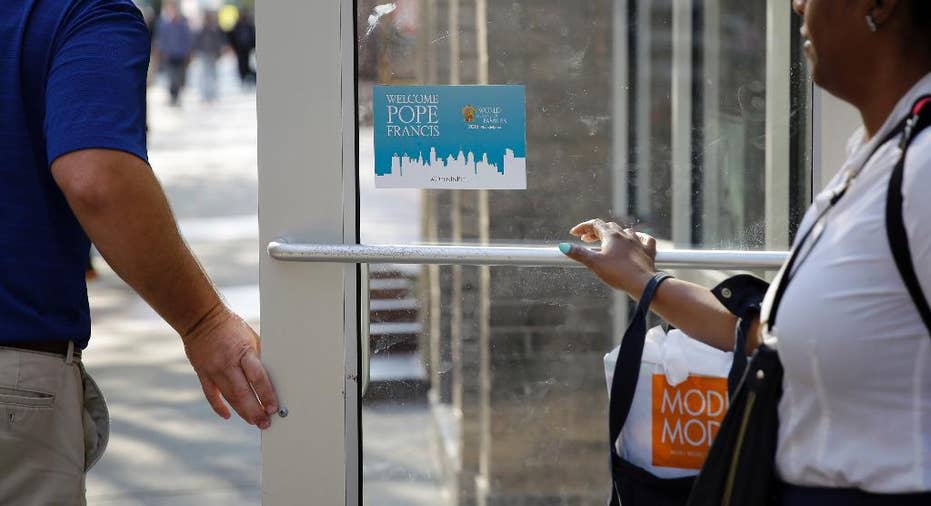 Business owners in Philadelphia could enjoy a financial windfall from the crowds expected for the papal visit — if their employees can get to work through the security perimeters and road closures.
To encourage shops to navigate the hurdles and stay open for the historic occasion, the city this week launched the hashtag #OpenInPHL. Officials also began distributing marketing kits with buttons and signs saying "Welcome Pope Francis" and "I'll Be There."
"Even if beer needs to be delivered by drone, @McGillins will be open," tweeted the city's oldest bar, McGillin's Olde Ale House.
The #OpenInPHL campaign is designed to generate excitement and quell the backlash of negative publicity around logistics for the Sept. 26-27 visit. Pope Francis, who will be in town to close the World Meeting of Families, is expected to draw more than 1 million pilgrims.
Traffic restrictions imposed by the U.S. Secret Service and limited public transit have left some stores and restaurants in the lurch. Planned road closures include about 25 miles of highway, a major bridge connecting Philadelphia to New Jersey and dozens of blocks in the heart of downtown.
What about weekend deliveries? Trash pickup? Employees who can't get to their jobs?
The city controller on Wednesday released results of an anonymous survey of businesses that found that 16 out of 65 respondents would close because of problems posed by the security zones. The mayor's office, however, dismissed the report as woefully flawed.
A city business center specifically created to answer merchants' questions has fielded about 300 calls so far and will be open 24/7 during the visit, said mayoral spokesman Mark McDonald. The Secret Service also has reached out to local shops, he added, noting new information on deliveries and garbage hauling will be announced next week.
The pope's visit plus the World Meeting, a triennial Catholic conference aimed at strengthening family bonds, is expected to generate more than $417 million in economic benefits for the region, according to early estimates by the city's Convention and Visitors Bureau.
Yet the challenges have put organizers in the unusual position of having to rally businesses and residents to support the appearance of the popular Francis, the first pope to visit Philadelphia in 36 years.
"This is not a moment to be missed," said World Meeting executive director Donna Crilley Farrell.
Nowhere was the angst more apparent than at Reading Terminal Market, a city landmark and tourist hot spot filled with dozens of stalls selling prepared food, groceries and souvenirs. It had considered closing until officials were able to negotiate two overnight windows for deliveries.
Still, market purveyor Sammy Riehl said he's going to shutter his family's deli, cheese and butcher shop. He anticipates low demand for his products, which are generally not ready-to-eat, plus a bad commute and long walk from the outer security perimeter, where he'd have to leave his car.
"So that was kind of the point where we said, you know what, it's not worth it to be here," Riehl said.
At the Philly Team Store, a downtown sports shop that's selling pope memorabilia, manager Robert Calabrese normally commutes to work on regional rail. But since trains are operating from only a handful of stations that weekend, he and two other staffers got a hotel room.
"That's going to make life a lot easier for the logistics of running the business and being 100 percent prepared," Calabrese said.
David Simonetti, local director of operations for Wawa convenience stores, said the initial disclosures of security and travel restrictions made for "some nervous moments."
"But I think the city's committed to doing the right thing," Simonetti said. "The information's been coming out, and we're very optimistic that we're going to have people and product and be ready to serve the city of Philadelphia."
As for McGillin's, the Federal Aviation Administration has banned unmanned aircraft from city airspace during Francis' visit. So the bar is making alternate plans to ensure the taps keep flowing.
"No drones ... so we're looking into beer deliver(y) by pony express," @McGillins tweeted later. "We'll be #OpenInPHL!!"
___
Follow Kathy Matheson at www.twitter.com/kmatheson