Pfizer's Bold Bid to Conquer Cancer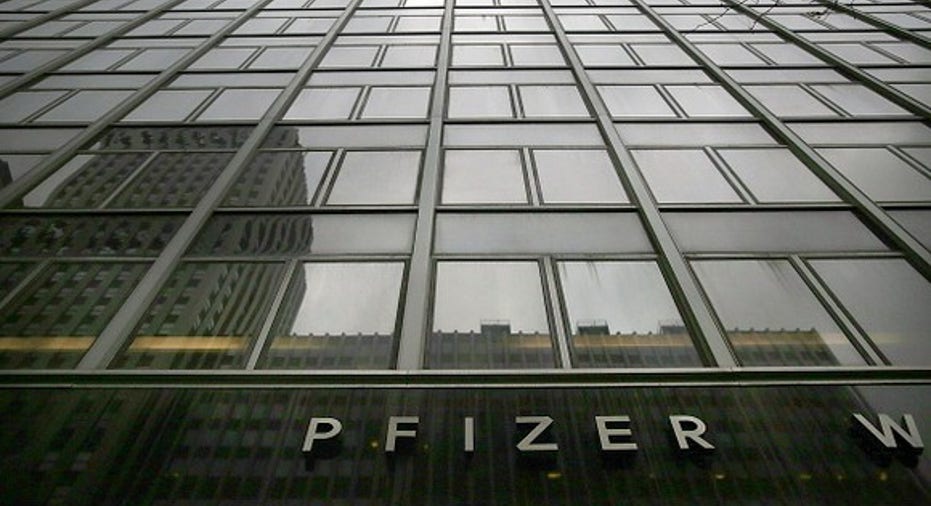 Image source: Getty Images.
Pfizer Inc. (NYSE: PFE) came up strong last quarter, topping analysts' estimates by a hefty margin. In particular, the world's second biggest drugmaker by revenue is gaining traction in the therapeutic market of cancer -- one of the most intriguing and most lucrative areas in medicine. Pfizer's global oncology revenues soared 54% year over year to $1.1 billion last quarter, driven in large part by strong sales of Pfizer's first-in-class cancer treatment, Ibrance.
Ibrance left thelaunch pad a year and a half ago, but the drug has already zoomed to theNo. 1 spot as the preferred treatment for advanced breast cancer. The new drug hauled in $514 million last quarter, meaning it isclearly going to break into billion-dollar blockbuster territory this year. Ibrance has been a huge win for Pfizer, but that's not all the company is working on in oncology. Indeed, Pfizer's cancer therapy pipeline is deep, and the company appears to be on track to be a driving force in oncology going forward.
Better late than never
A scant decade ago,Pfizer wasn't even a player in cancer therapy.Butwith Lipitor and Viagra -- the two drugs bringing in the biggest chunk of its sales at the time -- headed for the patent cliff,the company switched gears andmade a bold decision to tackle cancer witha two-pronged attack. The first phase includeddeveloping traditional chemotherapy agents, but the follow-on R&D wasmore important: researching a promising new class called immuno-oncology.
Immuno-oncologydrugsstimulate the immune system to mount a stronger defense against cancer through a variety of mechanisms.Ibrance is thefirst in a brand new subgroup of these drugs,CDK4/6 inhibitors, whichplay a vital role inhibiting the growth of tumor cells. While both Novartisand Eli Lilly have similar drugs in development, Pfizer's leadjust got bigger a few days ago,when one of the contendershit a pothole.
What happened? Atrial monitoring committee decided Lilly's late-stage CDK4/6inhibitor, ademaciclib, had fallen short of its efficacy criteria necessary for halting the trial early. That puts ademaciclib way behind Ibrance, sinceLilly probably won't be able to launch the drug until 2018.
But Pfizer's bid to become an oncology powerhouse goes far beyond Ibrance. The company has an extremely broad portfolio of immuno-oncology therapies, and even a collaborative cancer research strategy with a former big competitor, Merck & Co. Inc. (NYSE: MRK).
Cocktails couldsomedaybe the key to curing cancer
Pfizer's partnership with Merck revolves around exploring the potential of using the companies' drugs in combination, or "cocktail," treatments. Currently, most advanced cancer meds only prolong life for a few months. But the new "cocktails" promise to add years to survival, and perhaps even someday provide a cure. According to Liz Barrett, Pfizer's president of global oncology, "Ultimately, many researchers believe that to cure cancer you'll have to have combinations, and we feel like we have the broadest portfolio of immuno-oncology compounds."
Barrett also made it clear that Pfizer's new recipe for success will focus highly on collaboration. In particular, she claims the Merck partnership has already helped both companies up their game in cancer. "We have to hold each other accountable, which is a good thing," she said. "That's really the foundation of our [immuno-oncology] strategy."
One example is Inlyta, Pfizer's kidney cancer chemotherapy that was approved in 2012. As part of an older class of drugs, Inlyta is already facing competition from new immuno-oncology drugs. But Pfizer isn't trying to beat those meds -- it will instead join them. Inlyta is being studied as a combo drug with both Pfizer's own drugs and Keytruda, the blockbuster immunotherapy from Merck.
Given the excitement around cocktail therapies, Barrett sees a huge role for Inlyta. "We expect it to be the preferred agent for combinations," she said.
Oncology: increasingly important to Pfizer's bottom line
Pfizer has seen both ups and downs in its quest to cure cancer, but it has ultimately ended up with a very strong pipeline in the area. Currently, the company has over 25 clinical trials in oncology, including more than a dozen compounds in stage 3, where the chance of FDA approval is greatest. Targeted therapies that focus on specific subgroups of patients now make up about 46% of all cancer treatment sales, a huge leap from 11% just a decade ago. This bodes well for FDA approval of Pfizer's targeted drug candidates.
The upshot is that Ashtyn Evans, an analyst with Edward Jones,thinks Pfizer could increase cancer drug sales to about 10% of revenue by 2020, up from a mere 4% in annual revenue last year.
Beyond the numbers, there's another story. The newer targeted drugs from companies such as Pfizer are generally less toxic and provide better patient outcomes, according to the National Cancer Institute. And as cancer treatment moves away from a one-size-fits-all approach to more options for personalized treatment, Pfizer clearly hopes it will someday be leading the way to dramatic improvements for all cancer patients.
A secret billion-dollar stock opportunity The world's biggest tech company forgot to show you something, but a few Wall Street analysts and the Fool didn't miss a beat: There's a small company that's powering their brand-new gadgets and the coming revolution in technology. And we think its stock price has nearly unlimited room to run for early in-the-know investors! To be one of them, just click here.
Cheryl Swanson has no position in any stocks mentioned. The Motley Fool has no position in any of the stocks mentioned. Try any of our Foolish newsletter services free for 30 days. We Fools may not all hold the same opinions, but we all believe that considering a diverse range of insights makes us better investors. The Motley Fool has a disclosure policy.