Pfizer, Inc.'s First-Quarter Results: A Little Something for Everyone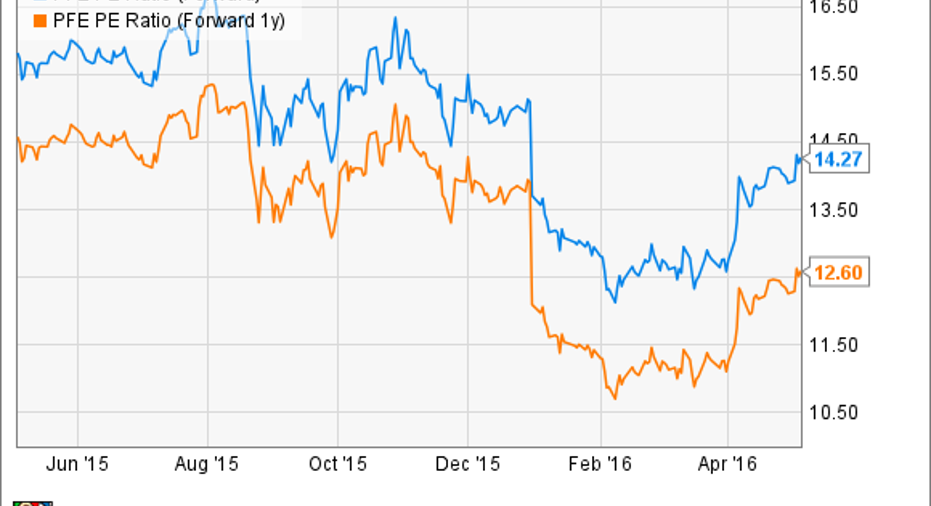 SOURCE: FLICKR USER STOCKMONKEYS.COM.
Pfizer updated investorson its first-quarter performance earlier this week, and the results were good enough to have me thinking that value, income, and growth investors all ought to consider owning it in portfolios. Here's why.
A compelling valuePfizer's first-quarter earnings report included an increase in its profit guidance for 2016 that keeps a lid on its valuation. Thanks to rising demand for its cancer drug Ibrance, a lower tax rate, and better-than-hoped cost savings associated with last year's acquisition of Hospira, management thinks that Pfizer will deliver adjusted EPS of at least $2.38 in 2016. That's nicely higher than the $2.20 per share the company expected previously, and it marks an 8% improvement over the company's profit per share in 2015.
Based on this new guidance, the company's current P/E ratio stands at an arguably attractive 14.2, and that's far south of the S&P 500's P/E ratio of 23.7. Also, now that industry watchers have bumped up their 2017 EPS forecast to $2.57 per share from $2.52 seven days ago, Pfizer's forward P/E ratio is lower than peers Bristol-Myers Squibb (22.36 times), Merck & Co. (14.2 times), and Johnson & Johnson (16 times).
PFE P/E Ratio (Forward) data by YCharts.
A path to dividend growthIncome investors also got insight into Pfizer's plans now that its proposed $160 billion tie up with Allergan has dissolved. The company already returned $1.9 billion to investors via its dividend last quarter, but there could be plenty of financial firepower kicking around in the future to increase that amount meaningfully.
CEO Ian Reed reiterated the potential to spin-out its established products business. Given the company's ongoing cash generation, Pfizer's coffers should continue to overflow beyond their current $100 billion-plus levels.
Additionally, while the company's bottom line won't get the benefit of an Irish address for tax purposes, the company expects to generate $1 billion in synergies from its Hospira acquisition, up from prior estimates for $800 million in savings.
Given Pfizer's rock-solid balance sheet and a return to rewarding income investors with rising dividend payments over the past five years, there's little reason for dividend-hungry investors to forgo Pfizer for another option. Currently, Pfizer's dividend yield is 3.56%, and in my view, the company's future opportunities make that yield one of the most compelling in all of big pharma.
PFE Dividends Paid (TTM) data by YCharts.
Back to growthFollowing the loss of patent exclusivity on its mega-billion-dollar blockbuster Lipitor in 2011, growth investors took Pfizer off their watch list years ago. However, the company has delivered six-consecutive quarters of stand-alone growth, so it may be time for growth investors to begin warming up to the company again.
During the company's conference call, management increased its outlook for revenue this year by $2 billion -- to between $51 billion to $53 billion. That's up from the $49 billion to $51 billion previously expected, and a big reason for higher guidance is growing demand for Pfizer's products.
Specifically, growing demand for drugs, including Ibrance and the anticoagulant Eliquis, represents $1 billion of the $2 billion increase in forecast sales. In Q1, Ibrance sales surged to $429 million from just $38 million a year ago, which resulted in Pfizer's total oncology revenue growing 95% ex-currency versus last year.
Similarly, doctors are increasingly transitioning patients away from warfarin to factor Xa anticoagulants such as Eliquis. As a result, alliance revenue in the company's innovative products business segment soared 80% ex-currency, to $354 million, in the quarter.
Pfizer's opportunity in biosimilars is another reason why growth investors ought to be paying attention. Roughly $100 billion in sales of existing biologics could be put in play over the next few years as patents expire on some of the world's top-selling medicine, and Pfizer's purchase of Hospira positions it to be a biosimilars leader.
Hospira gave Pfizer a slate of biosimilar drugs, including Inflectra, a biosimilar to the multibillion dollar blockbuster autoimmune disease drug Remicade. Last year, Inflectra launched in Europe, and that led to Pfizer reporting $66 million in biosimilars sales during Q1. In April, the FDA cleared Inflectra's use in the U.S., and given Pfizer targets a launch in this important market later this year, sales should continue marching higher.
Looking aheadPfizer is one of the globe's biggest drugmakers, and after years of struggling to overcome headwinds resulting from the loss of exclusivity on Lipitor, it appears the company has finally turned the corner corner. Given management's sales and earnings projections, and its commitment to returning money to investors, I believe buying Pfizer's stock can be considered by any style of investor.
The article Pfizer, Inc.'s First-Quarter Results: A Little Something for Everyone originally appeared on Fool.com.
Todd Campbell has no position in any stocks mentioned.Todd owns E.B. Capital Markets, LLC. E.B. Capital's clients may have positions in the companies mentioned. Like this article? Follow him onTwitter where he goes by the handle@ebcapitalto see more articles like this.The Motley Fool owns shares of and recommends Johnson & Johnson. Try any of our Foolish newsletter services free for 30 days. We Fools may not all hold the same opinions, but we all believe that considering a diverse range of insights makes us better investors. The Motley Fool has a disclosure policy.
Copyright 1995 - 2016 The Motley Fool, LLC. All rights reserved. The Motley Fool has a disclosure policy.