Peter Peterson, billionaire and philanthropist, dies at 91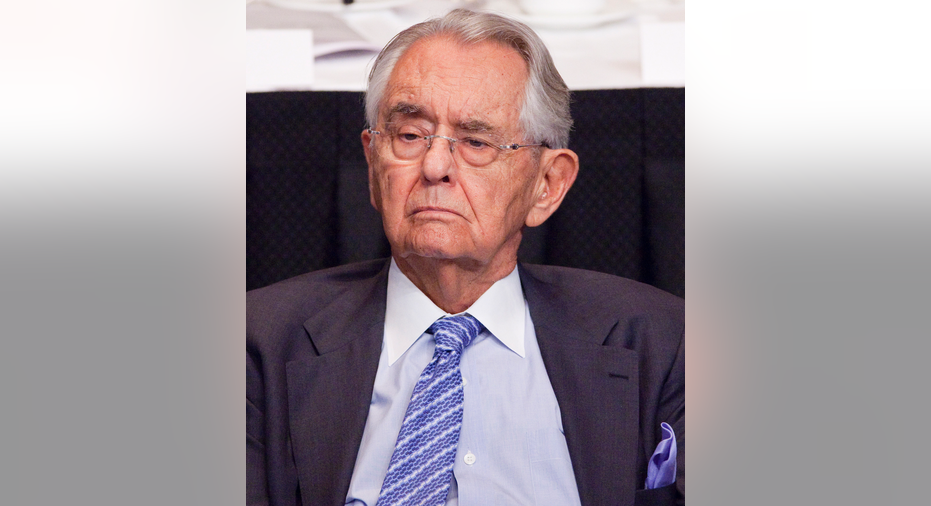 Peter G. Peterson, a billionaire and business executive who became one of the most prominent voices to argue for entitlement reform and reducing the U.S. national debt, died of natural causes early Tuesday, his family said. He was 91.
Born in the small town of Kearney, Nebraska, to Greek immigrants, Peterson was CEO of two major U.S. companies and co-founded one of the world's largest private-equity firms.
He was already a national figure in business by the early 1960s, serving as chairman and CEO of Bell and Howell, one of the largest manufacturers of movie cameras at the time.
He left Bell and Howell to work for the Nixon administration in the early 1970s, eventually serving as secretary of commerce from 1972 to 1973.
He took over as chief executive of the investment bank Lehman Brothers in 1973 after leaving the Nixon administration. In 1985, he co-founded the private-equity firm Blackstone Group with Stephen Schwarzman.
"His intelligence, wit and vision made him an inspirational leader who brought people together from the White House to Wall Street," his family said in a statement.
Blackstone went on to become one of biggest private-equity firms in the world, with $434 billion in assets under management at the end of last year. When the firm went public in 2007, Peterson's stake in the company made him a billionaire. His wealth was estimated at $2 billion, according to Forbes Magazine.
Peterson dedicated the rest of his life to what he called "key fiscal challenges threatening America's future," donating $1 billion to create the Peter G. Peterson Foundation in 2007.
He never publicly endorsed the fiscal ideals of the Tea Party. However, his ideas did give him some common ground with them.
He long argued that the United States' entitlement programs, principally Medicaid, Medicare and Social Security, had to be restructured or benefits cut back to avoid bankrupting the government. Through his foundation, he disseminated his ideas among the public and politicians.
"The fact he was able to start a serious debate about the future of Social Security and other entitlement programs was a huge accomplishment," said Fred Bergsten, founder of the Peterson Institute for International Economics, who worked with Peterson in various capacities going back to the 1970s.
Peterson was not considered ideological when it came to dealing with Social Security and Medicare. A life-long Republican, he still believed that raising taxes should be considered as part of any major restructuring of the U.S. budget, Bergsten said.
The foundation quickly became a major voice on all budget-related matters, repeatedly quoted in national media outlets. In 2008, his organization helped bankroll the documentary "I.O.U.S.A," with the goal of making the federal government's ballooning national debt, then around $10 trillion, a central campaign issue.
"What is most significant is most of our challenges are not really being discussed," Peterson told The Associated Press in 2008 when he created his foundation. "I've been a very lucky beneficiary of the American dream as the son of immigrants. And, the more I look at some of these problems, the more persuaded I am they will post a serious threat to this country."
Peterson is survived by his wife, Joan Ganz Cooney, who co-founded the Children's Television Workshop, and children John Peterson, Jim Peterson, David Peterson, Holly Peterson and Michael Peterson, and nine grandchildren.