Pentagon Weapons Tester Shoots Down Lockheed's F-35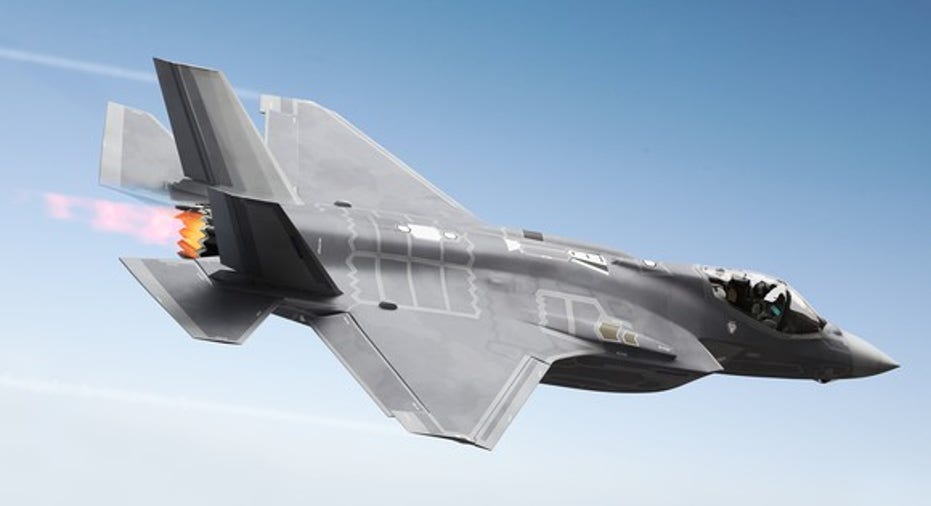 "At the end of the program's system development and demonstrationphase in 2017, the F-35 will have an operational gun."-- Lockheed Martin
"[The F-35] performed so appallingly that [one test pilot] deemed itcompletely inappropriate for fighting other aircraft within visual range."-- UK Daily Mail
"I'd send them [into combat] in a heartbeat because they're very, very good." -- Air Combat Command (ACC) head Gen. Herbert "Hawk" Carlisle
"[There is] not a cat in hell's chance ... that these things could be used in combat before 2020."-- Sir Nick Harvey, UK Minister of State for Armed Forces, 2010-12
Lockheed Martin has delivered180 planesto date, but there are still almost as many opinions of its F-35 as there are planes in the air. Image source: Getty Images.
Years behind schedule in development, and nearly 70% over budget, Lockheed Martin's (NYSE: LMT) F-35 stealth fighter jet remains one of the most controversial -- and expensive -- weapons programs in history. And judging from this week's news, that's not likely to change.
Lockheed Martin's good news/bad news month
Earlier this month, as you may recall, Lockheed Martin got some rare good news when the U.S. Air Force announced it has officially certified the F-35 as having achieved initial operational capability, or "IOC," to conduct combat operations. That set the stage for increasing deliveries of the aircraft this year en route to Lockheed's eventual delivery to the Air Force of 2,443 aircraft, and for the sale of hundreds, or even thousands more, F-35s to U.S. allies around the globe.
But this week, Lockheed Martin's grand plans hit a bump in the road. The Pentagon's primary weapons tester, the Directorate of Operational Test and Evaluation (DOT&E), announced that, in its opinion, the F-35 is not only "not on a path toward success," but actually "on a path toward failing to deliver."
DOT&E's report cited a raft of deficiencies in the aircraft's current version 3F software, including an inability to track moving targets on the ground, "multiple modifications" that need to be made to the airplane's gun, difficulty processing radar threat warnings, and issues with "fusing" inputs from multiple sensors into a single picture for the pilot to view.
Making progress
The news isn't uniformly bad. BreakingDefense.com reports that the F-35 recently "performed 12 Weapons Delivery Accuracy and 13 Weapon Separation Tests" in a single month -- about 12 times more than its previous record for weapons tests conducted in a single month. F-35 successfully deployed Joint Direct Attack Munitions (JDAM),Small Diameter Bombs (SDB),AIM-120 "AMRAAM" missiles, and AIM-9X Sidewinders missiles.
According to F-35 Joint Program Office head Lt. Gen. Chris Bogdan: "This testing has moved us that much closer to delivering the full F-35 capability to warfighters within the next two years." (Full implementation of Lockheed's 4F software upgrade still isn't expected before 2022). At the same time, though, even as Lockheed works on resolving these issues, DOT&E says new problems are popping up at a "substantial rate."
What it means to investors
Given the conflicting -- and incessant -- stories about whether the F-35 is or isn't a good aircraft, is or isn't making progress, and will or won't be ready on time, investors are understandably worried about what all this means for Lockheed Martin stock. After all, when you consider the plane's likely cost to build and maintain, and the numbers at which Lockheed hopes to build it, Lockheed could one day depend on the F-35 to provide roughly 50% of its revenues.
So let me lay those worries to rest.
Here's my read on the DOT&E report: According to DOT&E Director Michael Gilmore, "the Department is paying almost $400 billion by the scheduled end" of the F-35's "developmental testing" in late 2017, at which point the plane should begin "operational testing." Given the aircraft's continued deficiencies, however, it's at "substantial risk" of not "achieving full combat capability" by late 2017.
Gilmore may be right about the risk. (Sen. John McCain may even be right in calling the entire F-35 program "a scandal," and in saying "the cost overruns have been disgraceful.)"
But even if Gilmore's fears come to pass and the F-35 misses its proposed deadline, this wouldn't make the plane a failure or "incapable" in combat -- just late. Air Force Lt. Gen. Chris Bogdan, head of the F-35's Joint Program Office, reassures us that, "The program has a proven track record of solving technical issues and we're confident we'll continue to do so."
It may take much longer -- and cost much more -- than DOT&E had planned. In fact, it already has. But ultimately, the F-35 will sort out its problems and begin contributing better profits to Lockheed Martin.
A secret billion-dollar stock opportunity The world's biggest tech company forgot to show you something, but a few Wall Street analysts and the Fool didn't miss a beat: There's a small company that's powering their brand-new gadgets and the coming revolution in technology. And we think its stock price has nearly unlimited room to run for early in-the-know investors! To be one of them, just click here.
Fool contributorRich Smithdoes not own shares of, nor is he short, any company named above. You can find him onMotley Fool CAPS, publicly pontificating under the handleTMFDitty, where he's currently ranked No. 295 out of more than 75,000 rated members.
The Motley Fool has no position in any of the stocks mentioned. Try any of our Foolish newsletter services free for 30 days. We Fools may not all hold the same opinions, but we all believe that considering a diverse range of insights makes us better investors. The Motley Fool has a disclosure policy.