Penguins strike late to repeat as Stanley Cup champs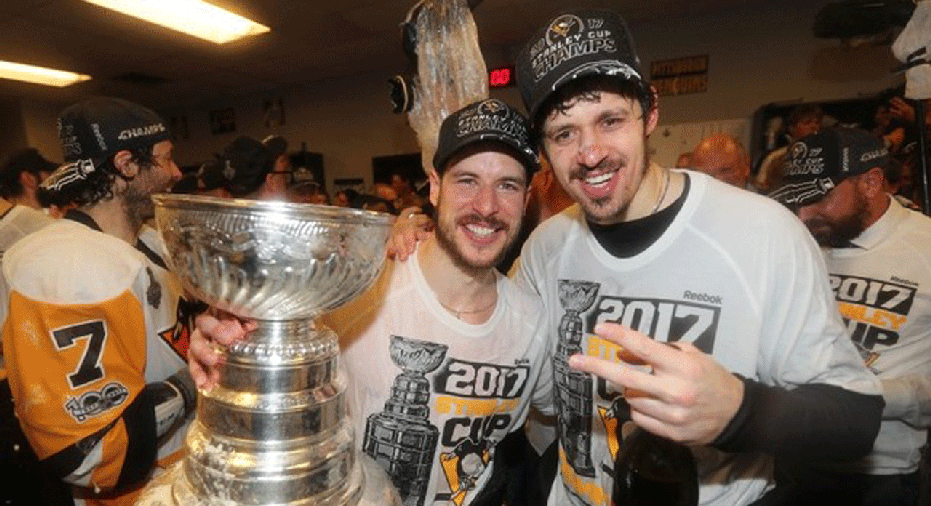 Patric Hornqvist's late goal followed by an empty-netter from Carl Hagelin lifted the Pittsburgh Penguins to a thrilling 2-0 Stanley Cup-clinching victory over the Nashville Predators on Sunday.
With the victory, the Penguins clinched the best-of-seven championship 4-2 to win the franchise's fifth Stanley Cup. They also became the NHL's first repeat champion since Detroit did it 19 years ago.
Penguins captain Sidney Crosby, who was awarded the Conn Smythe Trophy as the most valuable player of the playoffs, said his team had worked hard to keep improving with each game.
"All playoffs long we got better as each series went on," he added. "We tried to do that this series and I thought we did a good job of that."
Hornqvist scored the game-winning goal with only 95 seconds left when he batted a puck that had bounced off the end boards out of mid air, off the net and off goaltender Pekka Rinne's back and into the goal.
Hagelin iced the game with 14 seconds left when, with Rinne out of the goal in favor of an extra attacker, he scored into the empty net.
Penguins goaltender Matt Murray made 27 saves for his second straight shutout but caught a huge break early in the second period when the referee lost sight of the puck and mistakenly blew his whistle to stop play moments before Predators forward Colton Sissons poked home a rebound.
The referee thought Murray had the puck but it had actually trickled just behind him and into the crease where Sissons had what should have been the opening goal.
Sissons had another chance to put his team in front at the midway mark of the period when Pittsburgh got caught on a bad line change but he was denied by Murray on the breakaway chance.
Pittsburgh had two close calls in the final minute of what was the best period yet of the Final series but were denied by Predators goalie Rinne and hit a post seconds later.
For Nashville, the loss brought an end to a magical playoff run for the lowest seed in the Western Conference after they posted upset wins over top-seeded Chicago, division-winning Anaheim and a St. Louis squad that posted 99 points in the regular season.
"It stings," said Predators defenseman P.K. Subban. "A lot of emotions, a lot of tears and there should be. Everybody cares and we obviously wanted to lift the Cup this year but it didn't happen.
"The biggest thing we got to take from this is remember the feeling. Let it sink in and take it because to get back here that's what's going to drive us."
(Reporting by Frank Pingue in Toronto; Editing by Andrew Both/Peter Rutherford)