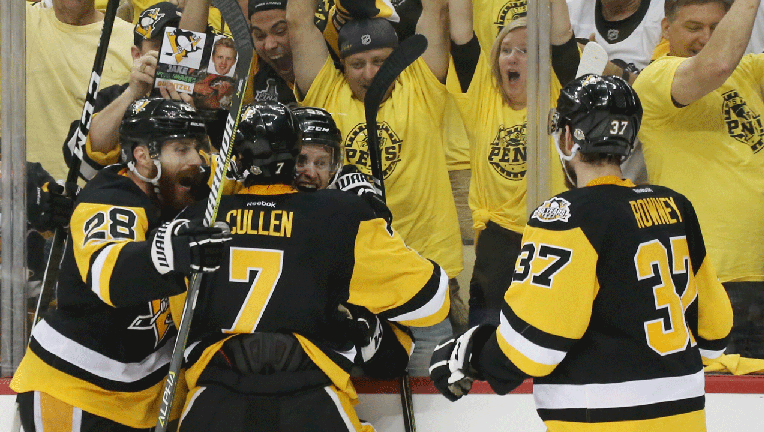 Jake Guentzel scored a tie-breaking goal with three minutes remaining as the Pittsburgh Penguins survived a furious Nashville Predators rally to eke out a 5-3 victory in Game One of the Stanley Cup Finals on Monday.
Guentzel's goal ended an incredible shooting drought of 37 minutes for the defending Stanley Cup champions as Nick Bonino's empty-netter, his second goal of the game, completed the scoring with 1:02 remaining at a relieved PPG Paints Arena.
Game Two of the best-of-seven series is also in Pittsburgh on Wednesday before the teams head to Nashville, who are the eighth seed in the Western Conference, for the next two contests.
Pittsburgh was surprisingly out-shot 26-12 on home ice, not managing a single attempt in the second period and for most of the third, but goaltender Matt Murray stayed busy and stopped 23 of the Predators' attempts.
Nashville goalie Pekka Rinne allowed four goals on 11 shots.
"He hadn't faced a shot in a while, so you're just trying to get a shot on net," Guentzel told reporters of the Predators goalie.
Pittsburgh started the game strongly with Evgeni Malkin, on a five-on-three power-play, Conor Sheary and Bonino all scoring in the first before Ryan Ellis broke through for Nashville in the second to make it 3-1.
A shot by Nashville's Roman Josi glanced in off Colton Sissons for a power-play goal at 10:06 of the third to cut the lead to 3-2 as the home crowd began to grow restless.
Pittsburgh continued their shot-shy phase through a power-play before Nashville's Austin Watson fed Frederick Gaudreau for a one-timer that went under Murray's pads to tie the score at 3-3 and silence the arena.
HUGH GOAL
"I thought we outplayed them, I really did," Nashville's P.K. Subban said. "Just being honest, I thought we did a lot of things well."
The tension was eased, however, when rookie Guentzel snapped a personal eight-game drought to score his playoff-leading 10th goal that gave the Penguins a lead they would not relinquish.
"He continues to get chances," said Penguins center and captain Sidney Crosby, who along with Chris Kunitz had two assists.
"They get one to tie it up after we have a lead like that. For him to come out and get a big goal like that was huge. Wasn't our best game, but he stepped up and came through for us."
Pittsburgh are attempting to become the first team to repeat as Stanley Cup champions since the Detroit Red Wings in 1997-98 and Crosby is aware his offense needs to be more ruthless in front of the net in the remaining games.
"It's just one of those nights where, for whatever reason, we got them blocked or missed the net," he said. "We didn't generate enough (offensive) zone time consistently."
The Predators' comeback, only to lose, had coach Peter Laviolette feeling for Rinne.
"It's tough. He's been a rock for us," Laviolette said. "The five-on-three goal was tough... the redirect off our defenseman, there's really no challenge on that."
(Writing by Jahmal Corner in Los Angeles; Editing by John O'Brien)