Pebblebrook Hotel Trust Reports Upscale Q1 Results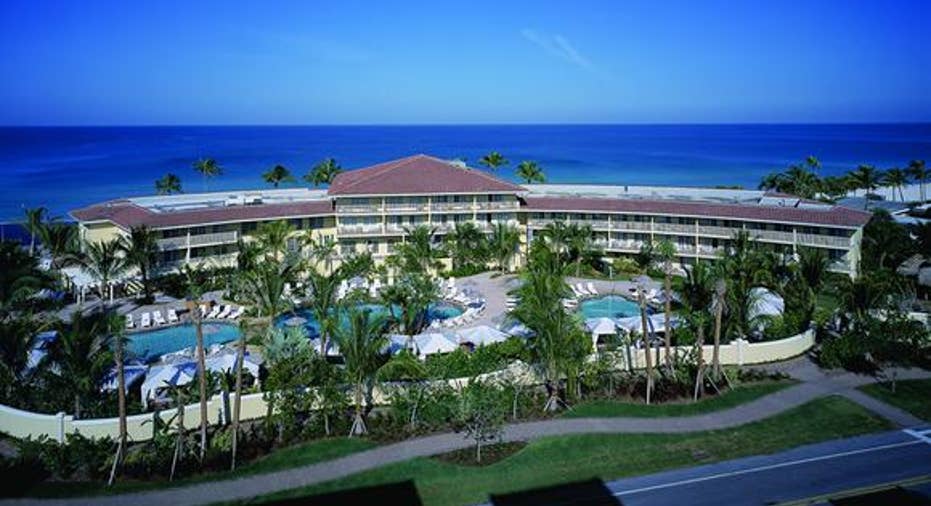 LaPlaya Beach Resort Club. Image source: Pebblebrook Hotel Trust.
Despite a sluggish hotel market, Pebblebrook Hotel Trust reported strong first-quarter results after the market closed on Wednesday. The company's results were not only well above its own guidance but also outperformed the industry because of strong demand for its hotels on the West Coast.
Still, the company sees this quarter as an outlier, with some of its strength being due to one-time events. That's why it's holding to its prior guidance, as that the hotel market remains under some pressure because of weakening travel trends.
Pebblebrook results: The raw numbers
| Metric | Q1 2016 Actuals | Q1 2015 Actuals | Growth (YOY) |
| --- | --- | --- | --- |
| Same-property revPAR | $195.01 | $180.50 | 8% |
| Adjusted FFO | $40.6 million | $24.4 million | 66.4% |
| AFFO per share | $0.56 | $0.34 | 64.7% |
Data source: Pebblebrook Hotel Trust; RevPAR: revenue per available room; AFFO: adjusted funds from operations.
What happened with Pebblebrook this quarter?All of Pebblebrook's key financial metrics were well above its guidance range.
Same-property revPAR jumped 8% year over year in the first quarter, well above the company's guidance range of $186 to $191. Driving this figure was higher occupancy, with same-property occupancy rising 4.8% to 82.6% during the quarter.
This outcome drove higher-than-expected earnings metrics, with adjusted FFO and AFFO per share rising above the company's guidance ranges of $31.2 million to $34.2 million for adjusted FFO and $0.43 to $0.46 for AFFO per share.
The company also did a solid job keeping its expenses in check, with same-property expenses rising just 3.6% for the quarter against a 6.8% increase in same-property revenues.
What management had to sayCEO Jon Bortz, discussing the company's first-quarter results, said:
As Bortz notes, the company's stronger performance during the quarter was due to a few one-time items. That situation enabled the company to deliver growth that was both "above the industry's 2.7% growth and in excess of our 3% to 6% outlook," according to Bortz.
Pebblebrook wasn't alone in experiencing a strong quarter, with LaSalle Hotel Properties also performing well during the quarter. In fact, LaSalle Hotel Properties achieved its highest-ever first-quarter hotel EBITDA and hotel EBITDA margin, with its outperformance mainly driven by acquisitions and the completion of renovations. That situation helped LaSalle Hotel Propertiesovercome weakening market conditions, with its CEO, Michael Barnello, noting on the company's conference call: "[T]hese trends are swiftly moving, and unfortunately, most of it to the downside. ... So we acknowledge the following: We are in or approaching a downturn."
Looking forwardIt's this backdrop of a weakening hotel industry that has given Pebblebrook Hotel Trust pause, with Bortz noting that while the company "continue[s] to believe that 2016 will be a solid year for Pebblebrook and the overall U.S. hotel industry ... we remain cautious given the uncertain economic environment and softening business travel trends."
It's that caution that's leading it to simply reaffirm its full-year guidance even after delivering strong first-quarter results. That guidance calls for adjusted FFO to be in a range of $194.3 million to $206.3 million and AFFO per share to be between $2.67 to $2.84, which is 6.8% to 13.6% higher year over year. However, even providing guidance at all is noteworthy because LaSalle Hotel Properties made the decision not to provide guidance for 2016 because of a lack of transparency into what the year will bring. That situation suggests the potential that Pebblebrook might not hit its guidance if industry conditions do take a turn for the worse.
The article Pebblebrook Hotel Trust Reports Upscale Q1 Results originally appeared on Fool.com.
Matt DiLallo has no position in any stocks mentioned. The Motley Fool recommends Pebblebrook Hotel Trust. Try any of our Foolish newsletter services free for 30 days. We Fools may not all hold the same opinions, but we all believe that considering a diverse range of insights makes us better investors. The Motley Fool has a disclosure policy.
Copyright 1995 - 2016 The Motley Fool, LLC. All rights reserved. The Motley Fool has a disclosure policy.