Pebblebrook Hotel Trust Earnings Slip on Hotel Sales and Redevelopment Disruptions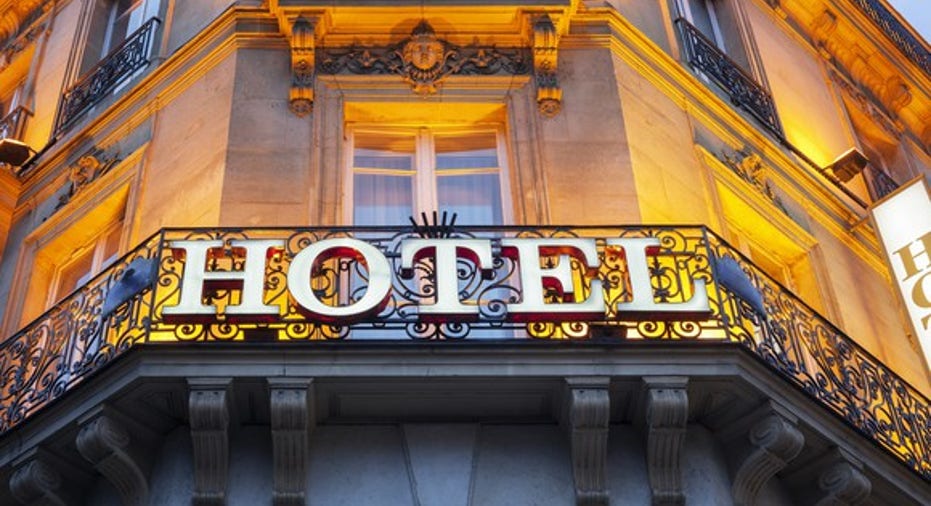 Pebblebrook Hotel Trust's (NYSE: PEB) financial results continue heading in reverse due to the company's strategic repositioning plan. Not only did its decision to sell hotels cause earnings to slip, but recent redevelopment projects led to greater-than-expected disruption at several of its hotels. However, despite these and other headwinds, Pebblebrook's financial results were either within or above its guidance range.
Pebblebrook results: The raw numbers
| Metric | Q1 2017 | Q1 2016 | Year-Over-Year Change |
| --- | --- | --- | --- |
| Same-property RevPAR | $192.92 | $198.61 | (2.9%) |
| AFFO | $38.7 million | $40.6 million | (4.7%) |
| AFFO per share | $0.54 | $0.56 | (3.6%) |
Data source: Pebblebrook Hotel Trust. RevPAR = revenue per available room; AFFO = adjusted funds from operations.
Image source: Getty Images.
What happened with Pebblebrook this quarter?
Pebblebrook's results continue to head lower.
Same-property RevPAR slipped a bit versus last year, though it was within the company's guidance range of $190 to $194. That's despite significant disruptions from redevelopment projects at Revere Hotel Boston Common, Hotel Palomar Los Angeles Beverly Hills, and The Tuscan Fisherman's Wharf, without which RevPAR would have been 330 basis points higher.
Meanwhile, AFFO declined versus last year as a result of the sale of eight hotels from its portfolio due to its strategic repositioning plan. That said, Adjusted AFFO was above the high end of its $32.5 million to $35.5 million guidance range thanks to the positive impacts of national events in Washington, D.C., as well as healthy demand in the Nashville, Seattle, and San Diego markets, which offset tough comparable results in San Francisco and Los Angeles.
AFFO on a per-share basis also came in above the company's guidance of $0.45 to $0.49 per share. Aside from the positives impacting AFFO, the per-share result benefited from the fact that Pebblebrook repurchased $75 million in stock during the quarter, which reduced the share count by 0.6% versus the prior year.
The company continued paring down its hotel portfolio during the quarter, agreeing to sell the Dumont NYC for $118 million. The company expects to close that sale in late June and could use the proceeds to buy back more shares or reduce debt.
What management had to say
CEO Jon Bortz commented on the results:
As Bortz points out, the tailwind of strong demand in several key markets helped the company deliver results that were well within its expectations. That said, the company's overall financial performance will remain choppy as it continues redeveloping hotels to boost profitability and selling off additional properties. Driving the decision to divest, according to Bortz, is that "each sale allows us to take advantage of attractive current private market prices for our properties as well as the significant discount between our current share price and the underlying value of our assets on a private market basis."
Looking forward
Pebblebrook is adjusting its full-year guidance. The company now sees AFFO coming in at $167.2 million to $176.5 million, which represents reductions of $3.7 million and $5.7 million, respectively, from its prior guidance. That said, on a per-share basis, the company expects AFFO to be in the range of $2.37 to $2.50, which is a $0.03-per-share increase on the low end and unchanged at the high end.
10 stocks we like better than Pebblebrook Hotel TrustWhen investing geniuses David and Tom Gardner have a stock tip, it can pay to listen. After all, the newsletter they have run for over a decade, Motley Fool Stock Advisor, has tripled the market.*
David and Tom just revealed what they believe are the 10 best stocks for investors to buy right now... and Pebblebrook Hotel Trust wasn't one of them! That's right -- they think these 10 stocks are even better buys.
Click here to learn about these picks!
*Stock Advisor returns as of April 3, 2017
Matt DiLallo has no position in any stocks mentioned. The Motley Fool recommends Pebblebrook Hotel Trust. The Motley Fool has a disclosure policy.