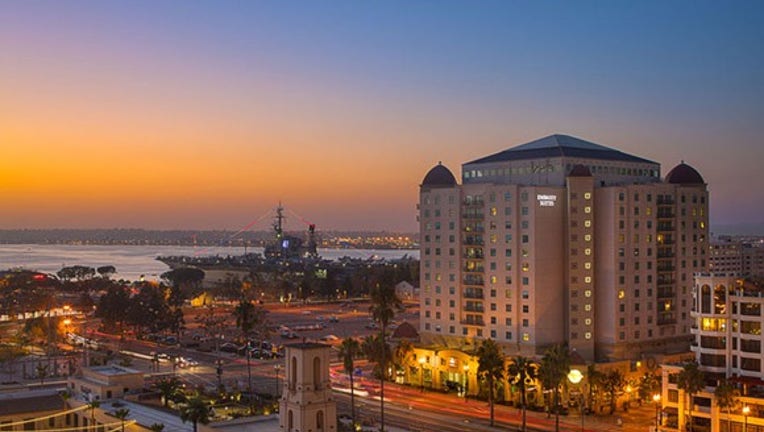 Pebblebrook Hotel Trust's (NYSE: PEB) financial results went upside down during the fourth quarter. That said, the company expected as much and even outperformed its forecast despite facing the headwinds of a weak hotel market and selling $463.8 million of assets last year. Unfortunately, those two factors will continue to weigh on results in 2017.
Pebblebrook results: The raw numbers
| Metric | Q4 2016 (millions) | Q4 2015 (millions) | Year-Over-Year Change |
| --- | --- | --- | --- |
| Same-Property RevPAR | $191.99 | $191.94 | 0% |
| Adjusted FFO | $41.5 | $44.7 | -7.2% |
| AFFO Per Share | $0.57 | $0.62 | -8.1% |
Data source: Pebblebrook Hotel Trust; RevPAR: revenue per available room; AFFO: adjusted funds from operations.
What happened with Pebblebrook this quarter?
Pebblebrook took a step back.
Same-Property RevPAR was flat versus 2015, which was a bit below the company's guidance range of $192 to $196 due to weak business travel, an uptick in new hotel supply, and continued global economic headwinds such as a strong dollar.
Those factors, as well as the company's shrinking hotel portfolio, weighed on earnings. However, results did come in well above the company's guidance range as Adjusted FFO was $41.5 million, or $0.57 per share, while the company's forecast was $35.1 million to $38.5 million and $0.48 to $0.53, respectively. One factor driving that higher result was a 0.5% decline in same-property expenses.
Because of that expectation-beating quarter, the company's full-year results also came in ahead of guidance. Adjusted FFO rose 11.2% to $201.8 million, or $2.78 per share, which was above the high-end of its guidance range of $195.5 million to $198.9 million and $2.69 to $2.74, respectively.
The fourth-quarter was a busy one for the company on the asset sale side. It completed an asset exchange with a former joint venture partner to redeem its 49% interest in the Manhattan Collection and then sold the Manhattan NYC for $217.5 million. The company also sold the DoubleTree by Hilton Hotel Bethesda for $50.1 million during the quarter. The company used the proceeds to redeem some preferred shares and repay debt, which was down to $1 billion as of the end of the year, about $110 million less than the year-ago period.
Image source: Pebblebrook Hotel Trust.
What management had to say
CEO Jon Bortz had this to say about the company's results:
Aside from jettisoning hotels to improve its balance sheet, the company also invested $124 million to spruce up several of its other properties to enhance their profitability. These recently renovated and repositioned hotels were then able to increase their market share and cash flow last year, which is a trend the company expects to continue in 2017.
Looking forward
That said, despite improvements in its retained portfolio, and more optimism in the hotel industry, the company expects its financial results to decline in 2017. The company sees Same-Property EBITDA falling 8.7% on the low end to 4.7% at the high end. Those declines, when combined with a smaller portfolio, should push Adjusted FFO down to a range of $170.9 million to $182.2 million, or $2.34 to $2.50 per share, which represent decreases of 10.1% to 15.8% versus last year.
10 stocks we like better than Pebblebrook Hotel TrustWhen investing geniuses David and Tom Gardner have a stock tip, it can pay to listen. After all, the newsletter they have run for over a decade, Motley Fool Stock Advisor, has tripled the market.*
David and Tom just revealed what they believe are the 10 best stocks for investors to buy right now... and Pebblebrook Hotel Trust wasn't one of them! That's right -- they think these 10 stocks are even better buys.
Click here to learn about these picks!
*Stock Advisor returns as of February 6, 2017
Matt DiLallo has no position in any stocks mentioned. The Motley Fool recommends Pebblebrook Hotel Trust. The Motley Fool has a disclosure policy.