PC Sales Are a Dumpster Fire: This Company Did Better Than Most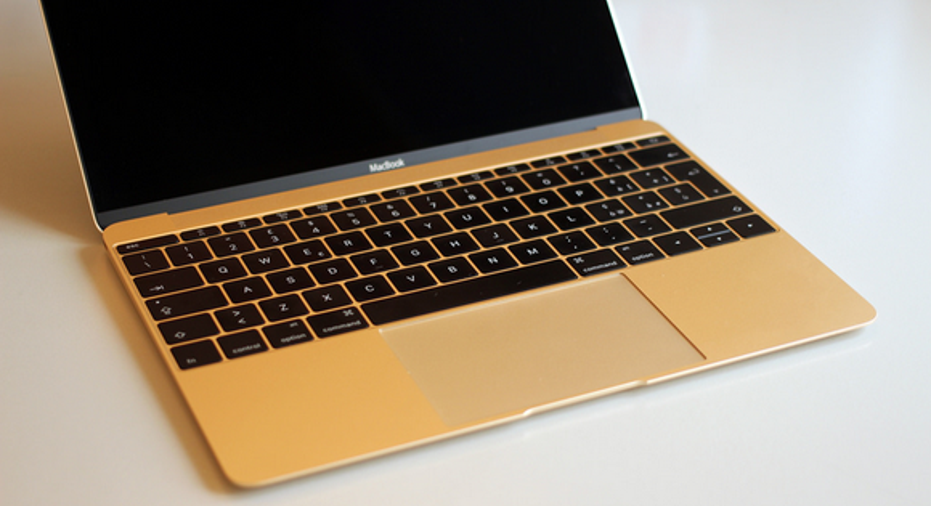 Apple's new MacBook helped Apple grow worldwide shipments versus the industrywide malaise. Image source: Apple.
In a note that's starting to sound like a broken record, market research firm Gartner confirms that the PC market is rapidly deteriorating, with a recent press release noting that worldwide PC shipments declined to 64.8 million units in the first quarter, falling 9.6% on a year-on-year basis. According to the research firm, this quarter is the first time since 2007 that PC shipments fell below 65 million units. That was the year the iPhone was released and years before substitute tablets were created.
Falling PC shipments are nothing new. Gartner notes that this is the sixth consecutive quarter of PC shipment declines. While it was an ugly report all around, and there are no clear winners in the struggling PC market, some companies clearly did better than others. Apple was able to execute in the face of industrywide headwinds, while HP Inc. lost significant U.S. market share.
Apple's Mac: Growing just by standing still Apple was able to grow its market share simply by being able to tread water. Gartner estimates the Mac maker shipped 4.61 million units in the first quarter versus 4.56 million in last year's corresponding quarter. As a result of registering 1% growth versus an industrywide decline of 9.6%, Apple grew its market share from 6.4% of the total PC market to 7.1%.
In the United States, Gartner's data shows Apple did ship fewer units this quarter. Gartner's preliminary U.S. shipment estimates have Apple shipping 0.3% fewer Macs on a year-on-year basis, shipping 1.66 million units this quarter, versus 1.67 million shipped last year. However, the company did grow its U.S. market share from 11.9% to 12.7% by falling less than the total market's 6.6% drop.
HP: No longer No. 1 in the U.S.The report was decidedly less sanguine for HP. Gartner reports that Hewlett-Packard's worldwide shipments fell by 9% last quarter, similar to the worldwide decline. However, the wheels fell off for HP in the United States. Gartner's data shows the company's U.S. shipments fell 17.3% year-over-year, much larger than the U.S. markets 6.6% decline.
Hewlett-Packard fell below privately owned Dell for the U.S. lead. Competing research firm IDC says HP had been the top U.S. PC vendor for the past 25 quarters. Gartner notes that HP is looking to emphasize high-end sales and points to this strategic shift as the reason for the shipment decline. It's possible, but HP's larger U.S. decline than the worldwide market, especially in the face of a strengthening dollar, seems contrary to the notion of a shipment drop as a result of a strategic shift.
A worldwide demand slumpAccording to Gartner, the demand slump spared no geography. Asia-Pacific fell 5.1% as a result of the Chinese economy, Europe, Middle East, and Africa registered a 10% decline, and Latin America registered a depression-like decrease of 32% on account of political instability and macroeconomic headwinds. It's possible some of these worldwide headwinds are transitory in nature, especially if the U.S. dollar begins to weaken, but it's unlikely the PC industry will return to growth in the immediate future.
Overall, Apple increased shipments against the backdrop of an overall industry in decline, and that says a great deal about Cupertino's brand cachet. That said, investors should look to other products and services for growth.
The article PC Sales Are a Dumpster Fire: This Company Did Better Than Most originally appeared on Fool.com.
Jamal Carnette owns shares of Apple. The Motley Fool owns shares of and recommends Apple and Gartner. Try any of our Foolish newsletter services free for 30 days. We Fools may not all hold the same opinions, but we all believe that considering a diverse range of insights makes us better investors. The Motley Fool has a disclosure policy.
Copyright 1995 - 2016 The Motley Fool, LLC. All rights reserved. The Motley Fool has a disclosure policy.