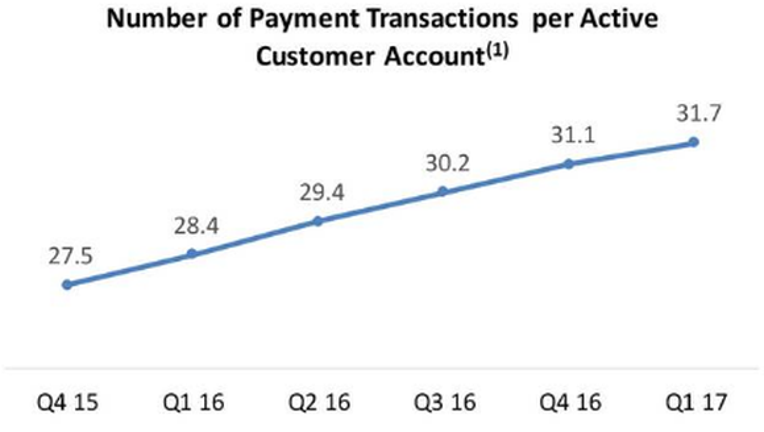 Investors in PayPal Holdings Inc (NASDAQ: PYPL) had plenty of reason to cheer last week when the company reported earnings. Nearly every metric was up by a better-than-expected percentage, surpassing expectations of all but the most bullish on the stock. Revenue increased to $2.9 billion, a 17% increase year over year. Earnings per share (non-GAAP) increased to $0.44, a 19% increase year over year.
More exciting to long-term investors, however, was the account growth and increase in user engagement with the company's core platform. Six million active accounts were added during the quarter, increasing the total to 203 million for the digital payment company. These active accounts now average almost 32 transactions per year, a 12% increase year over year. More customers using the company's platforms more often was a winning combination that the market liked, as shares soared over 6% the day after the company reported earnings.
Image source: PayPal Holdings Inc's Q1-17 Investor Update, Slide 6.
PayPal's powerful network effect
PayPal's growth is beginning to fuel a powerful network effect for the company. The beauty of this type of growth is that it drives itself. The more users that sign up for the platform the more important the service becomes for retailers to adopt it and the more places that accept it, the more attractive it becomes to new users. At the end of March, 16 million retailers were accepting PayPal's core platform as a method of payment; five million of which had adopted PayPal's innovative One Touch checkout solution.
PayPal's management is well aware of this virtuous cycle. During the conference call, CEO Dan Schulman stated:
The drivers of PayPal's network
When asked what was driving the acceleration in growth of new user accounts and customer engagement with PayPal's core services, Schulman stated there was not one "silver bullet" but that it was the "accumulative effect of lots of actions" taken by the company.
Image source: PayPal Holdings Inc.
First, PayPal's management believes there is little doubt that customer choice has played an important role. Over the past year, PayPal forged a number of partnerships across the financial and payments industries. These partnerships gave customers more options when using PayPal's core platforms. Schulman stated account holders like being able to choose their debit card for one type of purchase and a credit card for another.
These partnerships have not only driven new members to the platform, but have increased engagement among customers who had previously used PayPal the least. These users seem to have found the most value in being able to easily toggle between different funding sources and payment methods and have not only begun to use the platform more but are now ringing up "higher order sizes."
The second thing driving PayPal's network effect is One Touch, PayPal's comprehensive answer to mobile commerce. In the conference call, Schulman stated:
It's easy to understand Schulman's optimism in this space. More than five million merchants have already adopted One Touch into their checkout experience and PayPal's management expects that number to "increase noticeably" throughout the remainder of the year. For the quarter, mobile payments jumped to about $32 billion, a 51% increase year over year. Almost a third of total payment volume originated with a mobile device.
Finally, another reason, underrated by many, is the new streamlined process for signing up for a new PayPal account. Schulman mentioned this during the conference call but talked more at length about it earlier in the quarter at the Goldman Sachs Technology and Internet Conference. At the conference, Schulman said one of the major pain points discovered by PayPal management occurred when potential customers attempted to create an account with the intention of only using one funding source or payment option, like a favorite credit card. PayPal was messing up this simple process by asking for lots of additional information. This created more friction during the sign-up process and PayPal saw lots of potential new customers drop out during the process of setting up an account.
With 203 million active consumer accounts, 16 million merchants accepting the platform, and the dominant mobile payment platform in One Touch, PayPal is developing a network that will be hard to beat by competitors. A growing network begets more growth as was evidenced by the acceleration in new accounts this quarter. It is hard to see now what might disrupt this rise in the near future, and it is my bet that PayPal investors will have plenty more to cheer about in the quarters ahead.
10 stocks we like better than PayPal HoldingsWhen investing geniuses David and Tom Gardner have a stock tip, it can pay to listen. After all, the newsletter they have run for over a decade, Motley Fool Stock Advisor, has tripled the market.*
David and Tom just revealed what they believe are the 10 best stocks for investors to buy right now... and PayPal Holdings wasn't one of them! That's right -- they think these 10 stocks are even better buys.
Click here to learn about these picks!
*Stock Advisor returns as of May 1, 2017
Matthew Cochrane owns shares of PayPal Holdings. The Motley Fool owns shares of and recommends PayPal Holdings. The Motley Fool has a disclosure policy.