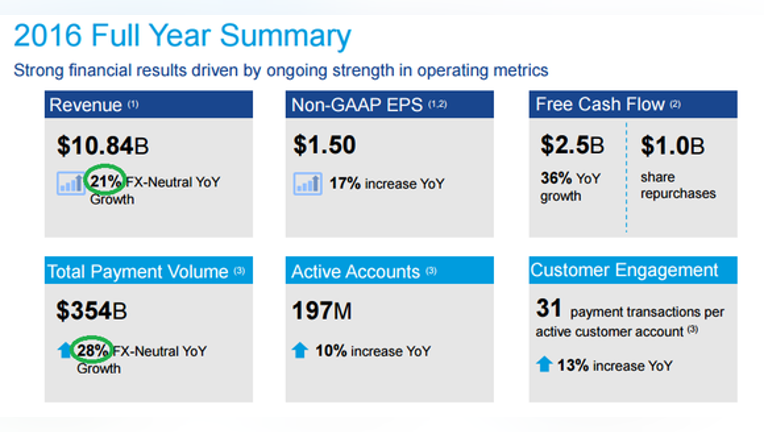 Image source: PayPal Holdings, Inc.
In its fourth-quarter 2016 earnings report released on Jan. 26, payments platformPayPal Holdings Inc.(NASDAQ: PYPL)rounded out the year by exhibiting sustained growth over a broad variety of key metrics. Let's review those metrics, as well as the outlook for the coming year, after we run through financial highlights from the quarter directly below.
PayPal: The raw numbers
| Metric | Q4 2016 Actual | Q4 2015 Actual | Year-Over-Year Change |
| --- | --- | --- | --- |
| Revenue | $2.98 billion | $2.56 billion | 16.4% |
| Net income from continuing operations | $390 million | $367 million | 6.3% |
| Diluted earnings per share | $0.32 | $0.30 | 6.7% |
Data source: PayPal Holdings Inc.
What happened with PayPal this quarter?
The company continued its streak of double-digit revenue improvement versus the prior year in each quarter since going public in July 2015. The 16.4% increase in the fourth quarter of 2016 is a bit off the pace of the third quarter's 18% revenue gain, however.
Total payment volume (TPV), which measures the total dollar volume of payments PayPal facilitates, grew 22% over the comparable quarter, to $99 billion.
In comparison to the fourth quarter of 2015, active customer accounts rose 10% to 197 million. The company reached 31 payment transactions per active account, a leap of 13% versus the prior-year quarter.
PayPal continues to derive the majority of its revenue from the merchant side of its business. Merchant services TPV grew at a rate of 27%, and accounted for 84% of overall TPV.
Mobile payments also maintained an extremely strong trend, with total volume of $31 billion representing a 53% expansion over the comparable prior year quarter. Nearly a third of all PayPal's transaction volume occurred over mobile devices during the quarter.
Social payments app Venmo, which enables money transfers between friends as well as group payments for retail items and services, increased TPV by 126%, to $5.6 billion.
Operating income declined by roughly 70 basis points to 15.4%, driven by volume processed through the company's rapidly expanding Braintree subsidiary, which carries a slightly higher transaction expense than the overall company.
The organization continued to generate handsome cash flow. For the quarter, PayPal produced $923 million of operating cash flow. For the full year, it booked $3.2 billion in operating cash flow (in relation to $10.8 billion in revenue).
During the fourth quarter, PayPal continued its strategy of embedding itself across industry payment options and announced payment partnerships with Citibankand Fidelity National Information Services. In its earnings press release, the company also highlighted its January 2017 agreement with Discover Financial Services, which will enable PayPal's customers to more easily locate and utilize Discover as a funding option within PayPal's digital wallet.
What management had to say
Those who own or follow retail stocks are probably aware that mall-based retailers and some prominent big-box stores endured an extremely disappointing holiday season in the last quarter of calendar 2016. PayPal CEO Dan Schulman tied the flagging fortunes of this group to PayPal's success during its earnings conference call last week:
That's $2 billion in volume over just five days. With ever-expanding mobile volume and a push to be ubiquitous as a payment option, PayPal's management believes that the company is in a unique position to capitalize on the deterioration of traffic in retailers' physical spaces.
Moving forward
Alongside earnings, management provided full-year 2017 guidance, projecting a revenue improvement of 15%-17%, which in dollar terms equals a range of between $12.45 billion to $12.65 billion. Management expects diluted earnings per share in 2017 to land between $1.26-$1.31, which implies an increase of 9.5%-13.9%.
A chart provided in the company's fourth-quarter 2016 investor presentation indicates how PayPal has room to achieve both its top-and-bottom-line objectives for the current year:
Image source: PayPal Holdings Q4 2016 investor presentation. Annotations in green by author.
As shown in the two places I've circled in green, PayPal grew its total payments volume at a pace that was several percentage points higher than recorded revenue in 2016. This implies that revenue still has the potential to accelerate.It also bodes well for the near term: For now, PayPal's share of the market is spreading at an admirable clip, one that's almost too fast for recorded revenue to keep up with.
Find out why PayPal Holdings is one of the 10 best stocks to buy now
Motley Fool co-founders Tom and David Gardner have spent more than a decade beating the market. (In fact, the newsletter they run, Motley Fool Stock Advisor, has tripled the market!*)
Tom and David just revealed their ten top stock picks for investors to buy right now. PayPal Holdings is on the list -- but there are nine others you may be overlooking.
Click here to get access to the full list!
*Stock Advisor returns as of January 4, 2017
Asit Sharma has no position in any stocks mentioned. The Motley Fool owns shares of and recommends PayPal Holdings. The Motley Fool has a disclosure policy.