Parker Beam, master distiller of Kentucky bourbon, dies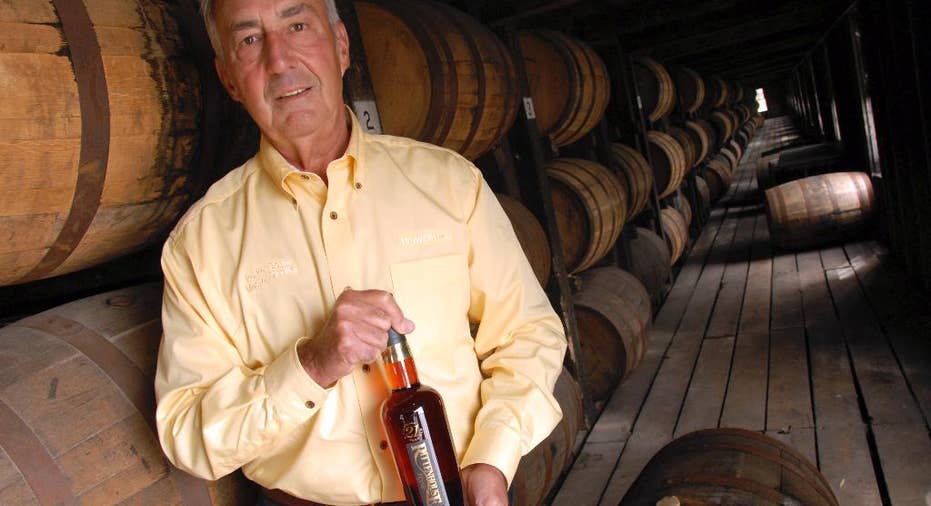 Parker Beam, who carried on his family's historic bourbon-making tradition as longtime master distiller for Kentucky-based Heaven Hill Distilleries, died Monday after battling amyotrophic lateral sclerosis, better known as Lou Gehrig's disease. He was 75.
Beam's career as a whiskey maker spanned more than a half century at Bardstown, Kentucky-based Heaven Hill, a family owned and operated distilled spirits company and maker of the popular Evan Williams brand. Beam was responsible for distilling and aging Evan Williams — the world's No. 2-selling bourbon — and other Heaven Hill whiskeys.
"He was a true industry giant long before the current bourbon renaissance," said Max L. Shapira, president of Heaven Hill Brands. "Without question, he was committed to our industry and possessed a real passion for the craft of distilling."
Beam's pedigree as a bourbon maker was impeccable. As a grandnephew of Jim Beam, Parker Beam was born into a family that traces its whiskey-making roots in Kentucky to 1795, when Jacob Beam set up his first still. Park Beam, Parker's grandfather and namesake, was Jim Beam's brother.
"If you were a Beam, you sort of were destined to follow in the footsteps of either your father, grandfathers, cousins or uncles," Parker Beam said in a 2007 interview with The Associated Press.
Another industry patriarch, Bill Samuels Jr., on Monday called his longtime friend "one of the good guys." For some people, living up to a legendary family name can be a burden, but not so for Parker, Samuels said.
"In his case, he lived up to and exceeded the burden of having the most famous name in bourbon," said Samuels, who retired after a long career as the top executive at Maker's Mark.
During his years-long battle with the disorder, Parker Beam raised funds in hopes of helping find a cure.
Parker Beam was among a small fraternity of master distillers who oversaw production at various Kentucky distilleries during bourbon's revival.
According to a 2014 report by the University of Louisville's Urban Studies Institute, distilling contributes $3 billion in gross state product to Kentucky's economy every year, up from $1.8 billion two years ago. Kentucky bourbon and Tennessee whiskey exports shot past $1 billion for the first time in 2013, according to the Distilled Spirits Council. By 2015, combined U.S. revenues for bourbon, Tennessee whiskey and rye whiskey rose 7.8 percent to $2.9 billion, while bourbon and Tennessee whiskey exports topped $1 billion for the third straight year, the group said.
Parker Beam began his career at Heaven Hill in 1960 and learned the craft by working alongside his father, Earl. The job of master distiller shifted from father to son in 1975 when Parker Beam assumed the role. He developed the company's first premium small batch and single barrel bourbons.
That father-son partnership extended into another generation when Parker Beam's son, Craig, started working at Heaven Hill in 1983. For years, the Beams shared duties as co-master distillers. Parker Beam had the title of master distiller emeritus at Heaven Hill at the time of this death.
"Parker Beam wasn't just a name on a bottle — he was the living embodiment of the whiskey inside — authentic, classic, well-seasoned and distilled from old-fashioned hard work and gentleman integrity," said Eric Gregory, president of the Kentucky Distillers' Association.
Craig Beam had his own humble start. On one summer break from school, he cleaned pigeon droppings in a vacant warehouse purchased by Heaven Hill. He later drove a truck for the distillery and worked in the bottling operation.
"I've got a whole lot to live up to with my father and grandfather," Craig Beam told the AP in 2007. "I've got a lot of weight on my shoulders."