Panera Satisfies Shareholders With Strong Comps, Higher Guidance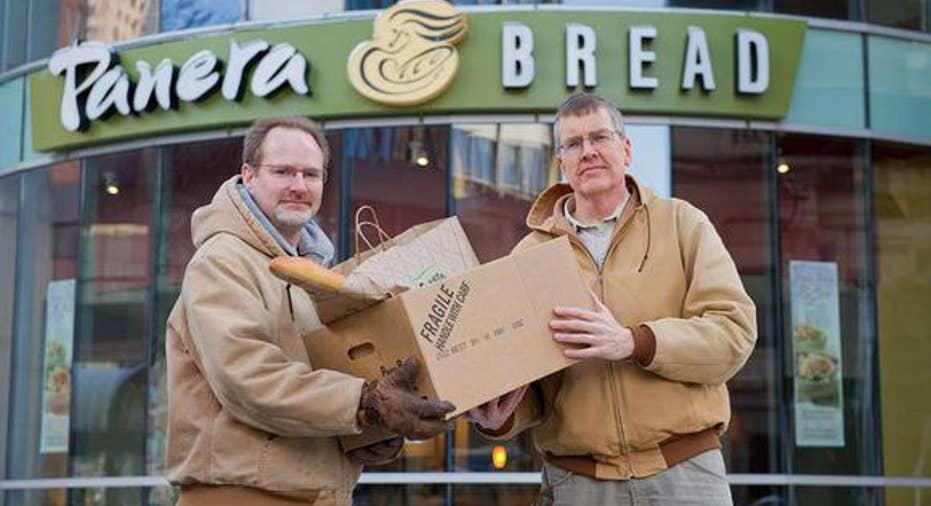 Image source: Panera Bread.
Fast-casual restaurants have become the growth driver of the broader restaurant industry, and Panera Bread has worked hard to build itself into one of the most important players in the fast-casual space. Following in the footsteps of Chipotle Mexican Grill , Panera has worked at expanding its restaurant network and offering high-quality food and a positive, comfortable experience for customers. Coming into Tuesday's first-quarter financial report, Panera investors were ready to see a restoration and acceleration in growth from the company, and its results were even better than most of those following the stock had anticipated. Let's look more closely at what Panera Bread had to say this quarter and whether it can continue to deliver on its goals in the future.
Panera Bread rakes in the dough Panera's first-quarter results were uniformly strong. Revenue jumped 6% to $685.2 million, easily surpassing the consensus forecast among investors for sales of $674 million. GAAP net income was up 10% to $35.1 million, and even though one-time items helped boost earnings growth, a big drop in outstanding share counts produced adjusted earnings of $1.56 per share. That was $0.06 per share higher than investors had expected to see.
A closer look at Panera's numbers reveals a reawakening in comparable-restaurant sales. Across the Panera restaurant system, overall comps rose 4.7%, and the much-watched figure for company-owned locations grew at an even faster 6.2% pace. Average check size accounted for the majority of the comps growth, but traffic count also contributed more than a third to the company's increase in comparable sales. Franchise-owned restaurants didn't fare as well but still produced comparable-restaurant sales gains of 3.3%.
On the margin front, however, Panera's numbers were mixed. From a GAAP perspective, operating margins rose four-tenths of a percentage point, but Panera incurred substantial costs in the year-ago quarter related to the company's refranchising efforts. When adjusting for those costs and other one-time items, adjusted operating margins fell four-tenths of a percent. Panera blamed wage increases, start-up costs, and expenses from the strategic transitions that the company has made for the drop in margins.
Panera CEO Ron Shaich seemed surprised by the extent of the company's success. "Our growth in same-store sales and transactions was the best we generated in four years," Shaich said, "and we outperformed the Black Box all-industry composite by the widest margin we have ever recorded." The CEO also pointed to bottom-line growth as showing the success of the strategic moves that Panera has taken.
Can Panera stay tasty?Because of the strong success that Panera has seen, the company chose to raise its full-year 2016 targets for comps and earnings per share. The fast-casual chain now expects company-owned store comps to grow at a 4% to 5% pace, up half a percentage point from its previous range. Similarly, Panera added $0.17 to $0.18 per share in earnings to its guidance range, which will now be between $6.50 and $6.70 per share. Panera still thinks that operating margins will fall between a half percentage point and a full percentage point.
A combination of factors could keep Panera moving forward. Comparable-restaurant sales for the first part of the current quarter were up 4.4%, which is only slightly slower than its first-quarter performance. At the same time, Panera continued adding new cafes to its network. During the quarter, Panera opened 17 new corporate-owned locations, and franchisees opened 13 more. That brings the company's total count to 1,997.
Panera's results stand in stark contrast to what Chipotle reported. In its first-quarter results, Chipotle suffered a huge revenue plunge of 23% on a stunning 30% drop in comparable-restaurant sales, and the company ended up posting a net loss for the quarter of $0.88 per share. Given the Mexican food chain's history of profit growth, the report came as a shock to Chipotle investors, and it gives Panera an opportunity to take full advantage.
Investors were pleased with Panera's performance, and the stock climbed almost 2% in the first 30 minutes of after-hours trading following the announcement. If Panera can stay on course with its growth plans, then shareholders should be pleased with the stock's long-term performance.
The article Panera Satisfies Shareholders With Strong Comps, Higher Guidance originally appeared on Fool.com.
Dan Caplinger has no position in any stocks mentioned. The Motley Fool owns shares of and recommends Chipotle Mexican Grill and Panera Bread. Try any of our Foolish newsletter services free for 30 days. We Fools may not all hold the same opinions, but we all believe that considering a diverse range of insights makes us better investors. The Motley Fool has a disclosure policy.
Copyright 1995 - 2016 The Motley Fool, LLC. All rights reserved. The Motley Fool has a disclosure policy.