Pandora Media Inc Turns Up the Music at CES 2017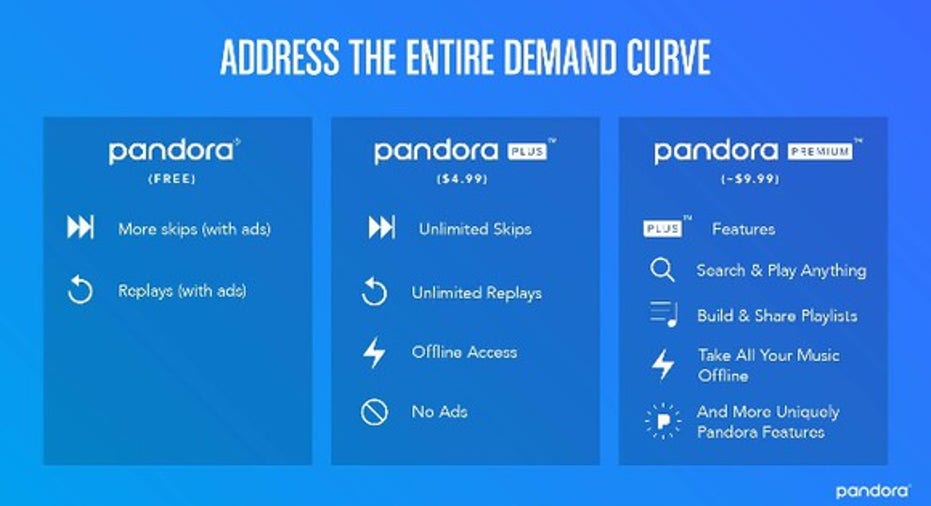 Pandora(NYSE: P) President and CFO Mike Herring spoke at the Citigroup Internet, Media, and Telecommunications Conference from CES in Las Vegas last week. He made it clear that the company will be U.S.-focused for the foreseeable future with goals of driving higher ad spend for its ad supported free music streaming service, upselling ad supported listeners to paid memberships, and cross-selling all listeners with tickets through its newly acquired asset, Ticketfly.
Image source: Pandora.
Selling more ads
Pandora spent $98.1 million or about 28% of its revenue on sales and marketing last quarter.That number is up nearly 60% from the same quarter in 2014 -- this growing spending is indicative of a business focused on boosting its revenue by selling ads on a local basis throughout the country. Today, Pandora reaps a total average ad load of $56.84 for every thousand hours of listening time on its ad supported product. Mike Herring was very clear in stating that the goal is to bring that number up to $80 per thousand hours by 2020. In fact, Pandora is already meeting that goal in approximately 35 of the top markets in the U.S. The rise of this number in the other 200 plus smaller markets will mean that in time, sales and marketing costs as a percentage of revenue should decrease.
One of the key ingredients Pandora is using to gain more advertisers is the psychographic data they have collected from each listener. Pandora data scientists have created 1,800 segments for its 78 million users that allow the company to optimize the ads for each listener, making them more effective for advertisers in the process.
Pandora has also mastered the art of user engagement by having listeners give a thumbs up to songs they like. This data allows users to receive recommendations by channel type in a personalized radio format. Listeners have invested more than 75 billion thumbs up or down for songs, making Pandora something of a daily habit. And this habit is quite relevant to the company as it focuses on converting these listeners to paid subscribers. As Mike Herring described it, the premium subscriber product is not being built on one "big bang" event but rather the everyday habits of current listeners migrating to a higher level of service over a long period of time.
Pandora offers a different experience for its users
Image source: Pandora analyst day presentation Oct. 25, 2016.
For $4.99 a month, a listener can choose to become a paying subscriber and skip as many songs as they like while also enjoying unlimited replays of their favorite tunes. Pandora has also built in a feature that allows the user to go into airplane mode and still listen to a portion of their individualized channels offline. This transition can occur automatically without user involvement if, as an example, a car radio playing Pandora were driven through a tunnel.
Pandora Premium is scheduled to be rolled out some time this quarter. This complete on demand format will be priced at approximately $9.99 per month and allows listeners to build completely customized playlists, in addition to taking all of their music offline.
The company intends to opportunistically upsell users through what they have labelled smart conversion. Pandora knows that of their current 78 million listeners, 20 million are paying another service for on demand music.These listeners will be a prime target for the company's new service.
Engaging listeners with artists and venues
Herring described the final piece of the puzzle as the relationship Pandora allows artists to build with their fans. In today's music world, small and medium size artists make the bulk of their revenue performing live shows. Pandora knows a listener's location and with that information, can offer tickets to a local performance for any musicians that they tend to listen to on the service.
This feature, enabled by the company's acquisition of Ticketfly, is a key bridge that Pandora is building to gain favor in the music community. Management believes there will be other opportunities to provide artists with tools that allow them to reach out to fans with new music and messaging about upcoming shows.
The big picture
The company is about to enter a new phase for its business. While many investors are focused on whether the company will be acquired, a more Foolish perspective may be in order. With premium subscriptions and ticket sales, Pandora is going to be able to offer three tiers of service to its customers, and that may be just what this company needs to succeed in this competitive space. For the first time in its existence, Pandora will be offering listeners a complete suite of services that should enable it to maximize listener enjoyment and company profitability.
10 stocks we like better than Pandora Media When investing geniuses David and Tom Gardner have a stock tip, it can pay to listen. After all, the newsletter they have run for over a decade, Motley Fool Stock Advisor, has tripled the market.*
David and Tom just revealed what they believe are the 10 best stocks for investors to buy right now... and Pandora Media wasn't one of them! That's right -- they think these 10 stocks are even better buys.
Click here to learn about these picks!
*Stock Advisor returns as of January 4, 2017
Frank DiPietro owns shares of Pandora Media. The Motley Fool owns shares of and recommends Pandora Media. The Motley Fool has a disclosure policy.