Pandora Media, Inc. Makes Progress With a Beat and a Raise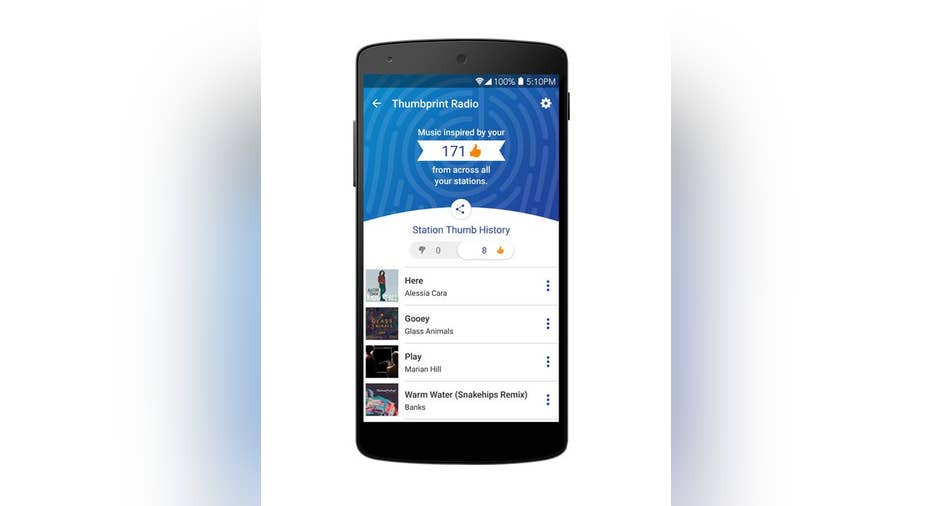 Pandora recently launched Thumbprint Radio. Image Source: Pandora Media.
Pandora Media announced stronger-than-expected first-quarter 2016 results Thursday after the market close. Shares are up more than 8% in after-hours trading as of this writing -- and for a good reason.
Quarterly revenue climbed 29% year over year, to $297.3 million, well above Pandora's guidance for revenue in the range of $280 million to $290 million. Pandora also turned in an adjusted EBITDA loss of $57.4 million for the quarter -- but that, too, came in ahead of guidance for an EBITDA loss of $75 million to $65 million.
For perspective, last quarter, Pandora outlined anambitious planto invest heavily in 2016 to scale infrastructure and build new lines of business. These investments came at the expense of Pandora's near-term profitability.
Based on generally accepted accounting principles (GAAP), that translated to a net loss of $115.1 million, or $0.51 per share. On an adjusted (non-GAAP) basis -- which excludes items like stock-based compensation and acquisition expenses -- Pandora'snet loss was $45.2 million, or $0.20 per share. By comparison, analysts' consensus estimates called for a wider adjusted net loss of $0.32 per share, and lower revenue of $286.4 million.
"This was a really strong start to the year, and I see clear signs of momentum across our business," added Pandora founder and CEO Tim Westergren, who returned to the helm just last month. "Our team is rapidly bringing Pandora's audacious strategy to life, fundamentally changing how listeners discover and enjoy music while helping artists build sustainable careers."
Westergren also shed light on Pandora's competitive advantage during the subsequent conference call, stating:
Pandora's active listeners numbered 79.4 million at the end of Q1, up 0.3% from 79.2 million this time last year, but down sequentially from 81.1 million last quarter. But these listeners were increasingly engaged with Pandora's platform, as total listener hours grew 4% year over year, to 5.52 billion for the quarter.
Delving deeper into the top line, total revenue per 1,000 listening hours (RPMs) increased 14% year over year, to $49.84, and ad RPMs rose 19%, to $45.47.Driving the bulk of Pandora's top line was 23% growth in advertising revenue, to $220.3 million, including 42% growth in local advertising revenue, to $61.3 million. And that growth was further bolstered by $22.3 million in ticketing service revenue fromPandora's recent acquisition of TicketFly. Had Pandora owned TicketFly a year ago, ticketing service revenue would have increased 30% year over year.
During the subsequent conference call, Pandora CFO Mike Herring said he was "excited" by the company's early progress in its five-year plan to scale the platform to $4 billion in revenue, including more than $1 billion from new services, and $300 million from live events. Westergren hinted that his teams are: "... already making rapid progress on every front toward our goals. [...] We know exactly what we need to do, and we know exactly where we're going."
Pandora also increased its headcount 40% year over year, to 2,269 at the end of Q1. That includes more than doubling its number of employees involved in new-product development, thanks primarily to engineers brought on to capitalize on its recent acquisition of key assets from music streaming company Rdio earlier this year.
While Pandora remains in the early stages of this plan, some of the most-recent new features include Browse, which offers listeners an intuitive graphical environment to discover new music, and Thumbprint Radio, a playlist that dynamically incorporates thumbed-up songs with new music based on both Pandora's ground-truth data from the Music Genome, and more than a decade of listener thumb feedback.
Finally, following last year's CRB royalty ruling, Herring reminded that Pandora now enjoys a more-concrete view of its costs, and can implement a clearer path toward sustained profitability for its core business.
In the meantime, for the current quarter, Pandora expects revenue of $345 million to $355 million, the midpoint of which represents roughly 22.6% year-over-year growth. Pandora also anticipates an adjusted EBITDA loss in Q2 of $30 million to $20 million.
Perhaps most encouraging is that, for the full year 2016, Pandora now anticipates revenue of $1.41 billion to $1.43 billion, an increase from its previous guidance of $1.40 billion to $1.42 billion. In addition, Pandora expects a full-year adjusted EBITDA loss of $70 million to $50 million, an improvement over previous guidance for an adjusted EBITDA loss of $80 million to $60 million.
Pandora knows all too well that it has plenty of work to do in its quest for achieving sustained, profitable growth as it expands the scope of its business. But given its progress so far, coupled with this beat and raise, I agree with Westergren's assertion that this quarterly report represents a solid start.
The article Pandora Media, Inc. Makes Progress With a Beat and a Raise originally appeared on Fool.com.
Steve Symington has no position in any stocks mentioned. The Motley Fool owns shares of and recommends Pandora Media. Try any of our Foolish newsletter services free for 30 days. We Fools may not all hold the same opinions, but we all believe that considering a diverse range of insights makes us better investors. The Motley Fool has a disclosure policy.
Copyright 1995 - 2016 The Motley Fool, LLC. All rights reserved. The Motley Fool has a disclosure policy.