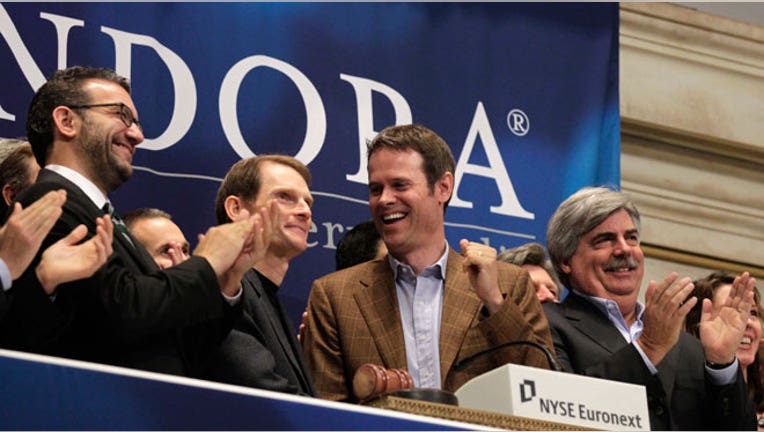 Pandora on Tuesday announced Tim Westergren will step down from his post as CEO and on the company's board of directors as the company grapples with intense competition from the likes of Apple (NASDAQ:AAPL), Spotify, and other streaming-music services.
At the same time, Pandora said President Mike Herring and chief management officer Nick Bartle will also depart the company. To aid in the transition, the company said its chief financial officer, Naveen Chopra will serve as chief executive on an interim basis, and Jason Hirschhorn, CEO of digital content curation company ReDEF will occupy a vacant seat on the board.
"Over the past several weeks, the board has taken a number of steps to refocus and reinforce Pandora," Roger Faxon, a Pandora board member said in a statement. "As listeners continue to move from traditional terrestrial radio to more dynamic and flexible offerings, it is the board's belief this transition continues to present a massive opportunity and that Pandora is in an ideal position to capture an increasing share of this audience."
More on this from FOXBusiness.com...
Faxon pointed to the struggling company's Plus and Premium offerings as tools it can use to attract more listeners to its platform. Westergren, who joined the company last year, has worked to rebuild the company's relationships with record labels, and oversaw the launch of Pandora's on-demand listening service.
"I came back to the CEO role last year to drive transformation across the business," Faxon said in a statement. "We accomplished far more than we anticipated…with these [changes] in place, plus a strengthened balance sheet, I believe Pandora is perfectly poised for its next chapter."
Shares of Pandora, which have slumped more than 26% over the last year, ticked down 0.7% on the heels of the announcement Tuesday.