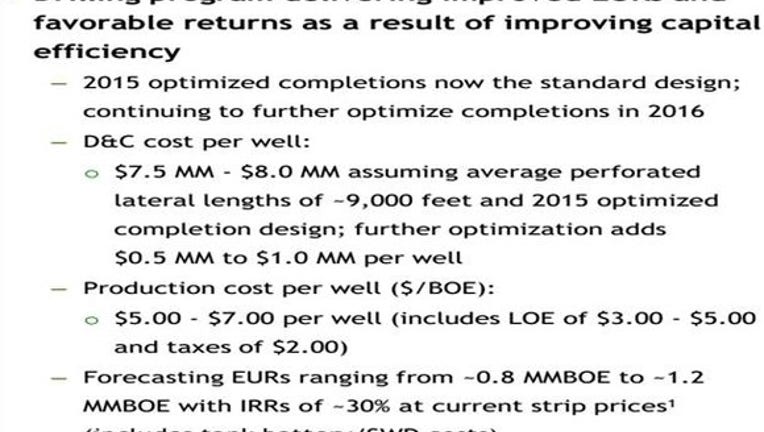 Greenlight Capital's David Einhorn just released his first-quarter 2016 investor letter. In it, Einhorn indicated that Greenlight is still short the ever-popularPioneer Resources .
With oil prices having rebounded strongly from their $26 WTI lows earlier this year, being short an oil producer wouldn't seem to be a wise decision. Therefore, while it's interesting to know that Einhorn is short Pioneer, it's much more interesting to know why.
Pioneer Resources -- enviable assets, great hedge position
Compared with many other North American oil and gas producers, Pioneer has a stock chart that doesn't look too bad considering what has gone on with oil and gas prices. There are a couple of things that have differentiated Pioneer from companies with much more beaten-down stock prices.
The first is Pioneer's big position in the Permian Basin. It has become clear in the past couple of years that it's the Permian that is going to be the biggest of all of the shale oil plays. There's just so much oil in place in the Permian in formations stacked on top of each other. Having all of that oil on the same land makes acreage extremely valuable.
Image source: Pioneer corporate presentation.
The second thing the market has liked about Pioneer is that the company has done a fantastic job hedging both oil and gas prices. While many companies have come into 2016 exposed to oil and gas prices lower than they've been in decades, Pioneer is protected.
Image source: Pioneer corporate presentation.
Pioneer has 85% of its expected 2016 oil sales protected by way of swaps and three-way collars and 70% of its natural gas production protected as well.
Image source: Pioneer corporate presentation.
Cherry-picking only the best wells
As most great investors do, Einhorn has made a lot of money by having an opinion that's different from the consensus. When it comes to Pioneer Resources, Einhorn thinks the market has been hoodwinked.
In the recent Greenlight Capital letter I referenced earlier, Einhorn professes amazement at how little conversation has been provoked by the disconnect between what's in the Pioneer SEC filings and what's in the management investor presentations.
In particular, Einhorn raises issue with the fact that in investor presentations management has touted that its wells are able to recover 1 million or more barrels of oil equivalent (BOE) at a cost of $8 million per well.
Image source: Pioneer Resources corporate presentation.
While in its most recent 10-K filed with the SEC Pioneer reported the following:
Image source: Greenlight Capital Q1 investor letter.
Instead of $8 million per well that the investor presentation refers to, the 10-K points to a cost of $14 million per well. Instead of 1 million barrels of oil equivalent that can be recovered, the SEC filing points to 660,000 barrels.
Pioneer is advertising wells that produce 52% more oil than the SEC filings indicate and do it at a cost that's 43% lower. In Einhorn's opinion that is cherry-picking and misleading.
Market cap versus reserve value
Einhorn thinks the market is looking at Pioneer with rose-colored glasses. Perhaps more accurately, the market is looking at Pioneer through its investor presentations instead of its SEC filings.
At year end 2015, the carrying value in the 10-K of Pioneer's reserves was $8.7 billion using a long-term oil forecast of $52.82. Against that the market has been assigning an enterprise value to Pioneer that's well over $20 billion.
Another observation Einhorn makes is that according to Pioneer's 10-K, a $5 to $10 reduction in oil price would completely impair the value of the Permian assets, resulting in a charge to income of $5 billion to $7 billion, which would wipe out almost all of Pioneer's equity book value.
Image source: Greenlight Capital presentation.
There are two sides to every story
In this case of Pioneer versus David Einhorn, there are two sides to the story. There are also a couple of major variables, and those are the price of oil and natural gas.
If current oil and gas prices persist for the long term, Einhorn is going to do very well with his short position in Pioneer. If oil heads back up to $70-plus per barrel and stays there for the long term, Pioneer is going to do very well. As Einhorn asserts, the U.S. shale producers have burned through a lot of cash to this point, but the best days for these companies are ahead of them thanks to continued technological advances.
As always, you shouldn't invest in a commodity producer without having an opinion of where the price of the underlying commodities is going. In the end, that's going to be the most important determinant of success or failure.
The article Own Pioneer Resources at Your Own Peril? originally appeared on Fool.com.
TMFWolfpack has no position in any stocks mentioned. The Motley Fool has no position in any of the stocks mentioned. Try any of our Foolish newsletter services free for 30 days. We Fools may not all hold the same opinions, but we all believe that considering a diverse range of insights makes us better investors. The Motley Fool has a disclosure policy.
Copyright 1995 - 2016 The Motley Fool, LLC. All rights reserved. The Motley Fool has a disclosure policy.