Ormat Technologies Takes a Small Earnings Hit Now for Later Gains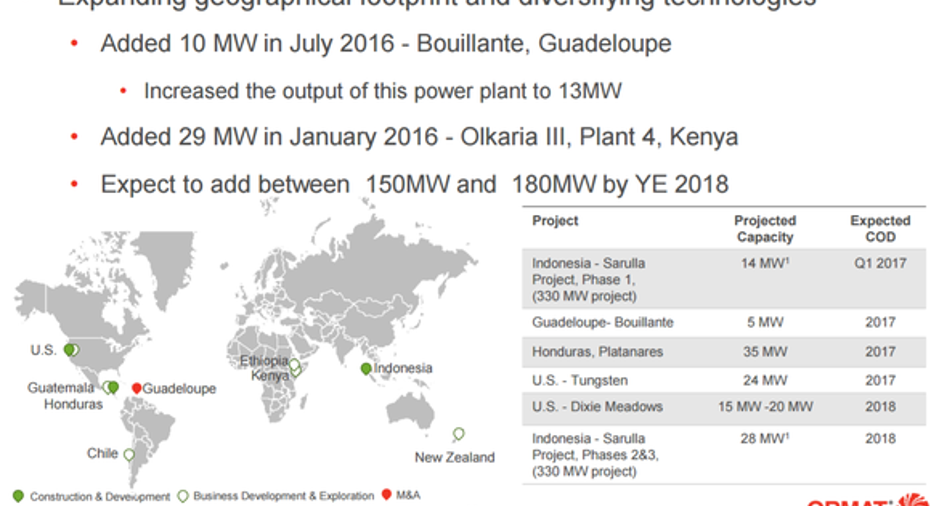 For the most part, Ormat Technologies' (NYSE: ORA) third quarter was uneventful. Aside from a few one-time charges that took a small bite out of earnings, the company posted strong results that showed a company that is making steady progress on its project development and one that is willing to take a small hit today for better results down the road. Here's a quick look at Ormat's most recent results and what investors should be watching for from this point forward.
Image source: Ormat Technologies.
By the numbers
*in millions, except per-share data. Data source: Ormat Technologies.
There are some pretty large discrepancies in these results that don't necessarily show the improvements that Ormat has displayed so far. For one, net income this time last year benefited immensely from a $48.7 million favorable tax ruling -- hence the higher net income than operating income. Also, in this quarter, Ormat netted about $16 million in one-time fees related to the settlement of litigation and the pre-payment of bonds.
According to management, these one-time charges should result in lower expenses across the board for Ormat. The biggest evidence of that is the fact the prepayment of those bonds carried with them a coupon rate of 7%, whereas the bonds issued to help pay off those notes carry with them coupon rates varying from 3.7% to 4.55%. Being able to reduce the company's interest rate by a few percentage points should certainly help lower interest expenses.
Revenue for the quarter was up 13.4% compared to this time last year thanks to two new power plants coming on line in the fourth quarter of 2015 and in early 2016, a rate hike for one of its facilities, and a recently acquired power plant in Guadeloupe. Also, product revenue, which mostly entails the design, construction, and sales of power plants to other power companies -- increased 14% compared to this time last year in part due to increasing engineering, procurement, and construction contracts that were won in prior quarters. Backlog was drawn down by about $20 million to $208 million, but the company did say that it is finalizing about $100 million in contract proposals that will hopefully boost that backlog over time.
The highlights
From an operational standpoint, things seem to be moving along well for Ormat. Aside from the several power plants it has brought on in the past year, it is also on track to bring another 150MW of geothermal power plants on line by the end of 2018.
Image source: Ormat Technologies investor presentation.
On top of all of these opportunities, there are some ample opportunities that the company is pursuing in the U.S. The Department of Energy has recently issued a request for information that will look into the possibility of adding another 100-250MW of geothermal power plants in California. Also, the company recently acquired seven tracts of land in a recent geothermal land auction that could lead to even greater development potential in the U.S.
What management had to say
Even though Ormat's net income suffered slightly from those one-time charges, CEO Isaac Angel was surprisingly upbeat in his press release statement about this past quarter's results.:
Also, because of the improved performance in the third quarter and the addition of the Guadeloupe power plant, Angel announced that the company was raising guidance:
What a Foolbelieves
This most recent quarter was a rather uneventful one, but for a company that is largely an electric utility, that is what investors want. Cutting down its debt load slightly and using an opportunity to lower interest expenses were certainly worth the one-time hit the company took to the income statement. So investors should be relatively happy with the results.
The big thing to watch over the next several quarters are (1) whether Ormat can keep its current slate of projects on time and within budget, and (2) if the company can translate any of those U.S. opportunities to expand geothermal power into real revenue. If both of these things can happen, then Ormat will be in good shape.
10 stocks we like better than Ormat Technologies When investing geniuses David and Tom Gardner have a stock tip, it can pay to listen. After all, the newsletter they have run for over a decade, Motley Fool Stock Advisor, has tripled the market.*
David and Tom just revealed what they believe are the ten best stocks for investors to buy right now... and Ormat Technologies wasn't one of them! That's right -- they think these 10 stocks are even better buys.
Click here to learn about these picks!
*Stock Advisor returns as of November 7, 2016
Tyler Crowe has no position in any stocks mentioned.You can follow him at Fool.comor on Twitter@TylerCroweFool.
The Motley Fool owns shares of Ormat Technologies. Try any of our Foolish newsletter services free for 30 days. We Fools may not all hold the same opinions, but we all believe that considering a diverse range of insights makes us better investors. The Motley Fool has a disclosure policy.